Human sex trafficking is one of our world's biggest issues. According to Equality Now, trafficking women and children for sexual exploitation is the fastest growing criminal enterprise in the world. The scary part is that this is despite the fact that international law and the laws of 134 countries criminalize sex trafficking. At least 20.9 million adults and children are bought and sold worldwide into commercial sexual slavery or forced labor. Almost 6 in 10 identified trafficking survivors were trafficked for sexual exploitation, and women and girls make up 98% of victims of trafficking for sexual exploitation.
Many organizations have joined the fight against this massive problem in our society, and now your favorite burger joint is one of them.
Throughout the month of January–which is National Human Trafficking Awareness Month–In-N-Out Burger has been encouraging customers to donate to their nonprofit organization Slave 2 Nothing and help fight sexual exploitation. According to the organization's website:
In addition to providing the highest quality of food and a spotless and friendly environment, In-N-Out Burger exists for the purpose of: "Assisting all communities in our marketplace to become stronger, safer, and better places to live.
We have a strategic plan to provide support to all of the communities we serve within three years. Year 1 we will focus on California and Texas, since they are the #1 and #2 in regard to the highest number of human trafficking victims in the U.S. Year 2 we will be adding Nevada (with emphasis placed on Las Vegas) and Arizona. Year 3 we will be adding strategic support to Utah and Oregon. We desire to be supporting all 6 states as soon as possible and if we are able to speed up our timeline, we absolutely will.
The company has been carrying out their promise by placing the cause front and center on their menu boards. We recently stopped at an In-N-Out in the San Francisco Bay Area and were pleased when we saw the following sign right in the middle of the menu:

The sign reads Help Us Set Them Free: Let's End Human Trafficking Where We Live. It then encourages customers to donate at the register and says that In-N-Out has pledged to match all donations 3-to-1.
All donations at In-N-Out are then collected by Slave 2 Nothing, In-N-Out's 501(c)(3) nonprofit dedicated to helping those caught up in slavery, and then dispersed in four ways: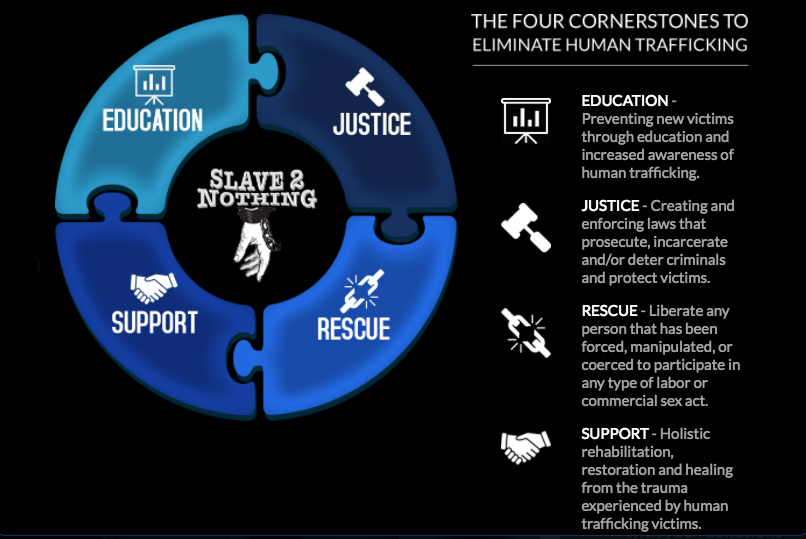 We at Fight the New Drug applaud In-N-Out Burger for joining in on this important cause and lending their resources to the fight. If more companies placed an emphasis on making an impact on this issue that affects millions of people globally every day, we would be much closer to ending sexual exploitation in our society. And that's something everyone should be able to get on board with.
What YOU Can Do
SHARE this article to show support for In-N-Out's initiative and encourage other companies to do the same!
Take a stand and show that you are working to stop the demand! Fight against porn and sex trafficking by repping the Stop The Demand tee: