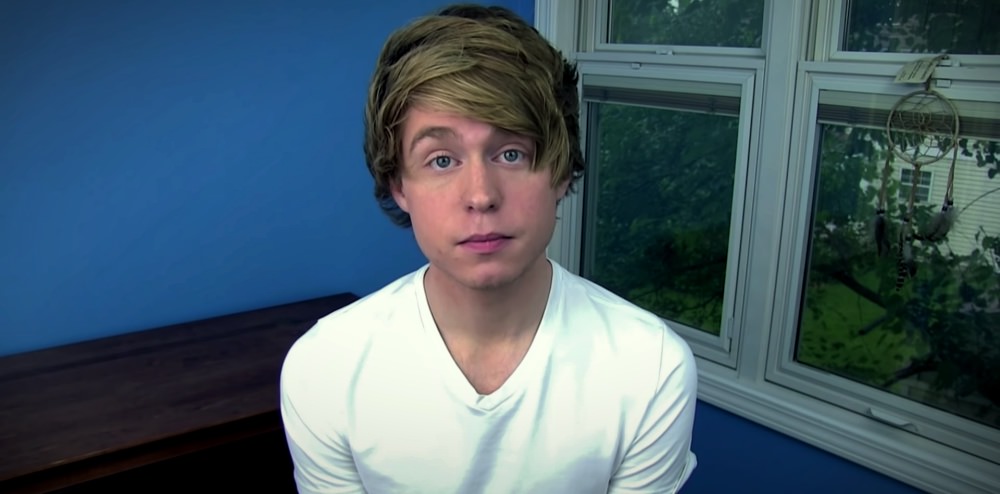 Cover photo credit to YouTube/AustinJonesSinger. His account has now been terminated.
Once-beloved YouTube acapella singer Austin Jones has now been sentenced to 10 years in prison after he persuaded several young female fans to make and send him sexually explicit videos of themselves.
He might be a familiar face to you—Jones skyrocketed to YouTube popular fandom in the mid-2000s and continued to rise in popularity after that, rocking his emo-style swoopy hair and signature blue eyes. Known for his "voice only" covers of popular pop songs, his videos amassed tens of millions of views and over 530,000 subscribers over the years. Unfortunately, the 26-year-old from Chicago was all too aware the majority of his fans were impressionable underage teen girls, capitalizing on his online popularity to coerce more than 30 to send him explicit photos and videos.
CNN reports that Jones was charged in June 2017 with two counts of production of child pornography and, according to a plea agreement, admitted to enticing six underage girls to make pornographic videos of themselves and to send them to him. Yikes.
In February, he stood before a federal court in the Northern District of Illinois and pleaded guilty to receipt of child pornography.
In a sentencing memo, Assistant US Attorney Katherine Neff Walsh said, "Production and receipt of child pornography are extraordinarily serious offenses that threaten the safety of our children and communities… Jones' actions took something from his victims and their families that they will never be able to get back."
Using his fame as the bait
According to a report by Buzzfeed News, Jones admitted in the plea agreement that the videos he coerced girls to make were to "prove" they were his "biggest fan."
Also according to the plea agreement, Jones convinced the six girls—all 14 and 15 years old—to send videos of themselves performing sexual acts, showing their anuses, breasts, and genitals, and "dancing in a sexual manner." He also attempted to persuade many more underage female fans to send him explicit videos and photographs "on approximately 30 other occasions."
In the dancing videos, Jones would encourage the girls to talk about their age "the whole time" and provided specific instructions about how to dance and what to wear.
In some instances, Jones repeated the behavior but lied and told the girls it was for a "modeling" opportunity and that he could make them Instagram famous. He told one girl she was "so lucky" he kept giving her "chances" to send him videos.
As an organization, we've discovered videos on YouTube from young women who allege Jones solicited them for graphic images.
Before his first arrest, many people had spoken out for years about this behavior but were often met with ridicule and disbelief. Countless fans of his over the years had Tweeted about him privately asking for explicit videos, with no repercussion or attention given to the issue. Then, in 2015, only after one of his underage fans made public the video of him instructing her how to make a twerking video for him—which resulted in a lie-filled and pity-grabbing "apology" video from Jones—did the singer start downward spiraling. But even after this apology, he continued to use his fame to coerce and entice young fans to send him explicit videos and pics until his arrest in 2017.
As an organization that aims to educate on the harmful effects of porn and its connection to our larger culture, there's a lot we can say about this case and how it connects to many issues involving sexual exploitation and pornography.
Here are 3 main things that stand out to us in light of the Austin Jones case:
1. Grooming on the internet
In looking through excerpts from the 27-page plea agreement, he admitted that he had online conversations with six 14- and 15-year-old girls from 2010 to 2017. In the conversations—which took place over Facebook messenger and Apple chat between 2010 and 2017—Jones encouraged the girls to send him sexually explicit videos of themselves, including dozens of images of them performing graphic sexual acts, according to the plea deal.
These conversations all contain a process used by people with a sexual interest in children to prepare a child for sexual abuse called "grooming."
While Jones leveraged his fame and charisma to groom his underage victims to send him explicit videos and images, many other child predators use pornography.
In her book called Understanding Child Abuse and Neglect, Dr. Cynthia Crosson-Tower writes that showing potential victims videos of their peers engaging in and enjoying sex may lead the potential victim to be "more likely to comply with the molester's demands."
Or, in other words, sharing porn with a potential child abuse victim can actually lower the victim's inhibition or normalize what's about to happen to them.
We bring this up to shed light on the varying ways that the internet can be used to groom victims—even if the groomer in question is a famous YouTuber.
Our friends over at Bark have created a sophisticated enough algorithm to sense when a child is being groomed via social media, text, or email. If you're a concerned parent, we invite you to check out Bark today and get alerts when grooming is sensed on your child's device.

2. Sexting can be child porn
Jones' case brings another important point to light—sexing involving minors is legally considered child pornography. In this case, Jones would have been a twenty-something-year-old man at the time of coercing and enticing underage fans, but even if both parties are underage, explicit content sent and received is still considered the production of or distribution of child pornography.
This might seem like a surprise in a world where sexting is now considered normal in a dating situation, but the seriousness of this can't be understated.
Related: Understanding The Booming Underground Industry Of Child Sexual Exploitation
In too many cases, a situation where nudes are being asked for is manipulation and broken trust all wrapped up into one. There are threats like, "I'll stop talking to you if you don't do this," and there's normalization like, "Everybody's doing it, it's not a big deal." Jones used these manipulation tactics in his conversations with his victims. And to the average teenager who trusts their exploiter, that's reason enough to go through with sending a simple photo or video.
If you're interested, Bark also can alert parents when sexting is happening on their child's devices, too. Check them out and see how they can help your family.
3. Often, child exploitation habits start with "normal" porn
We have no evidence or proof to suggest that Austin Jones had a hardcore porn obsession, though his case does cause us to question where his escalation to enticing minors for explicit content came from.
We can't be sure without more information about his specific case, though research shows that porn is a habit that escalates, and it can often be an obsession that evolves way beyond anything the consumer could anticipate.
Dr. Julie Newberry is a psychologist who has worked with patients who have obsessions with indecent images of children.
In an article for PsychReg, she writes: "My therapeutic experience is that a person who views child abuse images, though committing a sexual offense, is not necessarily a paedophile. A paedophile has a primary sexual interest in children. I suggest that for some people, it is porn addiction rather than paedophilia, which is the cause. A person, usually a man, who has no sexual interest in children, can find himself 'crossing the line.'"
She continues on to describe her experience, saying, "[My clients] didn't go onto the internet with the intention of looking at child abuse images, but nevertheless ended up there. They couldn't understand why they continued to do something that disgusted them and which they knew was illegal. I suggest that each of them became desensitized to mild porn and sensitized to extreme porn. Their higher thinking brain, compromised by addiction, could not win the battle, even when it came to viewing child abuse images. Porn sex was too powerful a need and withdrawal too difficult."
Related: Inside The Industry Where Child Exploitation, Pornography, And Sex Trafficking Collide
While not every porn consumer will end up turning to illegal activity, some do, like Austin Jones may have. This is why we raise awareness that porn is anything but harmless, personal entertainment. In too many cases, the porn consumer ends up becoming consumed by their porn, or in this case, by an obsession with child exploitation.