Many people contact Fight the New Drug to share their personal stories about how porn has affected their life or the life of a loved one. We consider these personal accounts very valuable because, while the science and research is powerful within its own right, personal accounts from real people seem to really hit home about the damage that pornography does to real lives.
We received a story that shows how porn can tear apart a relationship and hurt partners in the process. In the end, a porn habit can deeply hurt not only the consumer, but also their partner.
---
I've been considering sharing this story for some time. I'm not sure why the hesitation. Perhaps some part of me thought if I kept it all in, I could pretend everything was okay. And it's not. I'd like to stay anonymous if this gets shared, but I do want to share.
I don't recall any lessons on pornography taking place growing up. I was told "it's bad" and that's probably about it. No lessons on being attracted to porn, or how to deal with someone struggling that may be close to you. So first and foremost, thank you for educating people. It makes a world of difference.
Related: Asking My Wife To Watch Porn With Me Actually Ruined Our Marriage
Of course, as a pre-teen and teen, I came across pornography. I never cared for it, until I began dating. It seemed like most of the guys I came across were into it, though I don't know that they ever admitted it. Pornographic, explicit pics would just pop up on their computers and they'd claim it was just a virus. I was never with any of them long, so maybe that's why it didn't seem to bother me. Then I met my husband.
We were friends for quite some time. We were very open and honest with each other, and that's a huge part of what made me start to like him. He openly told me about his past and current struggles with pornography, and I appreciated his honesty. I have a tendency to deal with harsh news well when I'm being told about it from the get-go, thankfully. We both had our own issues we were dealing with at the time that we opened up about—mine was eating disorders.
The Hope of a New Start
A little time passed, and it seemed like for the first time in my life, I felt confident. I was overcoming many of my issues. And at the same time, he was doing better and had told me he had stopped viewing pornography. So, we began to date, and the first few months were fine. Not perfect, but fine.
I don't open up to people well and I hadn't dated anyone for a while, so I was having to learn how to be a "good" girlfriend and try not to be too closed-off. But there were times when we were hanging out and something would feel…off. I felt like he was one of the good guys, but at the same time, I felt like he was hiding something. I kept brushing it off until one night when we were out on a date, I cut it short and told him I wanted to go home.
I just could not shake that feeling that he wasn't himself when he was with me. He took me home and came inside for a few minutes. I kept trying to get him to admit whatever it was he could be hiding, and I did. He admitted he'd still been struggling with pornography for about as long as we had been dating, and at that moment, I felt like my body and soul had cracked and shattered into a million tiny pieces. Initially, I wasn't hurt because I thought, "I'm good enough, how could he watch things like that?" No, the feelings and thoughts of hurt came later.
Related: 5 Tips For When It's Time To Talk About Porn With A Partner
I felt so betrayed because the whole time I was with him those few months, I asked him several times a week if he had wanted to go back to it, or needed to talk. I told him over and over that if he starts to want to watch it, I wanted him to reach out to me. Just as I told him if I wanted to fall back into my eating disorders, I would reach out to him. And I did…but he never reached out to me. And when I asked him, he would tell me all was well and he wasn't struggling.
The Lying Hurt the Most
I felt so hurt that someone I thought was honest, someone I thought could talk to me about anything especially when I never hid even my worst secrets, would lie. I felt like I wasn't important to him if he had to lie to me, though I know he was scared to open up. But it really was the lying that hurt the most, and it is not fair to lie to someone just to keep them in a relationship. That's not love. I had been giving him all of me, the good and bad. I had done the hardest thing for myself by competently opening up, and yet, I hadn't gotten that in return.
Related: It's Okay To Not Be Okay: What Partners Of Porn Viewers Wish You Knew
There were many tears on both ends that night. There were thousands more on my part for the weeks to come. In fact, I broke things off with him for a little bit, but not long. Maybe a few weeks to get my head where it should be. I know relationships are not perfect. And you don't break them off if people make mistakes. You don't wait until they have zero problems to be with them because the fact is, we all have problems, always.
I think I just needed honesty and I hadn't been getting it. He said he was never going to look at pornography again, but I felt like he wasn't taking the problem as seriously as he should. I didn't want him to be perfect, I wanted him to let me be a part of his support system. But he kept unrealistically promising it would never happen again.
The Things He Doesn't Know
Flash forward to now. We have been married for three years, and he still tells me to this day that he only occasionally wants to view pornography but has never given in. And he only tells me this when I ask how he is doing with it, otherwise, it doesn't get brought up. I don't know if it's true or not, although I hope it is. But there are some things that he doesn't know.
He doesn't know that the reason I work out isn't to be fit or to be healthy, it's to feel "good enough."
He doesn't know I try to change my hair and buy new clothes so he doesn't get bored of me.
He doesn't know that every time we go out, all that is on my mind is how he probably isn't attracted to me.
He doesn't know that every time we watch a movie, I think that he wants the girls on the screen rather than me.
He doesn't know that every time we are intimate, I can only think about how he's probably wishing I looked like the girls in porn and doing things that they do.
He doesn't know that my low self-confidence stems from his past addiction and the deceit that came with it.
He doesn't know that since he told me he'd been struggling I had viewed some porn myself just for the sake of seeing what it is he likes so I can be that way, even though I know how twisted that is.
He doesn't know he is the reason I constantly think about getting plastic surgery.
He doesn't know that since he has proven to be such a good liar, that I never believe him when he says I'm the only girl on his mind and he loves everything about me.
Related: True Story: I Became His Porn Star To Try And Save Our Relationship
He doesn't know just how much time I've put into checking his phone and computer, again, even though I know how unhealthy that is.
He doesn't know that every time he goes to the bathroom, I worry he is actually watching porn.
He doesn't know that even if he never watches it again, what he has already seen affects me.
He doesn't know that since the amount of times we are intimate within a month keeps decreasing, I worry it is because I'm not like what he has seen.
He doesn't know how often I question this marriage, even though I feel I love him.
I don't think he knows that the effects of pornography don't end as soon as you close the video.
He doesn't know my depression partly stems from this very issue.
He doesn't know how much it has consumed and broken me.
Three and a half years, and here I am, still feeling so broken. I don't know if I will ever find healing, but I just hope when all is said and done, marrying him and making him happy is worth all the happiness I've lost. All because of pornography and how it makes even a quality man turn into a liar.
I hope that sharing my heartache with the world can somehow make someone feel less alone, and maybe even prevent someone from getting in too deep in the first place.
–P.
She Isn't Alone
All too often, when partners find out that their other half has been consuming porn, they feel a whole range of negative emotions including rejection, humiliation, abandonment, isolation, loneliness, jealousy, anger, and shame. [1] Even if they don't believe that porn is the same as cheating, they often feel a deep sense of loss, betrayal, and mistrust. [2] The secrecy, shame, isolation, and lies that are often introduced into a relationship by compulsive porn consumption can snowball into all kinds of problems. [3]
Related: Even After My Divorce, I Don't Believe Porn Is A Dating Deal-Breaker
Of course, the pain caused by porn can go far beyond a less-than-great sex life. Individuals who learn of their partner's porn habit often internalize their shame and confusion, asking themselves why they aren't "enough." They may feel undesirable, unattractive, and worthless. [4] Many partners of porn consumers even start showing physical symptoms of anxiety, depression, and even Post Traumatic Stress Disorder. [5]
And while it's true for both men and women, studies have shown that because of the shame they feel and their worry about being blamed for their partner's problem, the majority of women who learn of a partner's porn use isolate themselves at least somewhat from their normal sources of social support, just when they need that support the most. [6]
There Is Hope
If you're someone who struggles, you can get the help you need now. For those reading this who feel they are struggling with an obsession or addiction to pornography, you are not alone. Check out our friends at Fortify, a recovery program that will allow you take a step toward freedom. Anyone 17 years and younger can apply for a free scholarship to the program, and there is inexpensive pricing for anyone 18 and older. There is hope—sign up today and start getting the help you need at your own pace alongside a supportive community.
Related: After 9 Years, I Finally Confronted My Partner About His Secret Porn Habit
If you're a partner of someone who struggles, there's hope for you, too. Bloom is an awesome program that helps partners of compulsive porn users who have experienced betrayal to heal, strengthen, and grow past the broken trust and trauma, all with professional support, educational resources, and an empathetic community. The site offers this all-around approach to helping partners/spouses/loved ones.
At the end of the day, whether you're a partner or a consumer, remember this: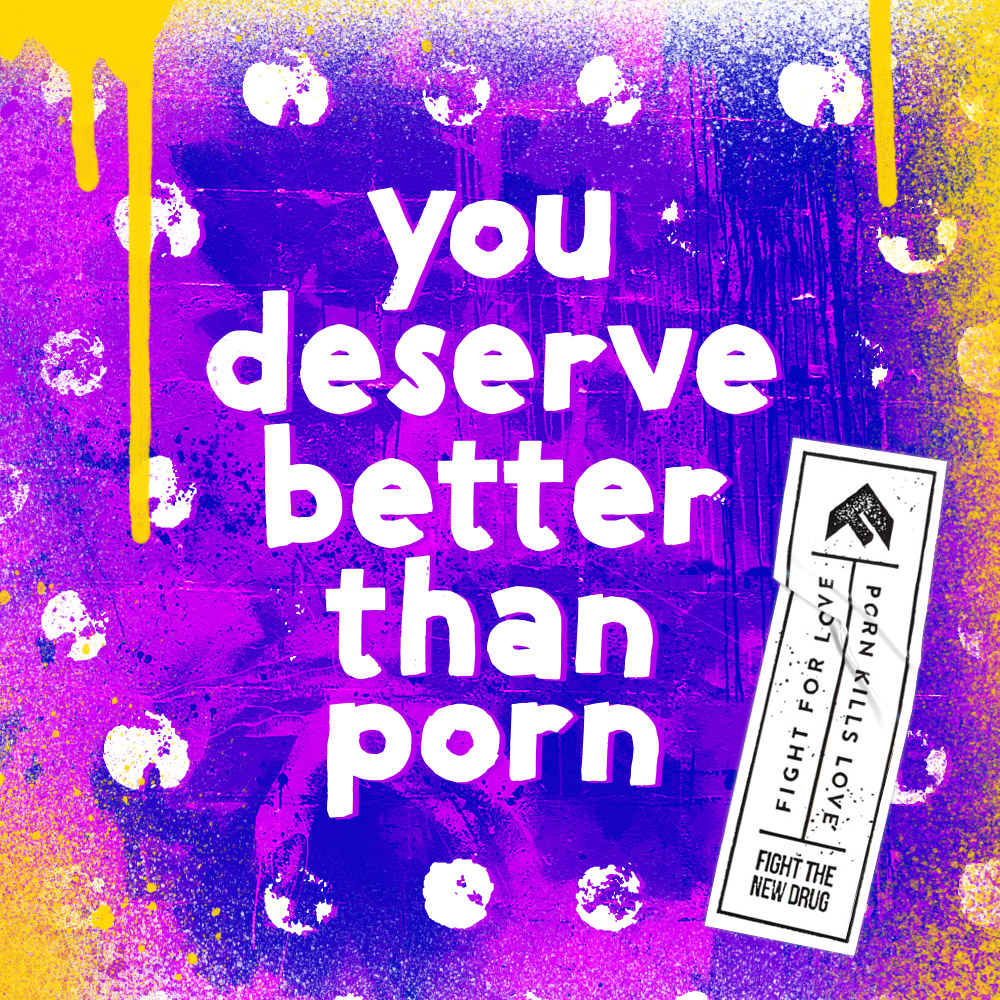 What YOU Can Do
Speak out on the dark reality of the porn industry and what it does to real people. SHARE this article to spread the word on the harmful effects of porn.
Spark Conversations
This movement is all about changing the conversation about pornography. When you rep a tee, you can spark meaningful conversation on porn's harms and inspire lasting change in individuals' lives, and our world. Are you in?
Support the movement, rep a tee. Click here to shop: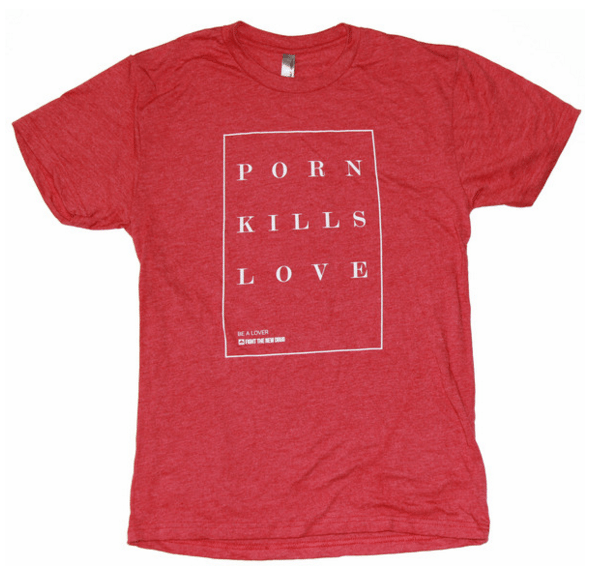 [1] Kalman, T. P., (2008). Clinical Encounters With Internet Pornography, Journal Of The American Academy Of Psychoanalysis And Dynamic Psychiatry, 36(4), 593-618. Doi:10.1521/Jaap.2008.36.4.593; Bergner, R.M., & Bridges, A. J. (2002). The Significance Of Heavy Pornography Involvement For Romantic Partners: Research And Clinical Implications. Journal Of Sex And Marital Therapy, 28, 193-206. Doi:10.1080/009262302760328235
[2] Bridges, A. J., Bergner, R. M., & Hesson-McInnis, M. (2003). Romantic Partners' Use Of Pornography: Its Significance For Women. Journal Of Sex And Marital Therapy, 29(1), 1-14. Doi:10.1080/713847097; Schneider, J. P. (2000). Effects Of Cybersex Addiction On The Family: Results Of A Survey. Sexual Addiction And Compulsivity, 7(1), 31-58. Doi:10.1080/10720160008400206
[3] Maddox, A. M., Rhoades, G. K., & Markman, H. J. (2011). Viewing Sexually-Explicit Materials Alone Or Together: Associations With Relationship Quality. Archives Of Sexual Behavior, 40(2), 441-448. Doi:10.1007/S10508-009-9585-4; Wildmon-White, M., & Young, J. (2002). Family-Of-Origin Characteristics Among Women Married To Sexually Addicted Men. Sexual Addiction And Compulsivity, 9(4), 263-273. Doi:10.1080/10720760216042; Schneider, J. P. (2000). Effects Of Cybersex Addiction On The Family: Results Of A Survey. Sexual Addiction And Compulsivity, 7(1), 31-58. Doi:10.1080/10720160008400206
[4] Minarcik, J., Wetterneck, C. T., & Short, M. B. (2016). The Effects Of Sexually Explicit Material Use On Romantic Relationship Dynamics. Journal Of Behavioral Addictions, 5(4) 700-707. Doi: 10.1556/2006.5.2016.078; Bergner, R.M., & Bridges, A. J. (2002). The Significance Of Heavy Pornography Involvement For Romantic Partners: Research And Clinical Implications. Journal Of Sex And Marital Therapy, 28, 193-206. Doi:10.1080/009262302760328235
[5] Steffens, B. A., & Rennie, R. L. (2006). The Traumatic Nature Of Disclosure For Wives Of Sexual Addicts. Sexual Addiction And Compulsivity, 13(2-3), 247-267. Doi:10.1080/10720160600870802; Wildmon-White, M., & Young, J. (2002). Family-Of-Origin Characteristics Among Women Married To Sexually Addicted Men. Sexual Addiction And Compulsivity, 9(4), 263-273. Doi:10.1080/10720760216042
[6] Manning, J. C. (2010) The Impact Of Pornography On Women: Social Science Findings And Clinical Observations. In Stoner, J. Stoner & Hughes, D. (Eds.), The Social Cost Of Pornography: A Collection Of Papers (Pp. 3-20). Princeton, N.J.: Witherspoon Institute.