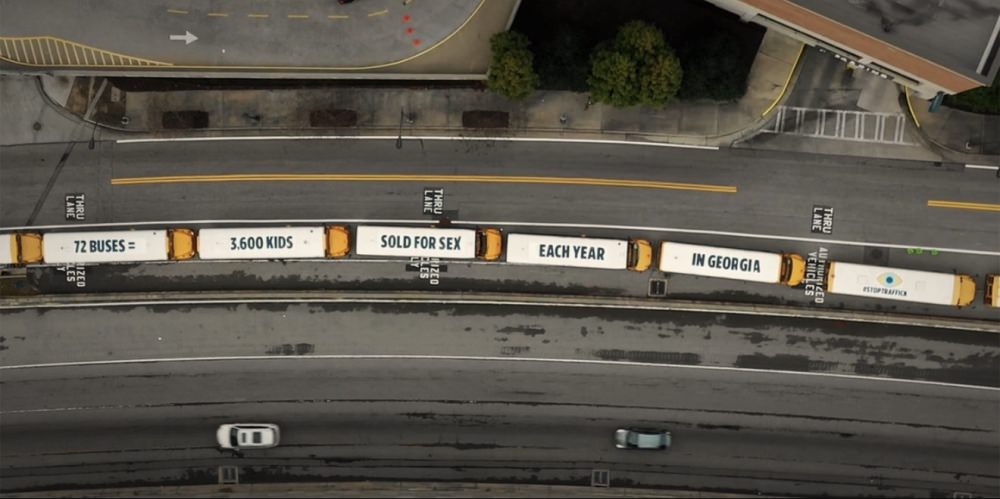 Six dozen bright yellow school buses wound their way through the streets of Atlanta on Wednesday to raise awareness of the problem of child sex trafficking in Georgia.
"It's a difficult reminder that these statistics represent lives and these lives, our kids are not invisible," said Bob Rogers, president of the nonprofit group Street Grace.
Ahead of the Superbowl being hosted in Atlanta next month—a usual hub for trafficking activity—each of the 72 buses represented 50 children in Georgia who are sold into sex slavery each year for a total of 3,600, according to the organization.
Street Grace and the Georgia Attorney General's Office partnered to put on the awareness event. They, along with the Georgia Bureau of Investigation, have also launched the "Demand an End Georgia Initiative" to help stop child sex trafficking by going after customers.
"By Super Bowl Sunday, February 3rd, all buyers and traffickers will know that Georgia does not tolerate those who seek to exploit our state's children," said Attorney General Chris Carr.
Related: How Mainstream Adult Entertainment Can Normalize Child Exploitation
Carr said that educating the public about child sex trafficking and the warning signs is a huge part of combating the problem.
As a sexual exploitation-fighting organization, we agree.
Check out one of Stop Traffick's videos, highlighting real stories from trafficking survivors:
Click here to read the full report from Fox 5. 
Porn's connection to child exploitation
But what does child sex trafficking have to do with porn?
For starters, did you know that in 2002, the porn industry lobbied to change the 1996 Child Pornography Prevention Act?
Dr. Gail Dines, professor and anti-porn activist, explained that the Free Speech Coalition (FSC)—who happens to be the porn industry's chief lobby group—brought a case to the US Supreme Court to overturn the act, which prohibited any images that were or appeared to be of a minor engaging in sexually explicit conduct. The case was built around the phrase "appears to be" claiming "limitations on freedom of speech." Long story short, the FSC won.
Related: How Mainstream Porn Fuels Child Exploitation And Sex Trafficking
As a result of the victory, the porn industry was free to create computer-generated images of children in content, or alter the aesthetics of real performers who are of legal age, making them appear childlike. It is these images, Dines said, that have made "teen porn" not only legal, but an incredibly popular genre.
Starting to see how porn and the normalization of child sexual exploitation are connected?
The reality of child exploitation and porn
The sad reality is people who purchase minors for sex or produce, distribute, and buy child porn come from all walks of life. They vary in age, race, occupation, and education levels. Surely, we tell ourselves, the same is not true for sex trafficking. Who would pay for sex with a child or teen?
One 17-year-old survivor from the Midwestern US was trafficked when she was 15. She said she was purchased by over 150 men a month:
"Some could be upstanding people in the community. It was mostly people in their 40s, living in the suburbs, who were coming to get the stuff they were missing."
Related: Understanding The Booming Underground Industry Of Child Sexual Exploitation
This is why we are all about raising awareness. Because porn is not harmless entertainment that only affects the consumer. Because teen porn is a growing genre that encourages consumers to seek out illegal underage content, and that behavior can escalate. Because sex trafficking is a devastating problem happening every day, wherever we may live.
We are out to stop the demand and that starts with each one of us choosing not to take part. Are you with us?