Many people contact Fight the New Drug to share their personal stories about how porn has affected their life or the life of a loved one. We consider these personal accounts very valuable because, while the science and research is powerful within its own right, personal accounts from real people seem to really hit home about the damage that pornography does to real lives.
The definition of cheating or infidelity can vary from person to person, relationship to relationship, and we understand that. That being said, we recently received a true story from a Fighter that shows how porn can hurt a marriage to its very core and drive a wedge between partners. Some stories, like this one, illustrate the damage that dishonesty and emotional infidelity can have in a committed relationship.
---
Hey FTND,
I hope to reach someone who can honestly offer me some good advice. Honest sounds good about now, considering all the lies destroying my family.
When I first met my husband, I had no idea that he was obsessed with porn. It is a secret he has kept throughout our entire relationship/marriage, deceiving me for this toxic habit. I have caught him lying on many occasions, and right now, I can count at least seven times that I've found myself in a ball on the floor, uncontrollably sobbing as I try to convince myself to just leave and accept that these hundreds—no, thousands of women—that have won over my marriage, my man, and my family.
The pain that is felt when you realize someone looks you in the eyes with a smile on their face and has lied so convincingly is hard to describe. It's even made me feel crazy and paranoid. The self-esteem I once had is diminished, and I've even found myself desiring to be one of these women in porn. I mean, why wouldn't I? Look at all these men who want them; look at how much the love of my life wants them. I've moved past this idea, but occasionally I still feel that way.
Related: True Story: I Became His Porn Star To Try And Save Our Relationship
Everyone on the outside sees us as that "cute, happy couple." But I know better. My husband can make me smile, but he can no longer make me happy. I used to be okay with the idea of a man or woman watching porn on occasion. I didn't think it was a big deal.
Boy, was I wrong.
This addiction is so intense that it has interrupted my husband's work life and our personal life. It even affects our children when he takes his anger and frustration out on them when he is "trying to quit." But he never does. It's truly a drug. Imagine the pain of seeing your significant other actually have a sort of withdrawal because he has gone too long without seeing a naked stranger on a screen. The hurt is unbearable.
Everyone knows cheating is terrible, but the betrayal of this obsession may just equal that kind of pain. Why wouldn't it? How is it not cheating when your significant other is constantly seeking out other women to accommodate his needs? These may be paid "professionals," but they are still real women that my husband is desiring, instead of me. Women that look nothing like me.
How could I not feel cheated on when I see that he is searching for specific "traits" on other woman that I just don't have. My body doesn't look like that; no one's body really looks like that, at least no woman that I know.
Related: Is Watching Porn Like Cheating On Your Partner?
The other day I found myself searching plastic surgeons to "repair" the changes to my body that have happened since bearing his children and losing the baby weight. What's ironic is that at work I am told at least once a week how beautiful I am, usually by some random customer. But it doesn't even matter. I don't feel beautiful. I don't feel sexy. Because in the back of my mind I know he has a "type"—and it isn't anything close to what I look like.
Pornography is ruining my life and I've come to a point where I cannot move past it. I need help. We have children who need us but are currently living in a broken home. My husband is willing to accept help, but I don't know where to turn. I tried Googling for resources to help us, but I get lost in so many other personal stories that I just wind up crying again. There are so many lives here being hurt by this normalized habit. I know for me, this is a pain that I've never felt before.
I apologize for any errors in my message, I am typing from my cell phone because I can't stand the thought of going near our computer for fear of what I'll find. Just two days ago was the last time I realized he still hasn't quit. It turns out that every time I catch him, I just unintentionally teach him how to hide it better.
Someone has to know something that can help me through this. Please.
– R.
Why This Matters
Again, the definition of "cheating" can vary from person to person, and we understand that. We don't know your definition of cheating, but here's some food for thought: when a person actively sexually desires and acts out with someone other than their own partner, doesn't that sound like something other than commitment?
After all, this woman feels cheated, and feels as though her husband hasn't been committed to their bond. And as unfortunate as that is, this woman's story is as common as it is heartbreaking. We get thousands of emails and direct messages from partners all across the world who describe their similar experiences.
We summed up the damaging effects of porn in a letter we wrote and released on social media. And while it is specifically about heterosexual relationships where males are the porn consumers, porn's harms don't discriminate based on gender, sexuality, or any diversifying factor. This letter can apply to anyone in any kind of relationship where porn is an issue: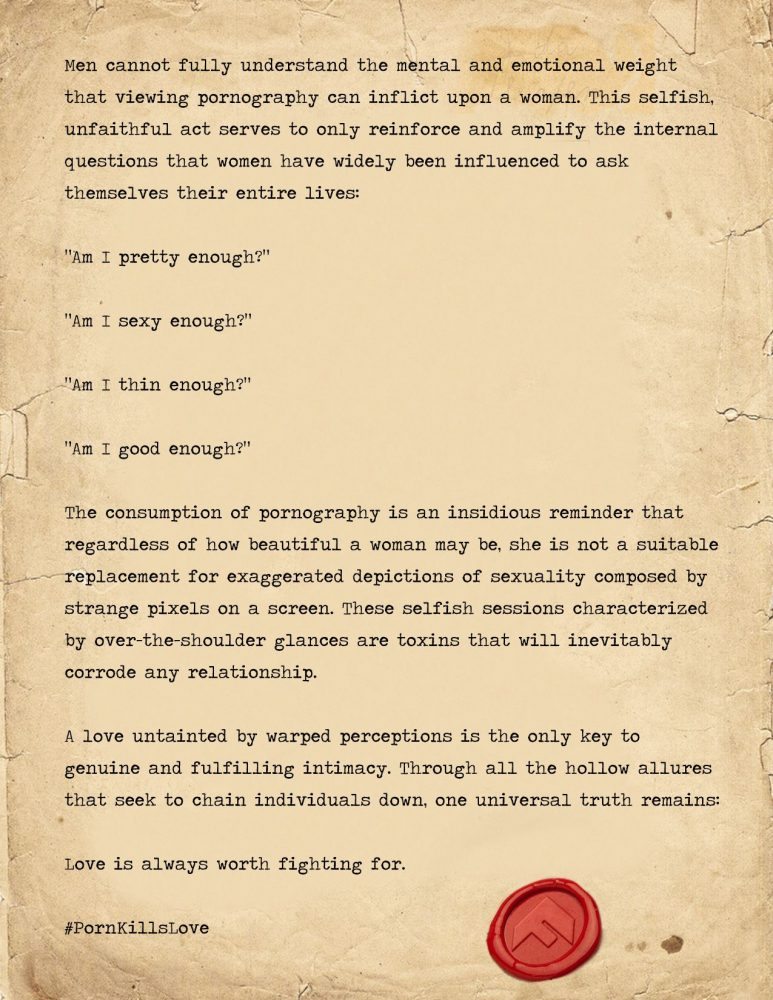 Science and research are constantly showing how porn can hurt real love and destroy relational intimacy. Research has found that after people are exposed to pornography, they rate themselves as less in love with their partner than a person who didn't see any porn. Another study found that after being exposed to pornographic images, people were more critical of their partner's appearance, sexual performance, and displays of affection. These are the real effects that porn can have on a consumer that can ultimately harm a committed bond.
Porn kills love is not just some catchy slogan for our movement—it is backed by reliable research. Several studies have found that partners of porn consumers often report feeling loss, betrayal, mistrust, devastation, and anger when they learn that the other half of their committed relationship has been consuming porn. Many show physical symptoms of anxiety and depression.
In reality, there's nothing sexier than authentic love built on trust, mutuality, and honesty. Real love is possible, and it's absolutely worth it. That's what we're fighting for, and we invite you to join us.
What YOU Can Do
Show support for this Fighter who shared her story with us. SHARE this article and help spread the facts about how porn kills love.
Need help?
For those reading this who feel they are struggling with an obsession or addiction to pornography, you are not alone. Check out our friends at Fortify, a recovery-focused platform that will allow you take a step toward freedom. Anyone 17 years and younger can apply for a free scholarship to the site, and it's an inexpensive fee for anyone 18 and older. There is hope—sign up today to get the help you need and join with an encouraging community.