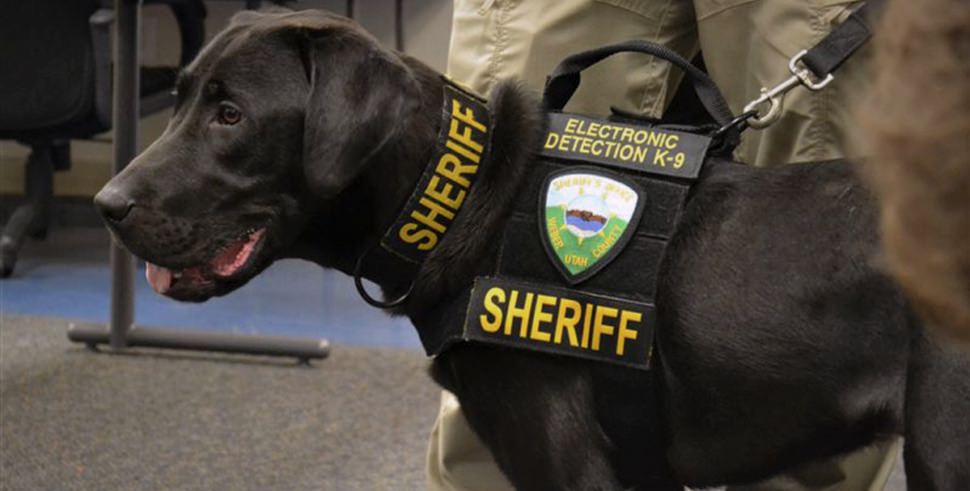 Photo from Buzzworthy. 2 minute read.
There is a new tool in helping to stop the growing issue of child pornography in our society. Police departments are being given what NBC News refers to as "bloodhounds for the digital age."
The same way other police dogs can pick up the scent of a fugitive, or a hidden stash of weed or cocaine, these new "porn dogs" can smell the components of electronic media, even a micro-card as small as a fingernail that a suspect could easily hide. The specially-trained dogs can smell the adhesive found in electronic storage devices, like thumb drives and SD cards where child exploitation imagery is often kept hidden.
Watch the story of Charlie, the device-sniffing dog:
"[These dogs] have found that there have been storage devices in safes under the slab of somebody's home. The criminals hide it very well," said one police officer.
"Officers went in and collected things and didn't find what they were looking for, and that's when they called in this dog to come in and assist, and on the second round, he found the devices that they were looking for. Porn dog sniffed it out, it worked perfectly."
These new dogs have already made a serious impact in enforcing child porn laws. One rambunctious black Labrador named Bear—one of more than two dozen dogs in the nation trained to sniff out electronic data devices—played a key role in the arrest of former Subway pitchman Jared Fogle on child-porn charges.
The 2-year-old rescue dog located a thumb drive that officers had failed to find during a search of Fogle's Indiana house in 2015, several weeks before he agreed to plead guilty to having X-rated images of minors and paying to have sex with teenage girls.
Related: 400 Children Rescued/348 Adults Arrested After Police Take Down $4 Million Child Porn Empire
Bear has taken part in four other investigations, and he's just been sold to the Seattle Police Department to help investigate online crimes. Steven DeBrota, a prosecutor in the U.S. Attorney's office in Indianapolis, said when he first heard about Bear's nose, he was skeptical. "I thought I was being punked, but it does work," said DeBrota, who was the lead prosecutor on the Fogle case and calls Bear "a key part of the team."
Another "porn-fighting dog" who works in Pennsylvania is named Charlie, and after just 4 weeks of training, she can find a single hidden USB drive in a variety of places. Check out this video about her training.
meet Charlie, the newest tool in @DelcoDAoffice's fight against child predators and their crime-hiding tactics pic.twitter.com/D1nUcbXjll

— Ian Bush (@ianthebush) September 13, 2017
But there are particular challenges in picking up electronic components. The modern world is full of gizmos and gadgets; the dogs must ignore alarm clocks or remote controls as they hunt out USB sticks and CD-ROMs, reports Newsweek.
Nationwide, there are dozens of task forces devoted to child pornography, but the use of "porn dogs" are just now starting to roll out. About two dozen dogs are known to be active in police departments across the country, including one in Texas, Delaware, Pennsylvania, and one in Utah named URL (pronounced Earl).
Why This Matters
We are glad to see that law enforcement is enacting new strategies to find and prosecute child pornography.
Every day, children are filmed while they're sexually abused, and the content is then distributed worldwide. It's a booming underground industry that continues to grow year after year. By being educated on the issue, we can help to stop the demand.

What YOU Can Do
This is a huge problem in our society and we can't let it slip into the background. SHARE this article to take a stand and raise awareness.
To report an incident involving the possession, distribution, receipt, or production of child pornography, file a report on the National Center for Missing & Exploited Children (NCMEC)'s website at www.cybertipline.com , or call 1-800-843-5678.