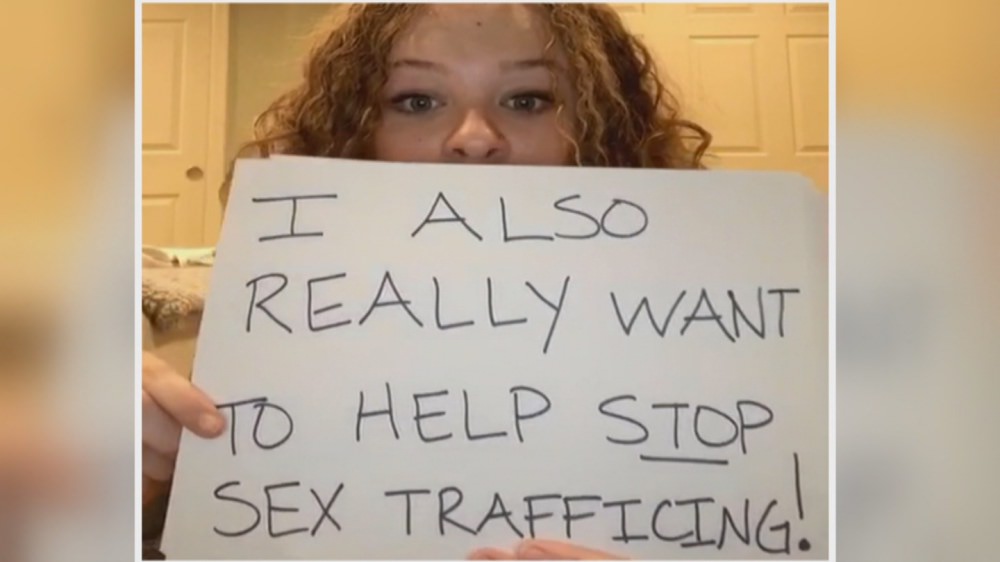 Cover image retrieved from CBS Denver. 3-minute read.
July is our annual #StopTheDemand awareness campaign, which is a whole month dedicated to an issue that affects thousands in the U.S. and millions across the globe.
When it comes to human sex trafficking, specifically, we've shown a spotlight on some organizations that are inspiring serious change—some in their own communities, and others beyond their local areas.
But we know it doesn't take a company or a nonprofit to spark change—it starts with each one of us.

Meet Kyra Dooley
Kyra Dooley is a 16-year-old girl from Colorado who has helped impact her community and served others thousands of miles away.
She's been involved in over seven projects ranging from providing food to the local rescue shelter to creating chemo care packages to cancer patients. If that wasn't superhuman enough, consider how Kyra started on her first project by sending clothes and shoes to underprivileged kids on the other side of the world when she was only nine.
Related: Meet The Researchers Developing Apps To Educate People About Sex Trafficking
Her latest project? Kyra is helping out with two local organizations in her home of Aurora that house and support sex trafficking survivors to get them back on their feet. After hearing the story of a family friend that fell victim to sex trafficking, she decided to step in and, in her words, "do something about it."
Her way of doing this includes raising awareness, something she considers challenging. "It's a really uncomfortable topic," Kyra said in a recent news report, "So it's really hard for people to get educated about it."
Related: This Train Passenger's Tweet Saved 25 Girls From Human Trafficking
As an organization that raises awareness on the harmful effects of porn—another intensely personal topic—we get where she's coming from. But we're not derailed by the challenge, and neither is she.
Kyra has collected basic necessities and gift cards for sex trafficking survivors, and met with them in person. This year, she even organized an event on January 11th, National Human Trafficking Awareness Day, to deliver the gifts and basic goods.
Holly O'Berem, a survivor and lead at one of the two organizations, Covered Colorado, talks about the power of individual actions like Kyra's:
"To give someone the opportunity to be seen and to know that people care and that people are educating themselves around what is going on is so huge."

Giving rather than getting
So…what is the method behind the madness? Kyra doesn't claim to have superpowers; according to her, she just cares.
She created a nonprofit called My One Birthday which reflects how she got involved with different organizations and how she makes her impact. It started with her 9th birthday, when she saw a commercial about starving children in Africa. She was so moved to do something, she asked for clothes, shoes, and other donations to help give gifts instead of receiving them. From then on, every birthday (and Christmases, too) until today she's supported a different charity or organization by giving rather than getting.
Related: How To Identify Sex Trafficking Victims And Stop Contributing To Sexual Exploitation
This giving versus getting motto is something Kyra promotes for others to take on, too. On her website lists of, ways to get involved with events, causes to donate to, and ways to contribute to her current project are always available.
More than anything, she wants to encourage others to make a change in the world by starting small: choosing one birthday and deciding to "make it about someone else." Her mission is to "inspire kids to do what I have done," by continuing to give. By doing so, she says they will see, "how much of a difference you [can] make."

How you can be a changemaker
Kyra isn't the only changemaker out there, but her story is certainly a unique one that only goes to show how one person really can influence and impact their community in a very direct way. Her example of simply having an open heart and making small, but powerful decisions to help others is inspiring and shows we don't need endless resources to make a difference.
At Fight the New Drug, like Kyra, we believe in the power of the individual to make profound decisions about their own life, and the people and community around them.
Related: In-N-Out Burger Matches Donations 3-To-1 To Fight Human Trafficking
As we educate on how each of us can #StopTheDemand for sexual exploitation, we encourage you to think of ways you can stay informed and have an impact in your community regarding sex trafficking, sex abuse, objectification, sexualized racism, and child exploitation. It doesn't have to be anything huge: check out facts and become more informed, find out about local survivor organizations nearby, or even start a conversation about it with a friend.
Small steps can create a big impact.
To learn about how sex trafficking is connected to pornography click here.