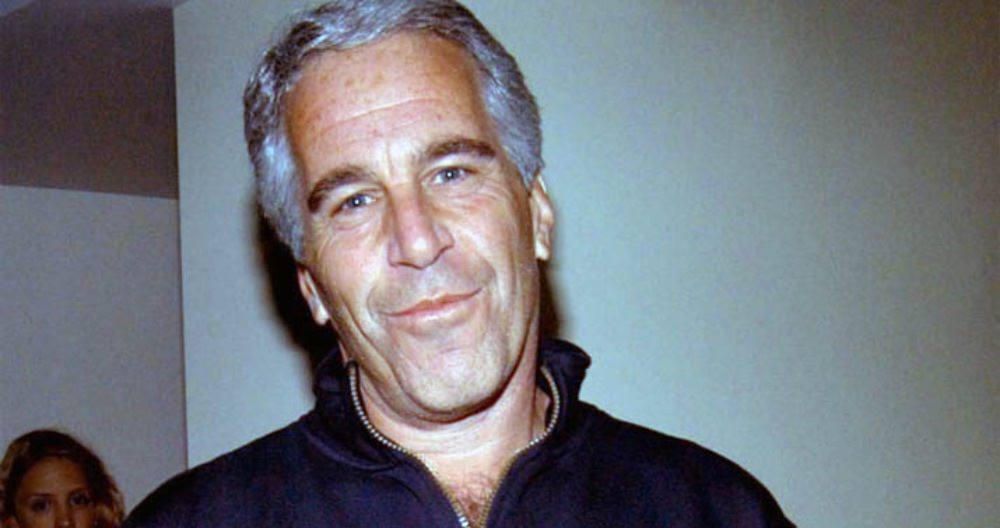 Federal prosecutors in New York unsealed a criminal indictment Monday charging billionaire Jeffrey Epstein with having operated a sex trafficking ring in which he sexually abused dozens of underage girls, allegations that have circulated around the businessman for years, reports CNN.
According to the indictment, between 2002 and 2005, 66-year-old Epstein ran a trafficking enterprise in which he paid hundreds of dollars in cash to rape girls as young as 14 at his Upper East Side home and his estate in Palm Beach, worked with employees and associates to lure the girls to his residences, and paid some of his victims to recruit other girls for him to abuse.
Related: How Street Gangs Make Big Money By Trafficking 14-Year-Old Girls For Sex
"In this way, Epstein created a vast network of underage victims for him to sexually exploit, often on a daily basis," Manhattan US Attorney Geoffrey Berman said in a statement.

Child exploitation images found at Epstein's NY mansion
Prosecutors say Jeffrey Epstein kept perhaps thousands of sexually suggestive photographs at his Manhattan mansion, reports the AP.
Officials say in court papers Monday that the pictures included some on CDs with handwritten labels including "Misc nudes 1," ″Girl pics nude" and the names of specific young women.
Prosecutors say federal agents found some of the photos "of young-looking women or girls" in a locked safe while searching the seven-story town house after the wealthy financier's arrest Saturday on sex trafficking charges.
But that's not all.
CNN reports that the court document unsealed Monday describes a predatory pattern in which girls were taken to a room in Epstein's New York mansion to perform "massages."
The girls were instructed by him or his associates to perform such duties nude or partially nude, according to the indictment, and Epstein would escalate the encounter to "include one or more sex acts."
Related: Child Sex Trafficking Survivor Cyntoia Brown Granted Clemency After Serving 15 Years For Killing Sex Buyer
"Epstein typically would also masturbate during these sexualized encounters, ask victims to touch him while he masturbated, and touch victims' genitals with his hands or with sex toys," the indictment alleges.
Epstein knew that the girls were underage, according to court filings, in part because some of the girls told him their age.
The indictment also implicates some of Epstein's employees. One person referred to as "Employee-1" called girls who had previously been lured into encounters with Epstein to arrange future visits to his New York residence, the indictment states.
When Epstein would travel by private jet from New York to Palm Beach, an employee or associate would "ensure that minor victims were available for encounters upon his arrival in Florida," according to the indictment.
Related: How Teen Girls Get Tricked Into Doing Porn
Epstein or his associates would pay each girl a sum in cash, and if a girl lured others to Epstein's residences, he would pay both the "victim-recruiter" and the new girl hundreds of dollars, according to the indictment.
The indictment does not name any alleged victims, referring to them only as "Minor Victim-1," "Minor Victim-2," and "Minor Victim-3."
Read the rest of the reports by The Associated Press and CNN by clicking here or here.

The realities of child sex trafficking in the US
About 293,000 U.S. children are at risk of being exploited and trafficked for sex, according to a 2011 FBI report on trafficking. Most are girls ages 12 to 14. They often are abducted or lured by pimps/traffickers, beaten into submission, and sometimes even branded with the pimp's name.
Across the United States, there are child sex markets not far off from those in Cambodia, Thailand, and India, according to a Washington Post piece by human rights activist Malika Saada Saar. Girls are sold in this country with the same disregard for human dignity, and they are often tortured in the same ways when they try to escape.
Related: Exposing The Disturbing Practice Of Sex Traffickers Using Tattoos To Mark Their Victims
Saar says it well in the Post piece, explaining the issues facing underage victims of sexual exploitation:
"…Should an abused child be incarcerated for the abuses perpetrated against her? The people who rape these girls, the politely termed "johns," are rarely arrested for statutory rape, child endangerment or sexual assault of a minor.
Perhaps it is too difficult to accept what happens on U.S. soil, to our own daughters. Regardless, we must call this trafficking what it is: serial, systematized rape. And we must care for these girls, too often invisible to society, as victims and survivors of child sexual abuse.
Because there is no such thing as a child prostitute."

The world of sexual exploitation includes porn
The sad fact is, sexual exploitation and sex trafficking happen to underage teens and children across the U.S. every day.
This isn't an isolated issue, and it isn't one that's only located in faraway countries. Not only that, but this also isn't an issue that's completely separate from pornography.
It is a sad reality that the porn industry fuels (and fantasizes) real situations of sexual exploitation: real people being sexually abused and exploited at the hands of family members, traffickers, and pimps. Each click to porn content directly fuels the demand for sex traffickers to make money by selling videos and images of their sex slaves to porn sites. But what about major porn studios and porn sites—aren't they completely separate from the sexual exploitation issue?
After all, when someone is sex trafficked, there are often videos and images taken of them for commercial purposes, like advertising them online. Consider how, in one survey, 63% of underage sex trafficking victims said they had been advertised or sold online.
Related: How Street Gangs Make Big Money By Trafficking 14-Year-Old Girls For Sex
Also consider how with one simple Google search, hardcore pornographic videos can be found, depicting people sold for sex being used, abused, discarded, and sometimes killed by sex buyers. In some of these "fantasies," the victims are portrayed as underage.
Not only does porn fuel these scenarios in reality, it normalizes them in fantasy.
Bottom line: there is no such thing as a "child prostitute," only an underage victim of sex trafficking. Fighting for real love and healthy relationships while calling out sexual exploitation where it thrives means getting support for victims and survivors of trafficking, regardless of their age, background, or profession. No child's sexual abuse—or anyone's for that matter—deserves to be depicted as a sexual fantasy.