Many people contact Fight the New Drug to share their personal stories about how porn has affected their life or the life of a loved one. We consider these personal accounts very valuable because, while the science and research is powerful within its own right, personal accounts from real people seem to really hit home about the damage that pornography does to real lives.
This guy's real story shows how shame, isolation, and self-hatred can fuel a struggle with porn and worsen an already toxic habit.
Dear FTND,
My first exposure to pornography was when I was 7 years old. My family was on our first (and last) vacation in Las Vegas. I remember men standing along the sidewalk holding stacks of cards. These were porn cards; card-sized images of women that left very little to the imagination. When I looked down, they were all over the ground, they were taped to the chain-link fence on the left, and stapled to the poles. As a child, I felt like they were falling out of the sky, simply appearing out of thin air and placing themselves so they couldn't be avoided.
After going home, I became curious. I wanted to see more, and of course it became a habit. It was difficult at first, as I was young enough that I wasn't left alone all that often, so when I had the chance, I would take pictures of the computer images with my digital camera.
Related: How The Porn Industry Gains Teen Viewers And Turns Them Into Lifelong Clients
This carried on for years until I was finally caught by my father. We talked about it and he blocked the websites that I frequented. However, as I got older and technology advanced, my issue became a more prevalent problem. A few years later, when I was in my mid-teen years, I built up the courage to tell my dad that I was still struggling with porn. Since he really couldn't block every website, accountability became the way to deal with it. A few years later in my late teens, I was able to open up to my older brother and we have continued to be accountable to each other.
However, going back a bit; having a porn obsession in your life for more than a decade is hard enough, especially when it is during puberty. I began to resent myself for this thing I couldn't get over, and I was told by peers and society that it was a natural part of growing from a "boy to a man." I hated what I was doing and was guilt-ridden most of the time. I lost confidence because I was sure someone would find and expose my filthy secret. I lived in shame and embarrassment. Having my body change at the same time made it extra difficult. I started putting on weight, like most pubescent boys, however I never had a growth spurt like other boys, and my weight never left.
Related: My Best Friend Won't Date Me Because I Don't Look Like A Porn Star
I remember where I was standing during recess in sixth grade, I was 11 years old and around 4'9''. I had weighed myself the night before and had just hit 120 lbs. I told my friend (who I honestly thought looked pretty chubby) how much I weighed and he said he weighed the same.
In that moment I thought, "Oh my gosh, I must be fat." I was an extremely skinny child and this hit me like a brick wall. And it didn't get any better.
Throughout my teen years, I grew steadily but never had a growth spurt and was consistently putting on weight. I already hated myself for my porn habits, and I started hating my body, too. I didn't look like the guys in these videos, which (to me) obviously meant I wasn't attractive. I couldn't stand how I started looking at women, so I dabbled in gay porn as well, which then became a common search for me. I thought so little of guys, I didn't see them as lovable people, but as sex-crazed animals.
Related: True Story: Shame Kept Me From Quitting Porn
I was so embarrassed to be male. Movies and TV shows portrayed boyfriends and husbands as having an insatiable sex drive and their girlfriends/wives constantly having to fight them off. I wanted to be a man, a good man, not a stereotypical male. I started to channel my feminine side more because I felt more mature and I hated the title of "teen boy." I was (and still am) so hypersensitive to being seen as having too much of a sexual appetite. I've become terrified of being in a relationship because I'm truly convinced myself that I'd make a terrible boyfriend/husband. My lack of much confidence has placed me in unhealthy friendships, and I'm terrified that will continue on to my romantic relationships.
I spent my first year of college hating myself, and not just the porn obsession, but all of me. I figured that if I could deprive myself of necessities, then I could begin to control my sexual urges. So, I stopped eating. I ate as little as I could, once going five days without eating anything. I attempted to make myself throw up when I felt I ate too much. The first meal I successfully threw up, was rice cakes with peanut butter and Nutella, I was so proud of myself when I finally managed to throw up; I honestly can't think of another time when I was that proud of myself.
When my friends wanted me to eat with them, I spent the following hours trying to throw up as much as I could in the dorm showers so that the rushing water would mask the gagging sounds. This routine made me think I was the only guy who had this problem. I started to feel like I had a "woman" problem, and I couldn't find any guys to reach out to, so I stayed quiet.
Related: How Shame Made My Struggle With Porn Worse, Not Better
This silence and shame allowed my porn addiction to convince me that I wasn't a man. That my self-hatred was a worse problem than my addiction. I started to feel secluded from men and extremely uncomfortable about my masculinity. Once, someone close to me asked how much I weighed and I didn't answer. He then turned to my dad and said, "Wow, what kind of man are you raising?"
Everyone has said that now is the prime time of my life, to go enjoy people and date and discover relationships, but I always respond with, "I have too much stuff that I need to figure out first." I am 19 years old and I hesitate to call myself a man, because I honestly don't feel like I deserve that title. I've been hooked to porn since I was 7, and have hated my body since I was 11. It's a daily struggle, one that sits there and thrives on my boredom and solitude.
Related: True Story: I'm A Man Hooked On Male Abuse Porn
I don't want now to be the prime of my life, because I'm still struggling daily with unhealthy thoughts and addictions. I want to win this battle because I'm done being exhausted and defeated. I'm ready to cast my demons aside and live my life to the fullest.
– T.
Why This Matters
The harmful effects of porn are many, and one of those harms is how it can affect the self-esteem of the consumer. In one study done on both straight and gay men, consuming pornography was correlated with higher levels of body dissatisfaction. Pornography exposure was correlated with social physique anxiety for gay men and a higher tendency of developing an eating disorder.
In a similar more recent study, a group of college men who consumed porn rated how they viewed themselves in terms of body satisfaction, relationship satisfaction, and overall emotional well-being. After analyzing the data, it turns out that guys who consume porn are much more likely to have anxiety in relationships and withdraw from them more than guys who aren't consuming porn. Their sense of emotional security was lower overall than guys who do not consume pornography. How is that healthy?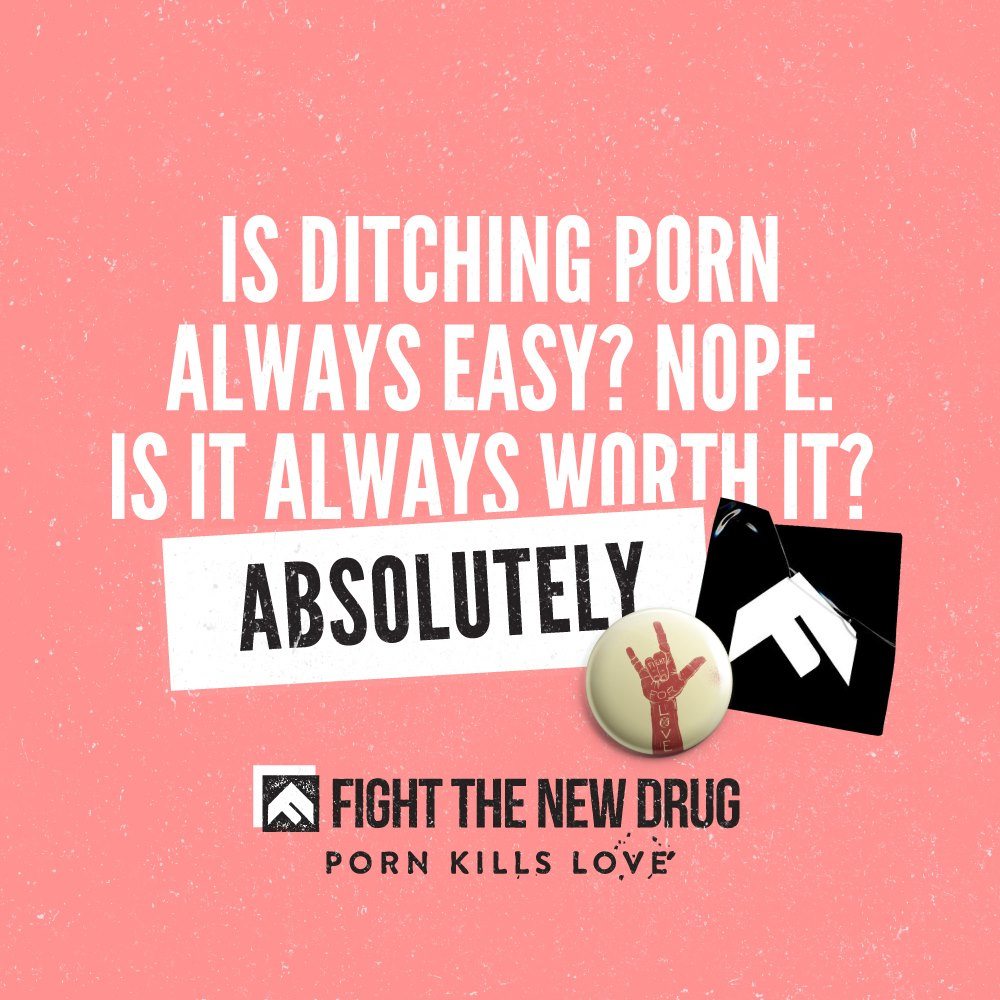 Get Involved
Show support for this guy for being brave enough to share his story. SHARE this article and spread the word on the harmful effects of pornography on individuals and relationships.
Spark Conversations
This movement is all about changing the conversation about pornography and stopping the demand for sexual exploitation. When you rep a tee, you can spark meaningful conversation on porn's harms and inspire lasting change in individuals' lives, and our world. Are you in? Check out all our styles in our online store, or click below to shop: