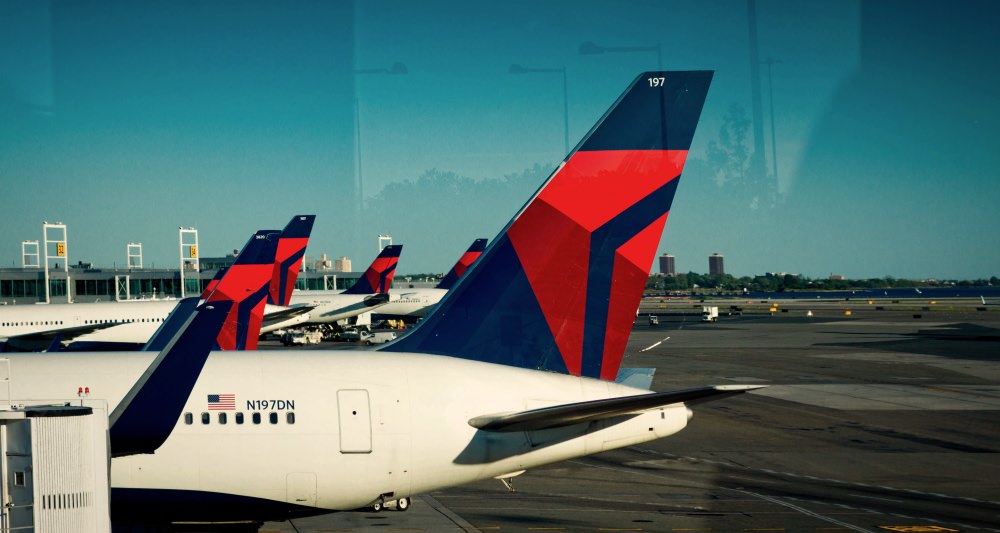 Did you know 70% of labor trafficking survivors say part of their recruitment involved traveling by plane to the U.S.? Also, did you know two out of five human traffickers or trafficking victims reported flying for the purpose of exploitation?
In light of this, Delta Airlines has stepped up to try and combat human trafficking.
Delta donates $1.5 million to fight trafficking
A few weeks ago, it was reported that the company has given 100 flights to fly trafficking victims via their SkyWish mileage program. In addition, the company pledged $1.5 million to help Polaris—the anti-trafficking organization that's home to the National Human Trafficking Hotline—to conduct analysis on trafficking data and maintain the personnel necessary to answer the hundreds of phone calls the hotline receives daily.
Related: Lyft Drivers And Delta Airlines Personnel Are Now Trained To Spot Human Trafficking
These are only Delta's most recent efforts, however. In the past, they donated $1 million to Polaris, formed an anti-trafficking steering committee, and worked on various human trafficking initiatives including mentorship for survivors, in flight-videos, and training for employees to spot potential traffickers and victims.
But why is the airline making a big push to fight against trafficking?

Human trafficking is big business
Even one trafficking victim is one too many, but the sad reality is that human trafficking is big business.
Profits from sexual exploitation roll in at $99 billion dollars annually, with ⅔ of the profits resulting from forced labor. Wow. According to the International Labor Organization (ILO), there are over 40 million victims of human trafficking globally, one-tenth of those sex trafficking victims.
Related: This Woman's Seatmate Used Porn Next To Her On An Airplane—What Would You Do In This Situation?
This is no small industry. Fortunately, there are other organizations like Delta that have teamed up with human trafficking organizations to fight this issue.
Airlines like American and Alaskan Airlines have stories of employees who were successful in preventing and putting an end to sex trafficking cases.

American Airlines saves the day
American Airlines employee Denice Miracle stopped two girls from boarding a plane to NY and stepping into a potential sex trafficking situation, recently.
The girls were flying for a supposed "modeling gig," but seemed hesitant about their travel plans. Denice decided to not let them fly, because she felt something was off. Turns out these girls were planning to meet a guy they had met on social media who promised a great pay for a photoshoot.
Related: Hotels, Highways, And Massage Parlors Will Be Hotspots For Human Trafficking In 2019
Because Denice "just [took] that extra second," because something felt off, it paid off in this case: the two unaccompanied 15 and 16-year-old girls had tickets bought with a fraudulent credit card, and were surprised to see that their likely trafficker had bought them a one-way ticket instead of a round trip.
Once the police got involved, the possible trafficker "Drey" was called and he was nowhere to be found on social media.

Alaskan Airlines takes precaution
Or take Alaskan Airlines employee Sheila Fedrick who found it strange to see a disheveled-looking girl sitting next to a very well dressed older man on one of her flights.
She said the girl looked like "she had been through pure hell," and after attempts to speak with the child but facing defensive reactions from her companion, wrote a note and left it in the plane bathroom asking if she needed help. The girl wrote back confirming she did, and Sheila quickly notified the pilot so the authorities were waiting at the airport upon arrival.
Thanks to Sheila's efforts, a sex trafficker was put behind bars.
Other companies taking measures to fight against trafficking
And airlines aren't the only companies taking measures—other transportation organizations have stepped up to the plate as well.
Take Lyft, for example: this ride-sharing app worked with the International Human Trafficking Institute and the Business Ending Slavery and Trafficking (BEST) to train drivers on how to spot trafficking victims. They've also provided resources for their drivers to learn more about human trafficking prevention.
Related: How One Uber Driver Rescued An Underage Sex Trafficking Victim
Uber has also upped the resources it offers drivers to be informed about possible traffickers and victims, and a few years ago, one Uber driver's efforts led to the arrest of several sex traffickers.

Now, it's your turn
All of these efforts are great ways to fight against human trafficking for flight attendants and drivers, but what about those of us with other jobs? Can we do anything in our day-to-day lives?
Definitely.
Polaris, the National Center for Missing and Exploited Children (NCMEC), and other organizations offer tips on what we can do to play our part and help detect signs of trafficking.
But you might be surprised to learn that the porn industry is also a directly fueling factor in trafficking around the world.
Related: Why Do Some People Fight Against Sex Trafficking But Unconditionally Support Porn?
Porn is directly linked to fueling the demand for sex trafficking in a few different ways. According to Taina Bien-Aime, the Executive Director of the Coalition Against Trafficking in Women, it is a risk factor for trafficking and used for advertising and grooming to prep trafficking victims. It's the "dress rehearsal" for other forms of commercial sex. Statistics show that about 49% of women who have been sold for sex have had pornography made of them while in the sex trade, yet the porn industry makes everything seem like content is consensual. Meaning? You never know whether what you're watching is legal, or the play-by-play of someone performing on camera due to, "force, fraud or coercion," [1] the definition of sex trafficking.
There's an inseparable connection between porn and human sex trafficking.

So, if you want to play your part in helping to end human sex trafficking, sometimes less is more. Refuse to click.
According to the Protection Project Journal of Human Rights and Civil Society, it was argued that "curbing pornography can reduce sex trafficking." Refusing to click may be the easiest way to contribute to taking down an industry committed to exploitation. So check the facts and consider the implications of porn before you click.

[1] Trafficking Victims Protection Act (TVPA) Of 2000. Pub. L. No. 106-386, Section 103 (8) (A).