Over 4.8 million.
According to the International Labour Organization, that is the estimated number of men, women, and children who daily find themselves exploited sexually for the commercial benefit of others.
And, while the sale of humans is ranked in the top of the world's largest illegal trade commodities, the industry is growing faster than the drugs and weapons industries, respectively the largest and second largest trade commodities in the world.
But how does this epidemic hide in plain sight? Well, for one thing, traffickers are well-trained to keep their illicit activities under wraps. Not only that, it can be easy to move and transport victims when they don't think those around them are paying attention.
But that's changing in a big way, what with transportation tycoons like Lyft and Delta stepping up to make trafficking awareness and prevention a huge priority for their employees.

Lyft taking steps against trafficking
Ride-sharing is as common and easily accessible as owning a car these days, but not without its own risks and dangers.
It can't be denied that traffickers have used Lyft and Uber to transport victims from point A to point B. Remember that Uber driver from a couple of years ago who saved the minor from being sex trafficked, all because he was paying attention? Last year, Uber made sure its drivers were on the lookout for trafficking behavior. And now, Lyft is making sure every one of their drivers is ready to do the same.
From the Lyft blog: "From day one, we have been committed to the safety of our riders and drivers, and we strive to have a positive impact on every community we serve. With January being National Slavery & Human Trafficking Prevention Month, we are working to help raise awareness and taking action to prevent human trafficking."
On their interface, drivers are directed to this page on Lyft's website whenever they want to learn more about how to spot and report it: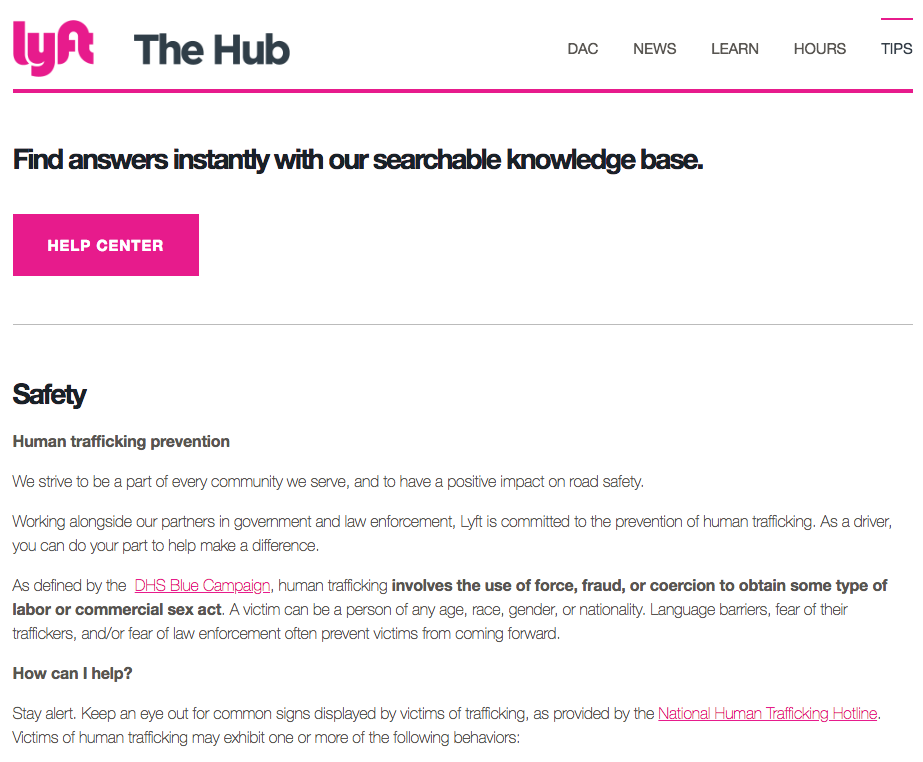 Lyft says that through partnerships with organizations like International Human Trafficking Institute and Businesses Ending Slavery and Trafficking (BEST), they are educating drivers and employees on how to spot potential trafficking and how to take action. This includes printed materials, online resources, and in-person sessions, as well as employee trainings and a series of learning sessions for drivers.
Related: How One Uber Driver Rescued An Underage Sex Trafficking Victim
"Human trafficking occurs hidden in plain view. We are honored to partner with Lyft, so their drivers will recognize the signs of human trafficking and know how to confidentially report it," said Deborah J. Richardson, Executive Director of International Human Trafficking Institute.
Cool right? And thankfully, they're not the only ones in the transportation industry that are taking steps to spot and report trafficking.

Delta keeps climbing the trafficking prevention protocol
It's no secret the transportation industry deals with human trafficking issues on a regular basis, but airlines are a particular hot spot for transporting trafficking victims. About 70% of human trafficking victims come through airports, according to Nicole Clifton, the VP of Global Public Affairs for UPS.
Because of this, Delta took the step of forming an anti-trafficking steering committee in 2016, said Mimi Braniff, the managing director of government affairs at Delta. This committee provides guidance on how to train Delta employees, thousands of which have now received training in how to spot and report potential human trafficking incidents, Braniff said.
In fact, the majority of their in-flight employees are ready to spot trafficking when it happens, thanks to their newer training protocol.
"While Delta is leading the fight with 56,000 trained, we're aiming for all 80,000 to take our industry-level training in advance of the Super Bowl. That's an opportunity for 24,000 more employees to #GetOnBoard and take our fight to the next level," said Allison Ausband, Senior Vice President of In-Flight Service.
Check out this heartbreaking anti-trafficking campaign video:
And when it comes to air travel, Delta isn't the only one fighting human trafficking.

One-way tickets to New York City
According to reports, an American Airlines employee named Denice Miracle saved two unaccompanied girls, ages 15 and 17, from being trafficked not long ago.
The girls approached her at the ticket counter without IDs, unsure of their travel plans, but about to board a plane to New York to meet someone.
"I think the way they kept looking back-and-forth at each other, like they weren't really sure," said Denice. "And then they were texting someone on the phone, and that person was giving them answers."
When Miracle saw the girls' tickets, another red flag was raised. The tickets, both first class, were booked using a credit card whose owner didn't seem to be associated with any of the two girls. It looked like someone purchased first-class tickets for two teenage girls with a fraudulent credit card.
Related: This Woman's Seatmate Used Porn Next To Her On An Airplane—What Would You Do In This Situation?
Miracle decided that she wouldn't allow the girls to fly. After this, she informed her supervisor and called the police. When the police officer arrived, the girls admitted that they'd met a man called "Drey" on Instagram. Drey offered to buy them tickets to NYC, where he promised they would receive $2,000 for a modeling gig. The girls' parents were unaware of the situation completely. They were told that the girls were sleeping over at each other's houses.
When they were told the tickets Drey booked were just one-way instead of round-trip, they were shocked. They had no idea they'd be leaving for New York, never to come back. When the authorities tried to locate Drey's Instagram account and tried to reach out to him, they found he had deleted all of his profiles. This further convinced the police that Drey was a human-trafficking predator snatching potential victims on social media.
Denice probably saved their lives, that day.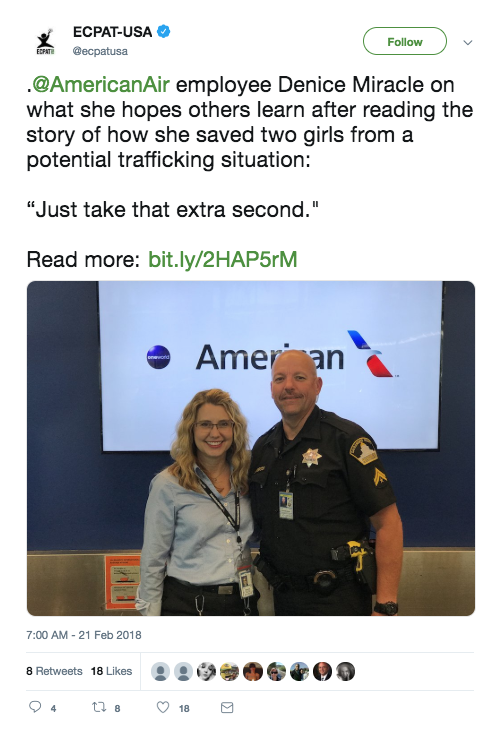 The sad part? This happens all the time within the underbelly of the amateur porn industry, and even the webcam world.
It's stories like these that remind us why we fight, and why we raise awareness that the commercial sex industry and sex trafficking are intricately connected—including porn.
Thankfully, airline employees and Lyft drivers are prepared to spot trafficking where it hides in plain sight, but they can't do it alone. Will you join the fight against exploitation?
Click here to learn how to spot signs of human trafficking.