According to one organization, across the state of Texas, there are hundreds of illegal massage businesses acting as fronts for human trafficking and sexual exploitation. These facades for human trafficking are hiding in plain sight: they exist all across some of Texas' major cities, tucked inside some of the wealthiest neighborhoods.
Many can even be found within walking distance of public schools, according to their site.
CHILDREN AT RISK, a Texas-based children's organization, created an interactive map showing the more than 600 suspected illegal massage businesses in Texas and their proximity to every public school.
View the map by clicking here to find out how close a school is to the nearest suspected illegal massage business, whether it be your school, your child's school, or someone you know.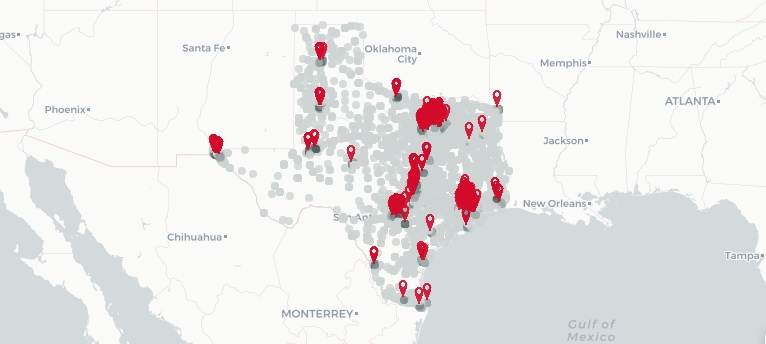 From 0 feet to 5,000 feet away
According to CHILDREN AT RISK, over 35,000 Texas children attend public schools that are within 1,000 feet of a suspected illegal massage business, including 4,000 Pre-K and Kindergarten students, according to their new analysis. Nearly a million children attend schools that are within a mile of a suspected illegal massage business. Not cool.

According to the report on their site, to identify suspected illegal massage businesses, CHILDREN AT RISK gathered data from the website RubMaps.com, a popular online review site for massage establishments that functions as the "Yelp" for commercial sex. In addition to posting sexually explicit and extremely disturbing reviews, RubMaps users also share tips with each other on what the women will do, how to work with management, and how to avoid law enforcement. Nearly every town in Texas has a RubMaps board.
Below is a sample of the kinds of reviews posted (edited for explicit content by CHILDREN AT RISK):
"I got a few minutes of action outta her…it was a good time, I left the tip and got outta there with my head up high, very recommended." – Review of Rainbow Foot Massage in Houston, 3/3/18
"The mamasan made her take me to the room, she left me there and came back when I was ready for the action…I kept [redacted] her for a while… trying to control of the pace until I thought it was enough… [the victim] acted… passive the whole time…" – Hi Butterfly Massage in Dallas, 2/28/18
"So she's rushing me the whole time til finally I tell her look, if you keep stopping I'm never going to finish. So, I know these girls hate it rough, but now I'm just ready to go…" –Review of Sunny Massage Spa in Houston, 12/13/2017
But while this is all happening, there are thousands more sex trafficking cases happening outside of the Lone Star State in the rest of the U.S.
9,000+ Illicit Massage Businesses
According to a newly-released report by the anti-human trafficking organization Polaris, in the entire United States, human trafficking is a huge booming business, operating in plain sight.
There are more than 9,000 illegally-operating massage parlors in America, according to Polaris' study. The report, "Human Trafficking in Illicit Massage Businesses," claims there is substantial evidence of workers being victimized, including being held against their will and forced to do commercial sex trafficking in businesses masquerading as being legit massage therapy establishments.
"This is the first comprehensive analysis of these particular businesses," Polaris CEO Bradley Myles told HuffPost. "I don't think anyone had an idea there is that many of them. The sheer volume of these businesses is astounding."
Check out this hotspot map from the Polaris report that shows the areas with the highest concentration of these shady businesses, though you can see that they can be found in every single state in the U.S.:
Pretty shocking, right?
Related: Arizona Porn Studio Charged With Running "Cleverly Disguised" Prostitution Business
Also astounding are the profits. As reported by HuffPost, Polaris' research estimates that these businesses, which more often than not are part of an organized criminal network, generate revenue of about $2.5 billion a year.
Hiding in Plain Sight
Polaris reports that California, Florida, New Jersey, New York and Texas have the highest number of trafficking businesses with the facade of being legit massage businesses (see the hotspot map above). But instead of offering the normal therapeutic massage services, the illegitimate parlors offer a variety of sexual favors, for a price—everything from "hand relief" genital stimulation to full-on intercourse.
Related: By The Numbers: How Porn And Sex Trafficking Are Closely Connected
Take a look at Polaris' guide to spotting an illegitimate, and potentially trafficking-ridden, businesses: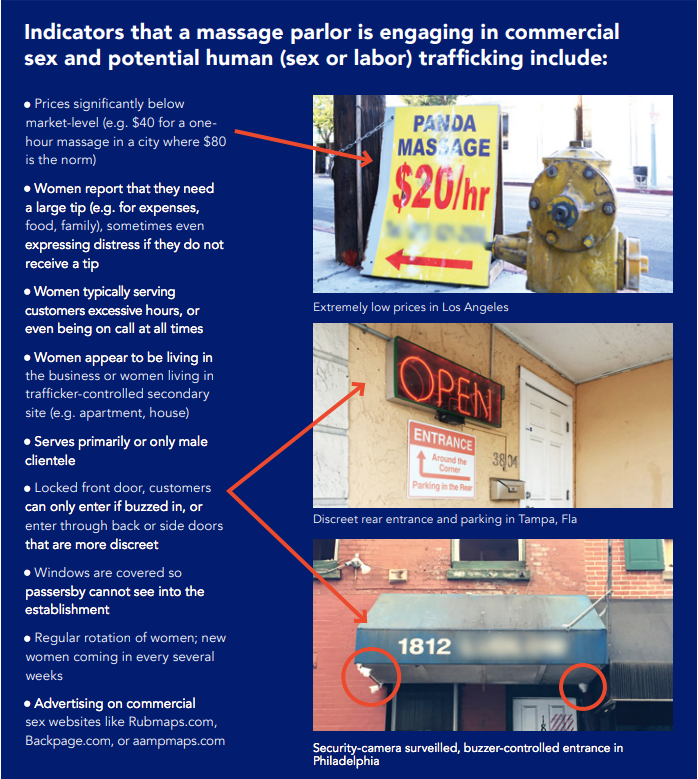 "There is a very proud, strong, legitimate massage profession, and people across the country love to get legitimate massages," Myles said to HuffPost. "The legitimate businesses are very frustrated that these imposters that have nothing to do with actual massage have weaved their way into the industry and sell sex by exploiting vulnerable women."

To read the entire Polaris report, click here.
Porn Normalizes This Exploitation
Trafficking is inseparably connected to porn, if not because the trafficking scenarios described in the Polaris report are sold as sexual fantasy on porn sites, but also because the industry heavily fuels the existing issue of sex trafficking. This report especially illustrates that is not just difficult to talk about pornography without talking about sexual exploiation—it is impossible.
"Asian Teen Massage Girl Begs For C**," 12.2 million views. "Sex Massage Porn", 116k views. "Poor Guy in a Massage Parlor Didn't Get a Happy Ending," 17.7k views.
These are just a few real titles of porn videos easily found on mainstream porn sites, with thousands more in the "massage porn" category.
And sure, the performers may possibly be "playing" the part of a massage parlor employee (although there's no real way to know), but you can be certain that the scenarios they portray don't focus on that detail—for all any consumer knows, especially considering the videos that claim to be "real," these could be exploited and trafficked women advertised on porn sites. How is that acceptable?
The bottom line is that if we're really going to tackle the issue of sexual exploitation as a society, we need to be aware of all the places where this unacceptable behavior is normalized, and even promoted. The same kind of behavior described in Polaris' trafficking report is easily accessible for anyone with an internet connection to watch. How is this helpful, and not complicit, in fighting sex trafficking? This is why we're speaking out and shining a light on the connection between porn and sex trafficking.
Normalizing trafficking and exploitation shouldn't be normal. You with us?

Get Involved
If you're interested in working directly with sex trafficking survivors, HELP International and FTND are offering an all-expense paid volunteer trip to Nepal to the grand-prize winner of our #StopTheDemand campaign. Our Co-Founder and President Clay Olsen is volunteering at the Nepal Shelter in June, and the #StopTheDemand campaign winner will work alongside our Executive Director Natale McAneney during the 11-day August volunteer trip being given away.
Spark Conversations
This movement is all about changing the conversation about pornography and stopping the demand for sexual exploitation. When you rep a tee, you can spark meaningful conversation on porn's harms and inspire lasting change in individuals' lives, and our world. Are you in? Check out all our styles in our online store, or click below to shop: