A week-long undercover sting called "Operation No Tricks, No Treats" targeting human trafficking and online prostitution in Florida ended with 277 arrests that included doctors, pharmacists, and law enforcement officers, reports WFLA News.
"That's the most we have ever arrested in the history of the sheriff's office," Sheriff Grady Judd said.
During the operation that ran from October 10th to the 16th in 2017, undercover detectives posted fake ads or profiles online posing as prostitutes or someone who solicits prostitutes. Detectives also responded to profiles and ads posted by prostitutes.
According to the sheriff's office, 51 of the arrests were related to those who advertise as prostitutes online and 209 of the arrests were those who solicited undercover detectives posing as prostitutes. Seventeen arrests were made for other offenses.
Teamwork makes the dreamwork! We have the best law enforcement agencies in the nation, right here in #Polk County! pic.twitter.com/8EXHgqoLZR

— Polk County Sheriff (@PolkCoSheriff) October 17, 2017
Sheriff Judd identified some of the suspects arrested in the undercover operation as doctors and pharmacists, former and current law enforcement officers, and a lawyer. And what's worse, they also arrested two men who traveled to have sex with minors, and two sex offenders.
Related: One Simple Rule That Could Stop The Demand For Sexual Exploitation
These are some of the men arrested that the sheriff identified:
Cancer surgeon at Tampa General Hospital
Pediatrician at Health Care Alliance in Wesley Chapel
Teacher from Lake Academy
Active Colonel in the US Marine Corps
Air Force veteran
Retired Broward County deputy sheriff
Retired police officer from Birmingham, Alabama
The sheriff's office even caught one of their own. Former Sergeant Luis Diaz resigned from the force after 17 years, according to WFLA's report.
Related: Why Fighting Sex Trafficking Absolutely Includes Fighting Pornography
"We are absolutely embarrassed," Sheriff Judd said. "We hold our own accountable. He messed up and no longer works for the Sherriff's Office."
"We are committed to fighting human trafficking by arresting those who engage in prostitution and trying to identify human trafficking victims," Sheriff Judd said in an earlier news release.
Shining A Light on Trafficking
We bring this issue to light because awareness is a powerful tool in this fight against sexual exploitation. The fact is, this issue is not only global—it's local. And we can't tell you how many people don't believe that one the negative aspects of pornography is how it fuels the demand for prostitution and human sex trafficking. Or that sex trafficking happens here, in the United States, in communities just like yours. Check out this sign from the Las Vegas airport that one of our presenters sent us: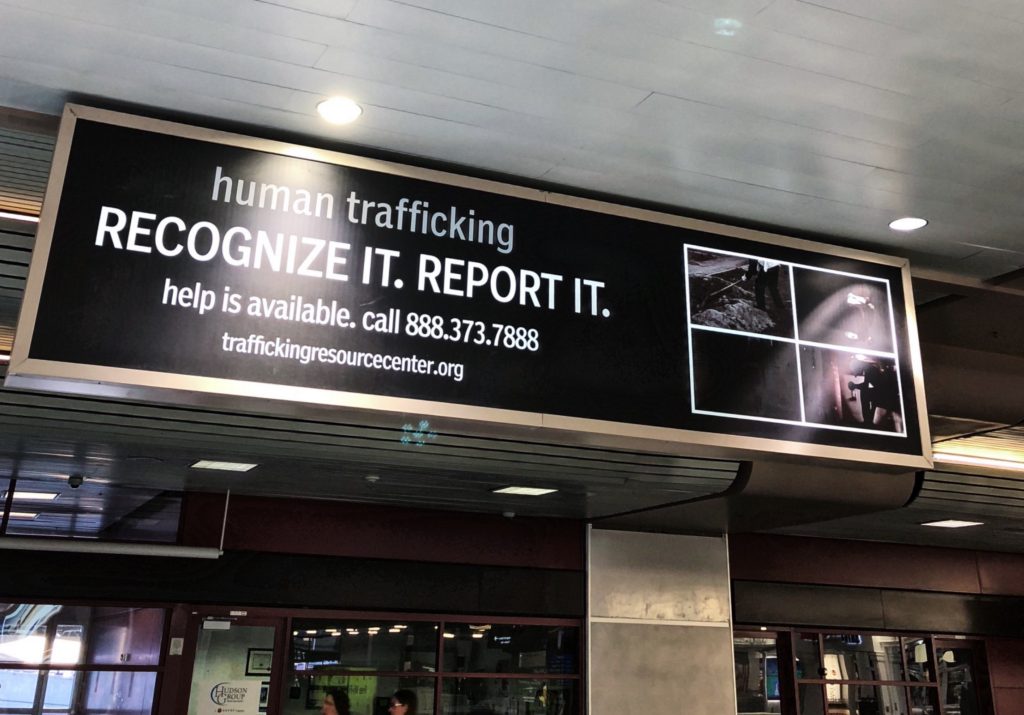 And on top of the disbelief people have about the connection between sex trafficking and porn, we live in a world that needs to see hard numbers to legitimize an issue. Unfortunately, since sex trafficking is an underground business, those numbers are hard to come by. But a lot of what we do know about the current state of the industry comes from survivors, and they have a lot to say about how widespread this issue is, and how porn was largely connected to or included in their trafficking.
– By some estimates, 4.8 million people are trapped or forced into sexual exploitation globally. (International Labor Organization)
– In one survey, 63% of underage sex trafficking victims said they had been advertised or sold online. (Thorn)
– Sex trafficking is big business—it generates $99 billion annually, just from commercial sexual exploitation alone. (International Labor Organization)
These facts show that not only is sexual exploitation a global crisis, but also, exploiting vulnerable people for profit in the sex industry is a sure way to make a lot of money. And seeing as the porn industry is worth an estimated $97 billion on its own, it's clear why many traffickers choose to capitalize on the dark opportunity.
The Connection Between Porn, Prostitution, and Trafficking
According to anti-trafficking nonprofit, Rescue:Freedom, in 9 countries, 49% of prostituted women said that pornography was made of them while they were being sold for sex, and 47% said they had been harmed by men who had either forced or tried to force their victims to do things the men had seen in porn.
The reality is that prostitution, sex trafficking, and porn are more closely linked than society would believe. The truth is that sex trafficking is a global issue, and it is only made worse by pornography. Any form of sexual exploitation only fuels the demand for the sex trade as a whole.
 Related: By The Numbers: Which Country Is Watching The Most Internet Porn?
Now, we're not claiming that all porn is nonconsensual. We're just pointing out that some of it is and some of it isn't, and when you watch it there's no real way to know what is consensual and what isn't. Just because someone is in porn doesn't mean they're there willingly.
Why This Matters
Because porn is tied to exploitation, we fight to bring awareness to the fact that porn isn't harmless entertainment, and the porn industry wouldn't be where it is today without sex trafficking and prostitution.
Related: How To Identify (And Rescue) A Victim Of Sex Trafficking
If this news story shows us anything, it's that trafficking is everywhere. It's in our local neighborhoods, our communities, and even in the people we interact with in regular everyday life. And because of that, each one of us has a responsibility to know the facts, and spot the signs when we see them. Education is power in this fight for love and healthy relationships.
Take up the challenge to be aware and bold in ending the demand for sexual exploitation.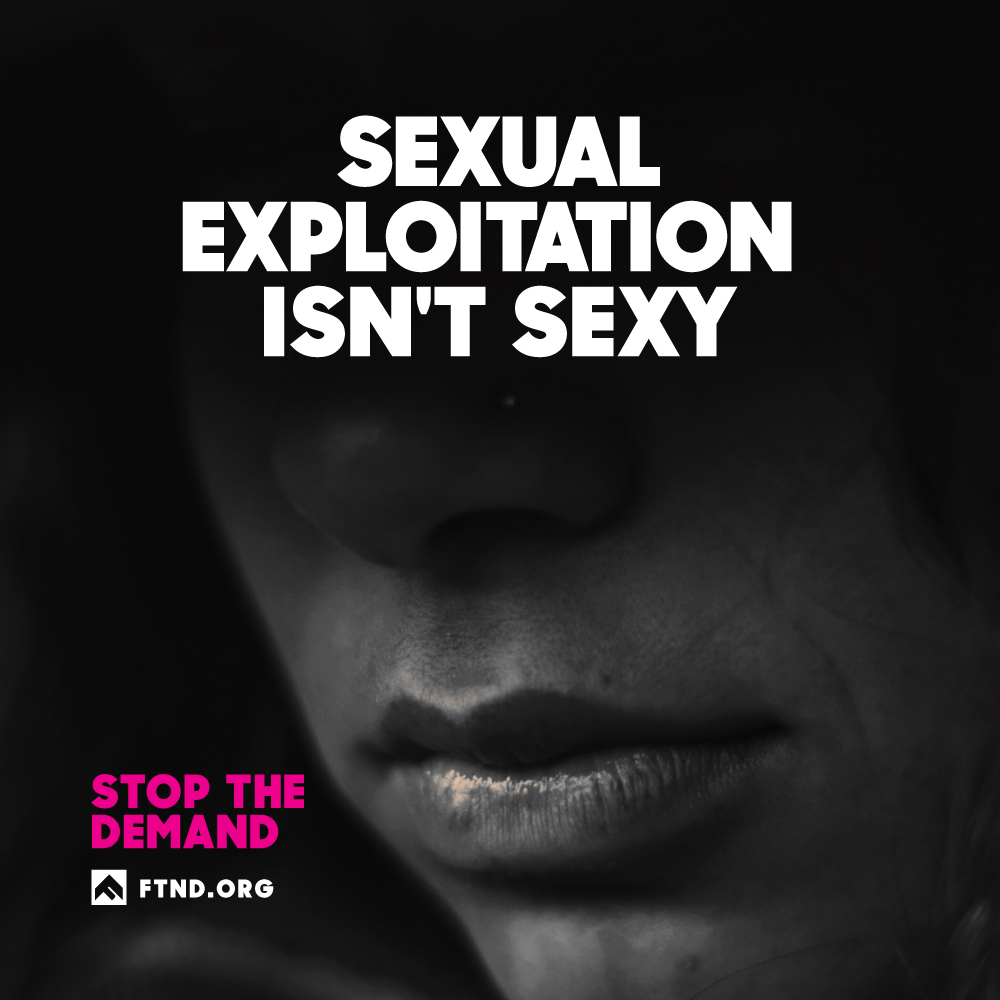 Get Involved
Sex trafficking is a local issue, as well as an international one. SHARE this article and get the word on porn's connection to sexual exploitation.
Spark Conversations
This movement is all about changing the conversation about pornography. When you rep a tee, you can spark meaningful conversation on porn's harms and inspire lasting change in individuals' lives, and our world. Are you in? Check out all our styles in our online store, or click below to shop: