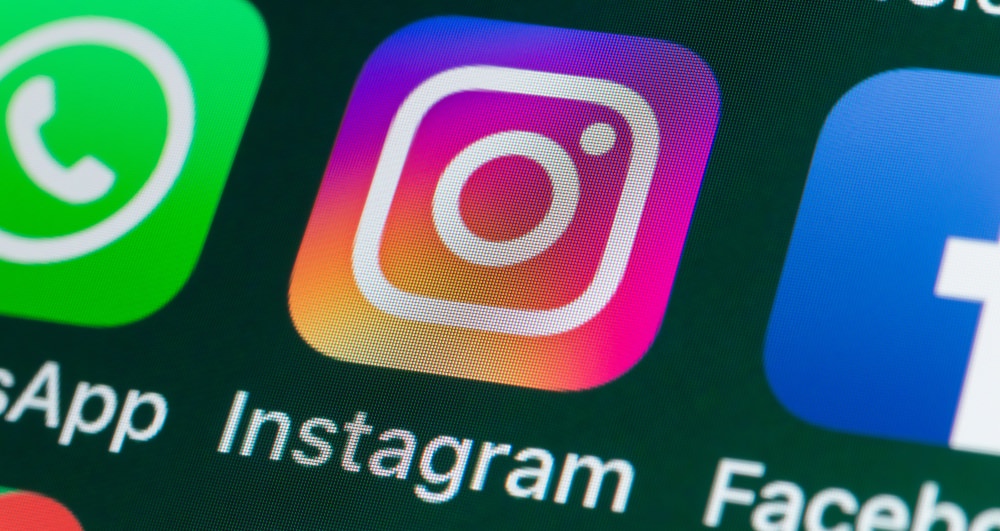 In a world where porn seems to rule the internet, social media giants are having trouble navigating how to moderate content where there are so many minor users, and they haven't always done a good job of making sure the rules are clear for everyone involved.
We'll explain what we're talking about.
In the last few months, there's been some controversy between those in the adult industry and Facebook, the owner of Instagram.
The issue? Instagram has been taking down performers' accounts (link trigger warning) by the dozens.
Related: Instagram Has A "No Nudity" Policy, So Why Is There So Much Porn On The App?
Alana Evans, president of the Adult Performers Actors Guild (APAG), a branch of a larger organization that advocates for adult entertainers, says that it's done because, "they don't like what we do for a living." (link trigger warning) A Facebook spokesperson responded (link trigger warning) by saying that, "We do not have policies that target adult performers. We would never disable an account simply because it's run by an adult performer."
So what exactly has been happening?

Thousands of accounts have been deactivated, then reactivated
Since June of 2019, (link trigger warning) Instagram has been meeting with Evans and Facebook following protests outside offices in London—and they're anticipating one in Silicon Valley—because of the account takedowns.
In trying to reach an agreement with the performers, the social media giant reinstated hundreds of accounts and followed through on other commitments made. Instagram has also admitted to errors in their moderating process, stating that following the concerns of the community-led them to conduct further investigation into the removed accounts, and found that, "some were incorrectly removed."
Related: Creating Deepfakes Porn Could Soon Be As Easy As Using An Instagram Filter, Experts Say
But did this truce last between adult industry members and Instagram?
In the months following the reinstated accounts, communication apparently waned, and issues with account or content removal resurfaced again. AMAG created a list with over 1,300 performers who say that their Instagram account was removed even though they never showed nudity. One performer's comment points to the underlying issue that, "There are so many rules, and it's so hard to keep up with everything."
What her comment points to are the constantly evolving internal rules upholding Facebook's removable content policy.
Related: High Profile Colombian Instagram Model Arrested For Running A Child Sex Trafficking Ring
All of these back and forth issues have revealed how Facebook has a set policy guideline, but the internal judgements and nuances are not always public information. The guidelines are mainly to moderate content that is violent, threatening, or explicit. Yet, especially when it comes to nudity, exceptions have been made, and moderators receive vague or at times conflicting guidelines on how to judge content, with new changes made every two weeks.

Minors are able to easily access adult content on social platforms
Clearly, in our digital world where porn culture often rules social platforms, social media giants are still trying to figure out how to navigate keeping their users safe and not singling out those in the adult industry.
Instagram, and by extension Facebook, are not the only social media platforms that have struggled to determine what content is permissible, especially when it comes to porn-related content.
Related: The Porn Bots Are Taking Over Instagram, And This Is Why
Tumblr, Twitter, Snapchat, and even Pinterest have all had their battles with keeping their platform appropriate, especially for younger users. Yet, many have flagged Facebook's policies as some of the most problematic, and they have been highly criticized for not doing enough to protect children.
So the dilemma porn performers are facing with their accounts is one of many that's caught in the larger issue of how content can be adequately moderated on platforms, especially when minors make up such a large percentage of users. Looking at the numbers, 95% of teens own or have access to a smartphone, and nine of every ten has at least one social media account. The minimum age requirement for almost all social media except for YouTube is 13, and over 72% of teens have an Instagram account.
Related: 4 Confessions About The Secret Porn World Of "Premium" Snapchat
What does this mean? Confusing and, at times, poorly upheld guidelines, vast numbers of minors spending huge amounts of time on social media platforms, and the relative ease with which one can access porn or porn-related content (over 70% of 7-18 year olds have accidently come across pornography) all mean that the access to potentially inappropriate content is very high.

Are any digital giants trying to make changes to protect minors?
This is all made worse by the fact that the porn industry has radically changed in recent years, and many performers are independently creating their own brand and content, needing to promote it intensely in order to make it. How do they do this? You guessed it- social media.
They use it as a way to connect with their fans, promote new content (directing users to other sites), and advertise for sponsors. With hundreds of thousands of followers, social media is a key part of many performers' influence and success today.
Related: Parents: This Is How Teens Find Porn Through Social Media
So when we put all this together, we see social media platforms like Instagram are seeing a push in performers trying to promote their brand, millions of minors accessing these platforms, and a pretty shaky moderation in between. Yikes.
Amidst serious criticism, some improvements have been made. Other tech giants like Google have made changes in their search algorithm to try and limit minors' access to things like pornography.

Still, clearly these efforts are not enough, and the challenge is greater as younger kids increasingly go online. The demand for protection of minors from inappropriate content like pornography is growing, and polls such as one conducted by children and girls' rights activist group Plan International UK reflect this, finding that, "75% of Britons want children to be taught about the impact of pornography."
So where do we go from here? How can we help each other, and how can caretakers navigate letting their kids on social media?
Related: Why Porn Performers Are Working To Become The Newest Social Media Influencers
The reality is, issues between social media companies and porn performers aside, we need to talk more about the harmful effects of porn as a culture and as individuals. Regardless of how much time you or someone you know spends on Instagram, the science, research, sex trafficking survivors, and relationship experts are saying this: porn and the culture it fuels are harmful.
We believe everyone deserves to make an educated decision on pornography, including you. Click here to read more about the facts on porn's harms.