Just recently on our Twitter, we received a reply to one of our tweets that showed just how misinformed our society is about porn: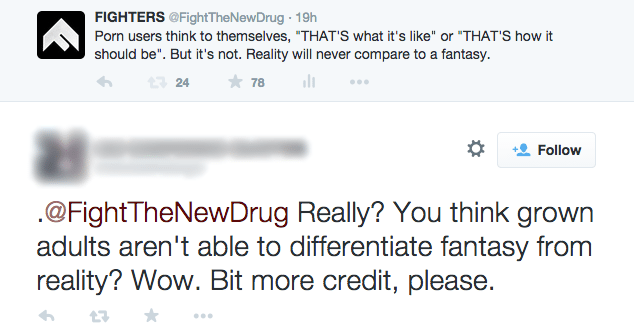 A lot of people today believe similarly to this tweeter, thinking that simple "self control" or "not being stupid" will prevent a very real and very addicting drug from negatively affecting a user's life.
Famous last words.
Make no mistake, science has proven that porn can actually change the brain of the user and create some seriously gnarly issues when it comes to their sex life. To show this, we recently received a pretty heartbreaking story, sent to us by a girl who is married and is witnessing firsthand what porn does to sex and relationships. We took this girl's story and then shared the actual science behind what is happening in her relationship and in thousands of others across the world. Check it out:
The Story
Dear FTND,
I just wanted to thank you for the work you do. In order to try and help the cause, I wanted to share my story with you.
As the partner of a porn addict, I've watched this epidemic destroy our relationship as well as my self-worth. I have zero self-esteem anymore. My partner used to say his addiction "didn't hurt anyone" and "didn't change anything in our relationship," but now he can't even get aroused with me. He can only get aroused with porn.
The material he views is increasingly more deviant and extreme. I cannot compete with these porn stars he prefers over me. These women seemingly have no limits to what they will do. I have tried everything: from trying to act more like a porn star to trying more extreme acts, all to no avail. I will never measure up to the women he watches and our sex life is more than enough evidence to substantiate that fact. He doesn't even turn his head to look when I'm naked and when I try to get him going, he can no longer get turned on, regardless of what I do. What is crazy is that he prefers me making videos that he can watch in private but he can't even have sex with me in real life. How messed up is that?
He continues to deny that his porn use is an issue, but it is. I have no self worth; every time I look in a mirror, all I see is flaws. Whenever we are out, all I see is how much prettier and better-built other women are compared to me. Whenever he is alone, I know he's probably watching porn. Most hurtful of all is when we're in bed and he is entirely disinterested and even admitting that he is bored trying to get aroused. Day after day, week after week, he makes zero attempt to initiate sex and even calls it a "chore" now, saying porn is "relaxing", "less work" and that he gets to "enjoy himself instead of having to focus on satisfying someone else" because it "gets old."
It hurts to be told that your partner no longer finds you attractive due to the fact that porn offers a continual new slew of fresh porn stars. He said that with me, "you can only ride the same roller coaster so many times before it gets boring." It hurts to be told that my body can't compete with the porn star girls with giant breasts and perfectly tanned bodies. I used to have confidence in my body and my appearance, I don't anymore. Five years ago we had a passionate, happy, loving relationship. Today, we're just two strangers in the same house.
Thanks for the work you do. If you can even save one couple from this heartbreak by inspiring even ONE man or woman to not watch porn, you have made an incredible difference. I wish that someone could've inspired my partner back when his addiction began.
The Science
So you're probably asking at this point, how is it that someone who so compulsively needs to view sex on a computer screen has no interest in (and ability to have) sex in real life?
Time to drop some knowledge.
Porn promises a virtual world filled with endless sex—more sex, better sex, different types of sex. What it doesn't mention, however, is that the further a user goes into that fantasy world, the more likely their reality is to become just the opposite. Porn often leads to less sex and less satisfying sex. And for many users, like in the story above, porn eventually means no sex at all.
It doesn't take a lot of porn for things to start heading downhill. In one of the most comprehensive studies on porn use ever conducted, researchers found that after being exposed to just softcore sexual material, both men and women were significantly less happy with their partner's looks, willingness to try new sex acts, and sexual performance. Even being exposed to porn just once can make people feel less in love with their significant other.
Why? Because when a person is watching porn, the sexual roadmaps in their brain are being redrawn. When a person has a sexual experience that feels good, their brain creates a map to get them back there. And since our brains like novelty, brain maps that lead to something new and exciting are rewarded with an extra dose of brain chemicals that make us feel good while strengthening those brain pathways.
Here's the catch: our brain maps are either use it or lose it. Just like a hiking trail will start to grow over if its not getting walked on, brain pathways that don't get traffic start to get weaker. So when a person starts looking at porn, they first create and then strengthen brain pathways linking feeling aroused with images of porn. Meanwhile the pathways connecting arousal with things like seeing, touching, or cuddling with their partner aren't getting used. Pretty soon, natural turn-ons aren't enough, and many porn users find they can't get aroused by anything but porn. To learn more about how porn can ruin your sex life, click here.
Basically, how ironic is it that watching other people have sex becomes the only thing that gets porn users aroused but then also robs them of their ability to have sex in real life?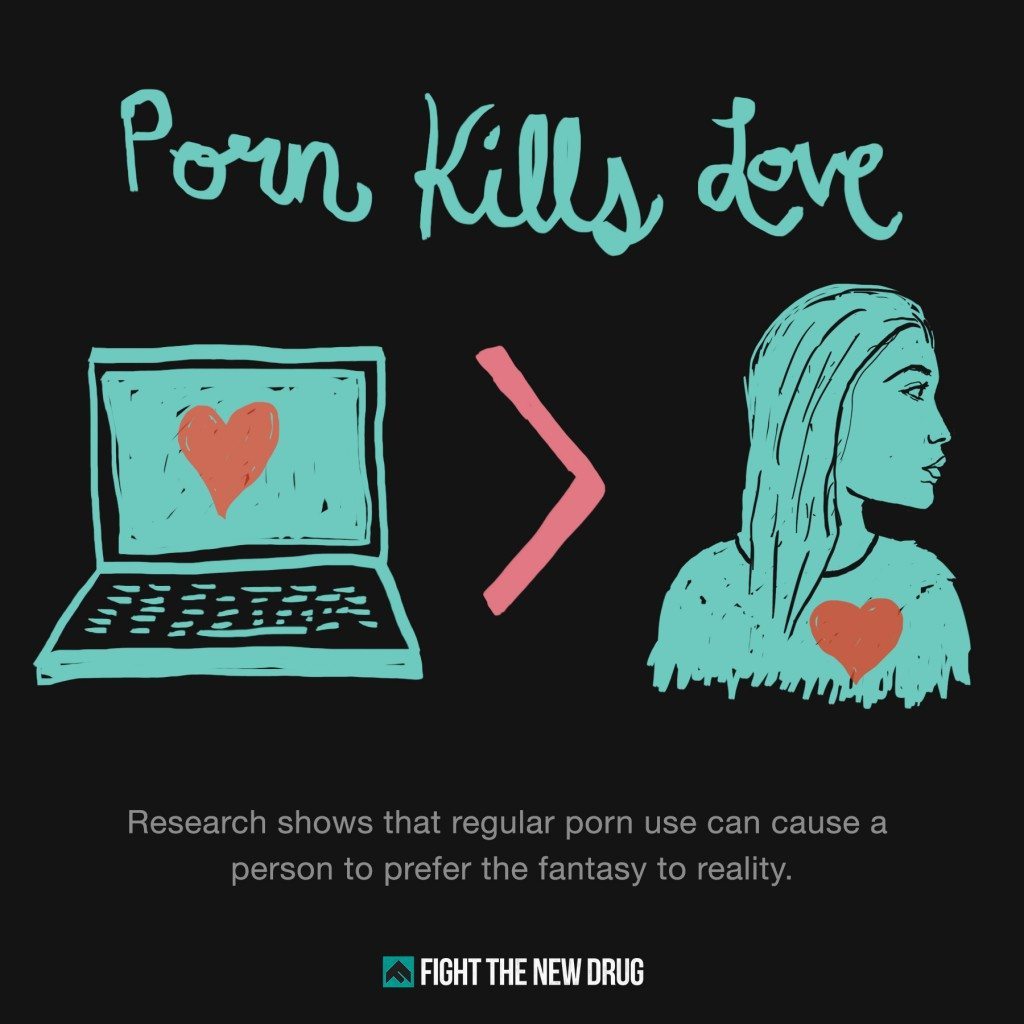 Bottom line: porn is just not worth it because it kills love.
What YOU Can Do
If you're not cool with porn snatching all the love and intimacy out of relationships, SHARE this article to spread the facts on the harmful effects of porn.