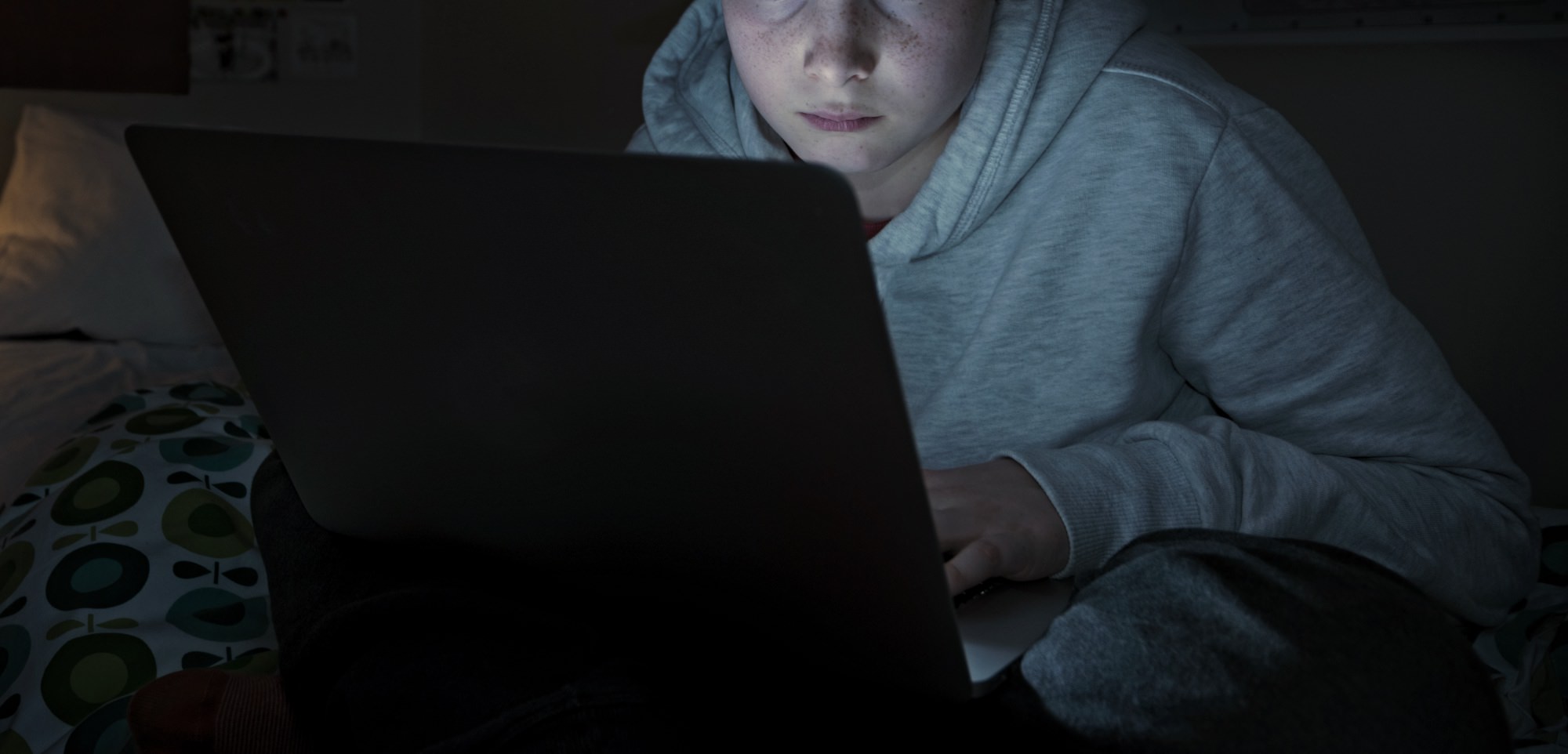 If you didn't know yet, the average age of first exposure to porn is between 9 and 11 years old. As an organization, we've received stories from people who have seen porn as young as 4 years old.
Chances are, your child has seen porn. We can't tell you for certain how much, that wouldn't be possible. But regardless, don't panic—there are plenty of resources to talk to them about the massive but toxic world of porn. Open, honest, and ongoing conversations about porn and sex are key to a teen having healthy habits and avoiding porn and sexting. Research backs that up, actually.
If you have yet to have any sort of "talk" with your child about porn, and don't know where to start, we can help. Check out our completely free, thorough conversation guide called Let's Talk About Porn. Just click below to explore our step-by-step tips:

Here are some raw numbers for your consideration: nearly 1/3 of teens receive sexts from each other, and according to research by security technology company Bitdefender, kids under the age of 10 now account for 22% of online porn consumption among those under 18.
These stats only show a glimpse of the fact that our generation and the next are experiencing sex for the first time in a digital, fantasy world with no understanding of how these real images and videos of real people compare to actual sexual encounters.
But how much porn are kids really watching?
First thing's first—we have to acknowledge that porn isn't going anywhere any time soon, so buckle up and get ready to tackle this issue with your loved ones and try opening up a dialogue with them about it. (Seriously, click through that resource we linked above. It's amazing, if we do say so ourselves.)
Related: What's The Average Age Of Someone's First Exposure To Porn?
Trying to make porn go away would be like trying to make cell phones go away—it's just not going to happen in our digital age. Even so, that doesn't change the disturbing fact that our culture is constantly promoting porn as a harmless, fun activity. And as we all adjust to the never-ending availability of porn in today's society, the real question comes to light: just how much porn are kids watching?
Well, why don't we ask them directly?
Here's what you should know. A University of Montreal study found that 90% of all porn now comes from the internet. Like we've known for a while now, the day of porn DVDs and magazines is pretty much dead. In 2010, tech blog Gizmodo puts the number of porn sites at 24.6 million, which is roughly 12% of total websites—and that number has definitely changed in 8 years.
As for the nature of the content, there are entire "tube sites" (think YouTubes of porn) filled with every category and genre of porn imaginable and not-imaginable. These sites contain literally millions of porn clips that are available for free with just the click of a button. Anything from your average male-female sex scene to brutal and violent categories that are far from average.
Related: 5 Basic Reasons Why People Choose To Look At Porn
That University of Montreal study reports that boys start searching for pornography by age 10. A University of New Hampshire survey of kids ages 10-17 found that 42% said they had viewed online porn in the past 12 months, and 66% of those said that they didn't go searching for it in the first place. To further the problem, it seems this porn culture has created a need to produce and spread the material. A University of Texas Medical Branch study of students in southeast Texas found that 30% of American teens are now emailing or texting nude photos of themselves to others.
The question is, how do you know if your kid is watching porn?

How do you know if your kid is looking at porn?
Given the stats, we think there's a pretty good chance they are watching it if they're 10 or above, or at least have been exposed to it in some way. And if they aren't, their friends are. It's only a matter of time before they're exposed to porn, and we understand that's a frustratingly sad reality. But it's not one that should be ignored. And you know what? It's not the end of the world, or their world, even if it isn't great news.
Related: SENT – Real Stories of Sexting & Revenge Porn
Bottom line: porn is everywhere. We are living in a digital age where the most hardcore porn possible is available for streaming 24/7/365 on a device that fits into a pocket. Even if parents have the most advanced filters in place, today's kids and teens will still have no problem accessing graphic content if they want to.
This easy access to porn is making it so young boys and girls are growing up on a steady diet of hardcore porn that is teaching them an extremely skewed and unhealthy version of sex and relationships. Having nothing to compare it to, they live their formative years with a fantasy of what sex is, making it so down the road when they actually get some real-life sexual experience, they are in for a serious surprise—sex is nothing like what they've seen and been aroused by for years.
For the first time in medical history, boys as young as 16-years-old are reporting arousal issues, a phenomenon known as porn-induced erectile dysfunction.
For girls, porn can influence their relationship perceptions to be all about performance and appearance. It creates unrealistic expectations of what will feel good to them, sexually, because what looks fun in porn isn't always fun in real life. The accessibility of porn is making it so girls believe it's okay for their significant other to watch it on a daily basis, and to even welcome it in their relationships. What's more than that, considering how only 18% of the 50 most watched videos on Pornhub show women climaxing, they might think sexual pleasure is completely all about their partner.
Related: 21 Year Old – I Had Porn-Induced Erectile Dysfunction
Having been told that porn is the ideal, they'll strive to look like, act like, and perform like the porn stars they see. They won't realize that they're comparing themselves to an unattainable and unrealistic mass-produced fantasy. For girls in porn culture, sex doesn't become about love or intimacy, it turns into a test of hotness and talent.
The best ways to take action: conversation, and common sense online tools
How every parent addresses this issue with their kids is based entirely on their unique parenting style.
We believe education and awareness are the best weapons, any way you look at it, whether your child has been exposed yet or not. Through the uncertainties of how to approach kids about explicit content, one thing is for certain: porn is harmful and research is proving it.
One important and fundamental lesson every kid should know right off the bat: porn does not show real sex, and porn is not real love. Pornography is a hollow counterfeit that resembles an outward appearance of a sexual relationship but is the furthest thing from real, healthy intimate relationships that most every person desires.
Related: One-Sided Orgasms: Pornhub's Most Watched Videos Don't Show Mutual Pleasure
If you're a parent who wants to be an active voice in your child's sex education, we recommend exploring our free conversation guide resource that will help you navigate the porn conversation while maintaining your unique family values and parenting style.

And to help curious minds from looking for answers in the wrong places, Fight the New Drug recommends tech-based solutions for anyone who needs help with web monitoring. While filters and monitoring devices are great helps to keep tabs on internet use, there's no replacement for honest, heart-to-heart conversations between a parent and their child about the harms of porn.
Related: Help! My Ex Lets Our 12-Year-Old Son Look At Porn To Learn About Sex
But how do these conversations start, and how do they continue? This is where our friends at Bark come in.
Why Bark?
Bark is the internet safety solution that parents trust and children like, if you can believe it.
Bark is an easy-to-use, smart tool that parents can use to help protect their children online. Bark uses a filtering system and a highly advanced algorithm to alert parents when their children have visited porn sites, and it detects other potential threats or signs of danger, such as:
Bark is a common-sense tool that can augment a parent's efforts to protect their children online. Parents trust Bark because it uses filtering software and advanced technologies to alert them to potential online dangers without them reading through all of their child's online activities, preserving their valuable time (and sanity). Kids like Bark because they are free to continue their daily digital lives without their parents constantly peering over their shoulders.
Interested? Start protecting your children online today.
Society has come a long way since the days of foldouts in Playboy magazines. Unfortunately, porn is here to stay for now, so it's up to us to raise awareness on its harms and be educated on the issue and equip and empower this generation and the next to make the healthiest possible decisions about porn.
It's not exactly possible to guarantee that someone will never be exposed to porn, but with an open dialogue and a scientifically-backed perspective, parents of the Playboy generation can help their kids of the PornTube generation navigate the online minefield they walk through daily.

How the porn industry wins
The porn industry would love to expose kids as young as possible to the world of explicit content. They want to make lifelong customers out of every generation.
Let's take a stand and fight for love, and fight for our kids' awareness. Everyone deserves to make an empowered, equipped decision about porn. Help your child, or your friends and family, make that decision for themselves before the industry hooks them and decides for them.