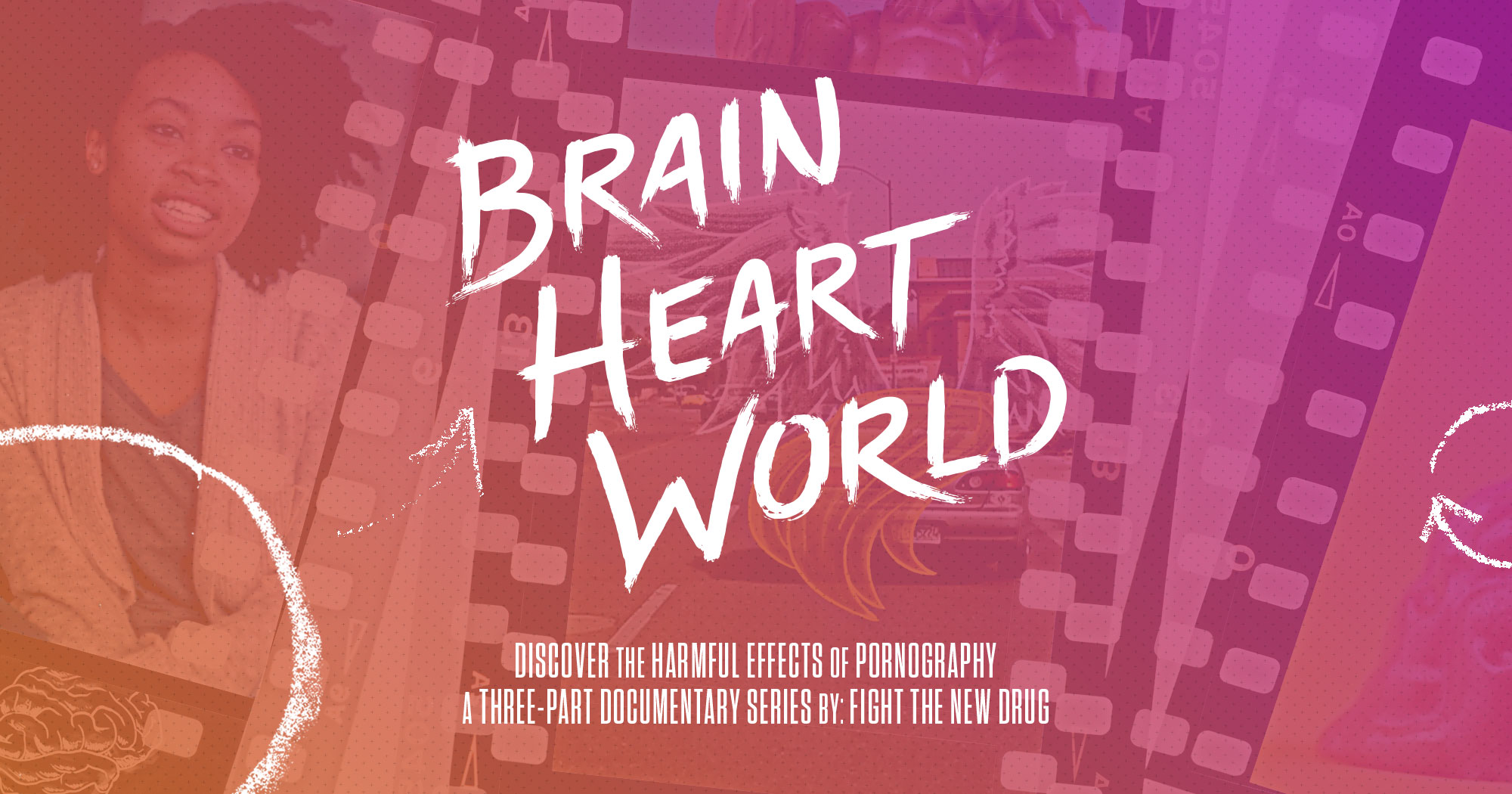 If you aren't familiar with Fight the New Drug, we're a non-religious and non-legislative 501(c)3 nonprofit organization that aims to educate youth on the harmful effects of pornography using only science, facts, and personal accounts.
In other words, think of us like the Truth Campaign (they raise awareness on the harms of smoking), but for porn.
Founded in 2009, our organization is all about giving visibility to the already-existing data, studies, and personal experiences that illustrate how porn is anything but harmless entertainment. We also create resources to help friends, families, youth, partners, parents, and community groups have healthy and productive conversations about the proven harms of porn.
Until now, we've created resources including conversation-starting apparel, thought-provoking video campaigns, social images and infographics to spark conversations on social media, a podcast that interviews experts and survivors, and hundreds of blog posts to help educate the millions of people visiting our site every year. We also give interactive and age-appropriate school presentations.
Now, as our reach continues to grow, we're debuting one of the biggest resources we've ever created.
Introducing: FTND's Awareness-Raising Docuseries
For the last few years, we've traveled around the world and interviewed experts and former porn performers, and captured real stories and experiences from those who have struggled with porn.
FTND Co-Founder, Clay Olsen, with Elizabeth Smart, survivor of abduction and sexual assault. Smart appears in "The World" episode.

Cherice reflects on her personal experience with the harms of porn in "The Brain" episode.

Dr. Simone Kuhn, from the Max Planck Institute for Human Development in Germany, shares her findings on porn and the brain in "The Brain" episode.

The concept of neuroplasticity is discussed and demonstrated using this model in "The Brain" episode.

Dr. Philip Zimbardo, Professor Emeritus of Psychology at Stanford University, shares his findings on porn's effect on individuals in "The Brain" episode.

Travis and Emily walk through a Kansas City sunflower field. They share how porn impacted their relationship in "The Heart" episode.

Dr. Andrew Doan, expert in digital media addictions, explains what mirror neurons are and why they're important, in "The Heart" episode.

Dr. Freda Bush, medical professional, explains porn's effect on relationships in "The Heart" episode.

Deanna shares her experience of being a performer in the porn industry in "The World" episode.

The connection between porn and violence is visually demonstrated in "The World" episode.

Survivor Elizabeth Smart explains porn's role in her abduction and abuse in "The World" episode.
Now, we're ready to present our first ever, three-part documentary series: Brain, Heart, World.
We've been presenting to hundreds of thousands of youth since 2010, and we wanted to create a resource that could scale far beyond any live presentation event to be able to educate youth. It isn't always possible or cost-effective for us to visit any one community or school, but this way, the impactful information still reaches youth and anyone who is interested in learning about porn's proven harms. Consider this docuseries a direct message from us to you, right to whatever screen you're looking at right now. That's right, anyone can access it.
Watch the trailer for the whole series, right here:
What's up with the title, you may ask? Throughout our resources, we organize the conversation on porn's harms into three parts, based on the available research and studies—how porn can have lasting, neurological impacts on consumer's brain; how porn can harm relationships, sexual health, and relational health of partners; and how porn is connected to violence, sex trafficking, and sexual exploitation.
Why Brain, Heart, World?
If you've spent any time reviewing the research on this topic, you'll see that this is a multifaceted issue. Research shows that pornography can absolutely impact individuals, relationships, and society.
It may be surprising, but porn affects the brain in ways very similar to harmful substances, like tobacco. Studies have shown that porn stimulates the same areas of the brain as addictive drugs, making the brain release the same chemicals. And similarly to drugs, porn triggers pathways in the brain that cause craving, leading users back for more and more extreme "hits" to get high. The episode, "The Brain" will dive into the neurological impact of porn and how it affects the consumer.
Also, consider how porn impacts relationships. A recent study tracked couples over a six-year period, from 2006 to 2012, to see what factors influenced the quality of their marriage and their satisfaction in intimacy. The researchers found that of all the factors considered, porn use was the second strongest indicator that a marriage would suffer. And that's just scratching the surface of the huge field of research on porn and relationships. Our thought-provoking "The Heart" episode dives more deeply into how porn drives a wedge between partners in the long run and contributes to emotional and relational distress.
Not only that—there is clear evidence that porn makes many consumers more likely to support violence against women, to believe that women secretly enjoy being raped, and to actually be sexually aggressive in real life. Our impactful "The World" episode breaks down porn's inextricable connection to sexual exploitation, sexual violence, and sex trafficking.
Some of the noteworthy experts you'll hear from are Dr. Philip Zimbardo from Stanford University, Dr. John D. Foubert from Oklahoma State University, Dr. Gail Dines, Founder of Culture Reframed, and a dozen others. You'll also hear from real men and women who have actually struggled with porn and experienced detrimental effects of it in their lives, as well as trafficking survivors and former performers. These powerful, true stories and impactful studies are aimed at helping the viewer to grasp the multidimensional harms of porn on a personal, relational, and global scale.
Together, the experts and individuals in Brain, Heart, World, truly demonstrate porn's impacts on individuals, relationships, and society—on the brain, the heart, and the world.

Who is this documentary series for?
As a youth-focused organization, we designed this three-part series to be an educational resource for those in middle school and older. Just like our presentation program, our new docuseries is appropriate to show in classroom settings, or at community events!
Keep in mind, though, that even though we produced this specifically for youth, anyone of any age can enjoy it and learn something, too. It's great for families, community leaders, or anyone else who may be interested in learning more about how porn impacts individuals, relationships, and society. There's something for everyone in Brain, Heart, World.
What's cool about this docuseries is that it's an intentionally unique resource. There's no shaming involved, it's awesomely hopeful, it's pretty appropriately humorous, and it speaks directly to youth. When you consider what kind of resources are out there right now concerning this topic, there are very few that speak directly to young people even though youth are the ones dealing with this issue on a greater scale than ever before.
Ultimately, we've made what is often an awkward, difficult conversation into something that's engaging, fun, and easy to understand. We'd call that a win for anyone.
Who can access it, and how?
We want anyone and everyone to be able to check out this incredible resource. Thanks to the generous support of our donors, we're able to grant free access for small, private viewings—for individuals, couples, families, friends, etc., just click here for access for a Private Viewing.
For larger gatherings at educational institutions and community events, licenses can be purchased for Public Screenings by clicking here.
Ultimately, we hope you enjoy it and learn all about how porn can impact consumers, relationships, and our society. If you like it, share it and help others become educated as well!

Why is this issue important? Is it relevant to me?
For years, porn has often been thought of as an isolated issue—something that can be easily compartmentalized in the lives of consumers, unrelated to anything else that's going on. Thanks to decades of research from major institutions, the world beginning to see just how inaccurate that line of thinking is.
Given the growing field of scientific research and studies, it can no longer be denied that repeated porn exposure does have a tangible effect on consumers, and is connected to declining relationship satisfaction as well as various forms of exploitation. This isn't a moral argument, it's simply something to consider given the facts. Now, it's possible to see how porn is connected to societal issues that are greater than all of us—issues like sexual assault, rape culture, sexual exploitation, human trafficking, gender inequality, self-esteem, quality information about sex, body-image, and many others.
Given this information, we believe that everyone should be given the opportunity to make an informed decision regarding porn for themselves, similar to anything else someone might consider consuming. Ultimately, we respect the right of adults to choose for themselves whether to click porn or not. The least we can do is contribute thoughtfully to an important conversation that is absolutely relevant to youth growing up in the digital age, today.
The bottom line is, because of the available information, anyone and everyone can care about porn's proven effects. If you have a brain, desire healthy relationships, and care about living in a healthy society, this docuseries is for you.
We hope it adds and helps to shape meaningful conversations in your community, wherever you are. Happy viewing!


Get Involved
Host a viewing in your area and get your friends, family, and/or community involved in changing the conversation. SHARE this post and spread the word that our all-new docuseries is the latest resource for anyone to learn about the harmful effects of porn!