Fight the New Drug is a non-religious and non-legislative awareness and education organization. We do not exist to ban porn. Some of the issues discussed in the following article are legislatively-affiliated. Including links and discussions about these legislative matters does not constitute an endorsement by Fight the New Drug. Though our organization is non-legislative, we fully support the regulation of already illegal forms of pornography and sexual exploitation, including the fight against sex trafficking.
Pornhub just lost its 10th biggest market: Bangkok, Thailand.
Thailand reportedly restricted access to Pornhub and 190 other porn sites on November 2nd for violating the country's Computer Crime Act, according to a report by the Thai Examiner. Digital minister Puttipong Punnakanta said the block was part of efforts to restrict access to porn and gambling websites, which were illegal under the country's cybercrime law, Reuters reported.
From Monday, November 2nd, closure orders have appeared on Pornhub's home page in Thailand, signed by the Ministry of Digital Economy and Society citing the Computer Crime Act of 2007.
"This content has been suspended. Because it is guilty according to the Computer Crime Act 2007 by the Ministry of Digital Economy and Society," the announcement states.
The closure of the site in Thailand will be a huge blow to the lucrative business as Bangkok was quoted as its 10th biggest market with New York, London, and Paris ranked in the top three slots.
Reuters reported that internet research firm Top10VPN said it saw a spike in searches from Thailand for Virtual Private Networks (VPN), which help circumvent the site suspensions, by 640% compared to the September-October daily average, after Pornhub was inaccessible from late on Monday.

What does this mean?
According to Similarweb, Pornhub is the 10th most-visited website on Earth and the second most-visited adult website. Last year, Pornhub reported they had 42 billion site visits, which breaks down to over 115 million site visits every day. To put it in perspective, that number amounts to over 160% of Thailand's entire population visiting this one site every single day.
Thailand's Pornhub consumer base has exponentially increased in the last few years. New to the top 20 countries in 2019,  Thailand skipped up 6 positions from 2018. Combined, these top 20 countries make up 79% of Pornhub's daily traffic.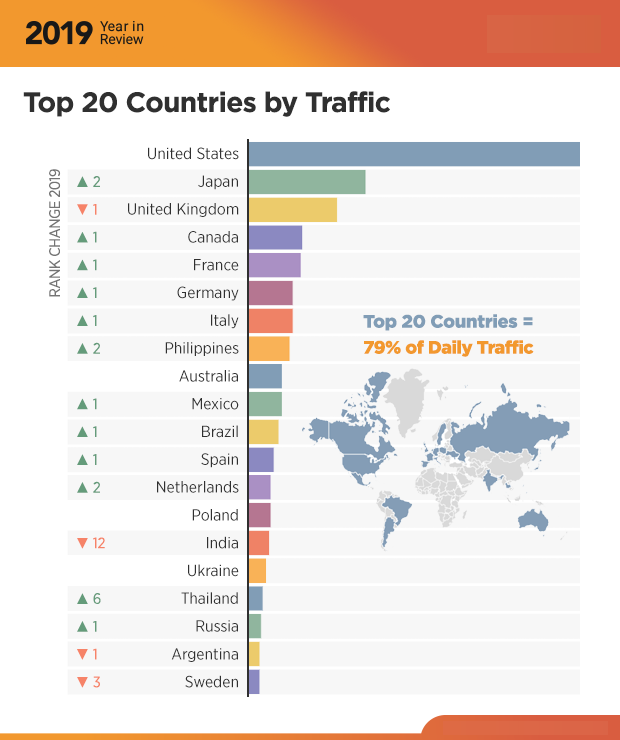 From Pornhub's 2019 annual report: "This year, Thailand tops the list of longest-lasting countries at 11 minutes 21 seconds, down 12 seconds from 2018."
All of this points to the site's suspension being a big deal, and the world is watching for what happens next. There is no information yet on whether Pornhub will be suspended indefinitely or permanently from being accessed in Thailand.
The site's suspension in Thailand seems unrelated to the global wave of public outcry about Pornhub in recent months after multiple videos of trafficking victims and rape survivors were found on the site.
Why has there been so much public outcry over Pornhub this year?
Reportedly unrelated to Thailand's decision to suspend Pornhub is the issue of the site's alleged promotion of illicit and nonconsensual content that violates even its own terms of service.
Many people have praised Pornhub's "charitable efforts" over the last few years, but it doesn't begin to make up for their abusive and reportedly illegal business practices. Story after story has also shown how tube sites like Pornhub reportedly profit from nonconsensual videos—including real rape videos, secret filming, revenge porn, upskirting, stolen videos, and child abuse videos of a trafficked teen.
Honestly, we have no way of knowing how much content on Pornhub is nonconsensual or what percentage of their profits come from it. We only know that illegal or abusive videos exist when they shouldn't and that Pornhub and other sites could be doing more to eradicate it.
If you want to see a list of reportedly nonconsensual and illicit content that has been found on Pornhub just in the last year, look no further than this list.

In response to each of the reports of this unacceptable and nonconsensual content, Pornhub has been all talk and no action with statements saying the site "strongly condemn[s] nonconsensual content," and that content violating the platform's Terms of Service is removed as soon as Pornhub is made aware of it.
But that's exactly the problem.
This is a very hands-off approach, which works well for the platform that doesn't want to be accused of censorship. But it leaves the responsibility to the average user—who often may especially enjoy the illegal or secret nature of the content in question—or the victims who stumble upon their own stolen images by pure chance to file reports. Either option doesn't work.
Pornhub announced earlier in 2020 that they have an extensive team of human moderators (no exact number released) who manually review "all uploads to the site," but we don't know if this makes the reportedly abuse content on the platform better or worse. Either their "extensive team" of moderators is not effective, or they aren't reviewing every upload like they say they are.
Here's the bottom line: Pornhub and other massive porn tube sites like it reportedly make money off of nonconsensual images and videos. This is a fact, just look at the handful of stories above, and this is seemingly without any plan to truly address the issue and stop doing so anytime soon.
If Pornhub were serious about image-based sexual abuse, they would work to prevent these kinds of images from being uploaded in the first place. The technology is out there, and yet it hasn't been implemented.
Join us in refusing to click, and spreading the word that Pornhub reportedly profits from nonconsensual content.