Cover image credit to Thorn. 10 minute read.
Porn And Sex Slavery Are Interconnected
Science and research are showing that porn isn't only harmful to those who watch it, it's also harmful to those who create it. And in too many cases, these people are forced, beaten, or coerced into being a part of it.
We can't tell you how many people scoff when we tell them that one of the negative aspects of pornography is how it fuels the demand for prostitution and human sex trafficking. Many have the same attitude as one Instagram user who recently commented on one of our photos, asking us why we were against porn. When we responded that one of the reasons we fight against porn was because of its inseparable link to sex trafficking, this was their reply: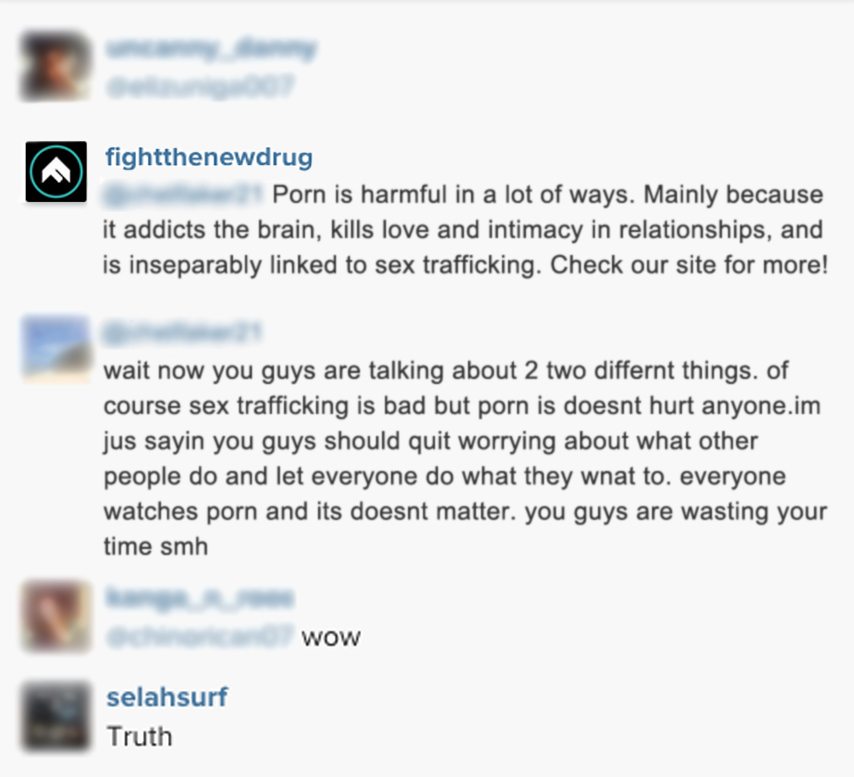 Unfortunately, there are many in society that are blind to the link between porn and sex trafficking. They think that the porn industry and sex trafficking industry are two completely separate issues, one being legitimate and the latter being illegal activity that only happens in far away places halfway around the world. Not so.
The porn industry is a sketchy industry to begin with, but it takes a really dangerous turn when porn involving sex trafficking victims is made and distributed globally online. Countless women, men, girls, and boys have been forced, abused, threatened, and coerced into doing porn. This is, by definition, sex trafficking/slavery.
Related: Ashton Kutcher – My Organization Found 6,000 Trafficking Victims This Year
You may be asking, how does this all tie back to the average viewer at home? Truthfully, in this digital age, there is no way for a user to tell if what they are watching was made illegally or if all parties are there willingly. For this reason, clicking porn directly fuels the demand for sex traffickers to make money by selling video of their sex slaves to porn sites. Supporting one area of the sex trade, fuels the demand for other areas. For example, in a study of 854 women in prostitution across nine countries, 49% said that porn had been made of them while they were in prostitution, and 47% said they had been harmed by men who had either forced or tried to force their victims to do things the men had seen in porn.
Knowledge is power, and being aware of the facts is an important step in decreasing the demand for porn and helping to eliminate sex trafficking. We created the infographic below to show the close correlation between watching porn and fueling the demand for human sex trafficking. As you can see, the two are inseparably linked:

The Exploitation of Children
Every day, children are filmed while they're sexually abused and the content is then distributed worldwide. It's a booming underground industry that continues to grow year after year. This is a form of digital sex slavery that entraps countless innocent children and keeps them captive by those looking to make a profit. Research shows that child sexual abuse content is a top online concern and at least 1.5 million adults stumble upon it on a regular basis. Some people, however, intentionally go looking for it.
In this powerful new video by International Justice Mission, one of the most heinous crimes and most devastating forms of slavery is documented. It's real. It hurts thousands of children. And all it takes is wifi.
Unfortunately, child pornography has become more prevalent than we ever could have imagined; the people who actually get caught for possessing it are just the tip of the iceberg.
In 2008, Internet Watch Foundation found 1,536 individual child abuse domains. According to the National Society for the Prevention of Cruelty to Children, every week, there are over 20,000 images of child pornography posted on the web. Furthermore, U.S Customs Services estimates that illegal child pornography is offered by approximately 100,000 websites. According to a 2009 United Nations Human Rights Council Report, the production and distribution of child pornography has an estimated value of between $3 billion and $20 billion.
It's a booming business, and its effects are spreading quickly.
Just recently in Toronto, Canada, nearly 400 children were rescued and 348 adults arrested following a massive international child pornography investigation that took down a $4 million child porn production empire that distributed its illegal content to over 50 countries worldwide. Police seized over 45 terabytes of child porn in the bust. What was most alarming about this case? Many of the arrests were of people who worked with or closely interacted with children. Among those arrested were 40 school teachers, nine doctors and nurses, six law enforcement personnel, nine pastors and priests, and three foster parents.
How can I help?
There are many ways that you can help the fight against sex trafficking. Below are just some of the ways you can make a real difference right where you're standing:
Know how to identify a victim of trafficking
Just recently, a northern California Uber driver helped rescue a teenage girl who was being trafficked and prostituted by two female pimps. Just by being aware and knowing what to look for in language and behavior, he was able to recognize the situation that was taking place in his back seat and alert the authorities who then arrested the pimps and returned the girl to her family. There's no doubt about it: his actions saved the 16-year-old's life.
Sex trafficking takes place in nearly every country. While there are horrible situations in which young girls' virginity is sold off by their poverty-stricken parents in Cambodia, the reality is that western countries are by no means immune to the trade. Runaways, girls who have fallen for the wrong guy, and naive people who have traveled from another country on the promise of a legitimate job can get trapped in prostitution rings anywhere.
One front in this battle has been the hotel industry. Traffickers and pornographers like to use hotels since they can get in, make some money, and then move on before they attract too much attention. "It happens in hotels that are five-star hotels and it happens in the sleaziest, slummiest rent by the hour hotels," says Tammy Lee Stanoch, VP of corporate affairs for Carlson. "These women and children are being victimized in hotels, and whether they're our hotels or our competitors, we're going to take a stance on it. Hotels need to be part of the solution because unfortunately, that's where many of these crimes happen."
Many hotels now train their employees to watch for red flags, and the people at Carlson agreed to share some of what they've learned.
One of the key times is at check-in. Paying with cash is obviously a cause for concern, especially if the reservation was originally made with a credit card. When an older man or woman checks in with younger women who don't appear to be his or her children—they speak a different language, they're distant from him, they look dazed or afraid, or if they're made up to look older than they really are—that often means the women are not there willingly. A bunch of guys checking in with two young Latvian women alarmed this hotel employee, who went called the cops on them and broke up a trafficking ring. And then there's the luggage clue; legitimate travelers usually bring a bunch of bags with them.
For hotels, the next line of defense after a vigilant front desk clerk is the in-house security team. Sometimes traffickers will check in to the room and only much later smuggle the girls and the johns into the hotel through a side door. "Very few women are being paraded by the front desk," says Stanoch. Hotels have put in very sophisticated camera equipment, but that doesn't mean they catch everything. Rooms which are being used by traffickers typically have a lot of men coming and going, and sometimes have men congregating outside the door, in the lobby or in the parking lot.
The hotel housekeepers are key players here too, since traffickers tend to decline cleaning services for days on end. They're also less likely to tidy up, so the housekeeping staff may find large amounts of condoms and lubricant when they do get into the room. (Stanoch says people who are having consensual sex generally tend to be neater with their paraphernalia. Who knew? ) Cleaners are also trained to watch out for a large number of computers or cell phones in a room.
And then there's porn. If one room is watching an unusual amount of porn on their hotel TV, that can trigger suspicions especially if it happens in tandem with other signs of trafficking. Not always, of course, especially in Hilton Hotels & Resorts since they officially announced a change in policy last year and removed all on-demand pornographic videos from the in-room entertainment services at all of its properties worldwide.
Checking on the contents of another traveler's room (or their TV habits) is of course frowned upon for regular guests, but there are things any traveler can watch out for: if you're checking in or in the lobby, do the women being checked in have their own credit cards and forms of identification? Do they look to be in good health? Do they seem disoriented or disheveled? Are their "boyfriends" significantly older? There have even been reports of some victims having tattoos that mark ownership.
Click here for more information on what to look for with possible trafficking victims.
The Polaris Project, which works to combat slavery of all kinds released this helpful map, which identifies the local trafficking-fighting agencies all over the world.

If you're in the United States, the phone number to the National Human Trafficking Hotline is 1-888-373-7888.
Download the new app that lets you fight human trafficking while you travel
As mentioned above, the hotel industry is a huge battleground in the fight against sex trafficking. Now, you can help the cause every time you travel in one simple way by using an app called TraffickCam, available for iOS and Android. The app is targeted toward travelers who book hotel rooms and snapping a picture inside your room could help protect children and rescue sex trafficking victims across the globe.
TraffickCam is intended to make the search for young trafficking victims strikingly faster for law enforcement. App users can snap photos of their hotel rooms before unpacking, then upload the photos to the app. The growing collection of photos feeds a national database that has a search tool enhanced by cutting-edge computer image analysis created by researchers at Washington U.
Likewise, law enforcement officers feed the database photos from escort advertisements that appear to be of minors taken in hotel rooms. Complex search algorithms then analyze the hotel decor to find a match. App photos containing rug patterns and textures, drapery designs, lampshades, wall art, bed linens and specific furniture provide thousands of data points for the computer to match with a specific hotel or chain.
This program could save detectives days and weeks of sorting photos and speed their response to a location of a pimp or a victim, said Molly Hackett, one of the three local women who came up with the idea of collecting hotel photos.
How effective is it? One of its inventors, Abby Stylianou, a Metro High School graduate with a passion for computer imaging analysis and social justice, said test trials are highly encouraging. About 85 percent of the time, the computer algorithm is able to deliver a hotel match in the first 20 photos it returns from the search.
Related: "TraffickCam": This New App Helps You Fight Sex Trafficking While You Travel
If successful, the app has the potential to put a dent in the illicit sex trade that markets photos of minors on the internet through prostitution advertising sites such as Backpage.cοm. That site generates more than $37 million a year in revenue.
Success ultimately hinges on how many people use the app to send photos to the database, said Hackett, a principal at Nix Conference and Meeting Management in Maplewood.
"There aren't many opportunities for anybody on any given day to make a difference in sex trafficking, but with this app, you really can," she said.
This is what a user-submitted photo would look like, sent into the app and analyzed for further details. Simply taking a photo like this could save someone from further sex trafficking. How cool is that?
Find a local organization to see how you can help
We are all about raising awareness on this important topic, but there are other organizations that are working tirelessly with boots on the ground efforts that need your help. One of the best ways to get involved in this fight is to find a local organization that is working to make a difference right in your community, and also on a worldwide scale. To find a group in your city, search online to find out how you can get involved.
Start conversations, be bold in raising awareness
You can start by wearing our Stop the Demand tee or our #StopTheDemand tee (they're totally different) which both highlight the link between porn and human trafficking. By taking a stand, we can make a difference. Click below to shop: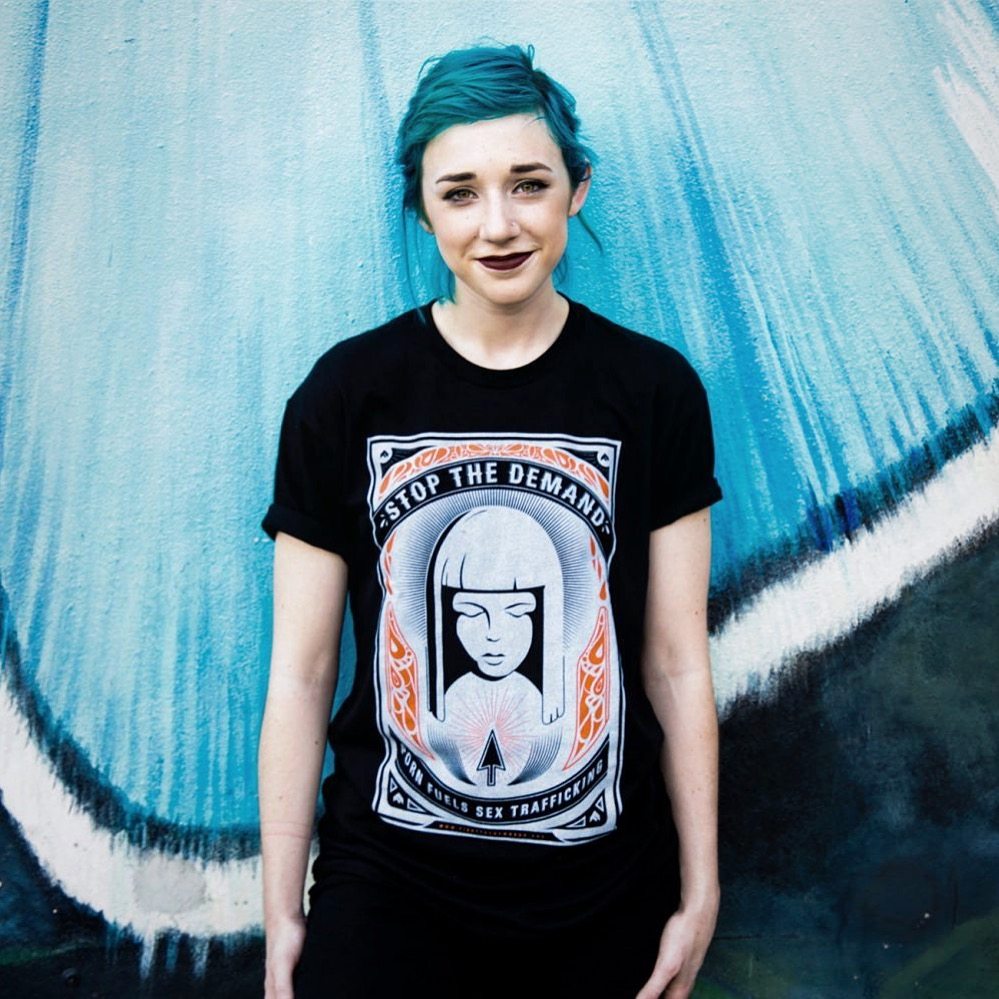 What YOU Can Do
To help increase awareness and stop the demand for sex trafficking, SHARE this article to spread the facts.