Young men are constantly bombarded with messages that convince them how they should act. They are told, even subconsciously, that a "real man" takes what he wants, and that he should be a "macho" womanizer. Today's society teaches through what we watch and see plastered all over billboards and in magazines that the true value of a person lies not in their character or personality, but in sexual prowess, attractiveness, and power. These messages are most prevalent in the porn industry, where men are often portrayed as dominant and powerful while women are ever-willing sex objects, beckoned at their command.
Because the porn industry is a business trying to make as much money as possible, they understand that they can secure long-term clients by targeting young men, hooking into their naturally ingrained curiosity toward sex, and getting them swept up into the hyper-sexualized caricatures that make up modern porn. If porn producers can get adolescents to watch porn just a few times, they can probably keep them around for years to come.
Hijacking A Natural Desire
The porn industry has a pretty clever racket going—they wouldn't be a multi-billion dollar industry if they didn't know how to get clients and keep them coming back for more.
Once young kids are taught that the value of a person is in their sex appeal, it's easy for the porn industry to take that natural curiosity for sex and twist it for their own gains and profits. They can strategically search out ways to show adolescents a shocking world of unfiltered sex, much before they can really understand what "sex" actually is. Stumbling upon a website or being bombarded with pop-ups, young boys and girls see these highly exciting and arousing images of sex, and they're told, "Look, this is sexy!" Even when they see abusive and violent depictions of sex, they are being told to think, "This is how you have sex!," or, "This is what feels good!" Over time, these young viewers start to equate sexiness with these counterfeits, and not with their own natural preferences.
Related: How Porn Affects Your Sexual Tastes
The scary thing is that not all of these soon-to-be-clients initially seek out the porn industry for themselves. In fact, many of them don't. Many porn websites use an aggressive "marketing" strategy to bring in these young viewers, often young boys. Take for example, the story of Alexander Rhodes, the founder of NoFap:
I vividly remember the first time I was inadvertently exposed to the world of Internet pornography. I was a kid innocently searching the Internet when a pop-up advertisement appeared featuring hardcore rape simulation porn. 
"It was pornography at its worst; the ad actually showed a girl being savagely raped. Being an adolescent boy with raging hormones, I became instantly curious.
From that point forward I was hooked on looking at pictures of naked women on the Internet. Every day I would perform laughably ignorant Google Image searches… I would print out dozens of tiny grainy images to show to my friends at school. It wasn't long before I was printing out larger images with ever-increasing resolution. From there it escalated; by the time I was nineteen years old and in my first relationship, my addiction had escalated to the point that I was watching the highest-resolution, most hardcore videos I could find for hours every day."
Alexander's experience isn't an isolated event. We receive countless messages from our Fighters, recounting their first time stumbling upon a pornographic image, website, or magazine, and the years of struggle or addiction that followed. The porn industry understands how powerful the sex drive can be in an adolescent boy, so why wouldn't they actively target them if it means they can bring more traffic to their site?
Creating Lifelong Clients
Porn companies know that if they can get adolescents to view porn a handful of times, they can possibly secure a lifelong client. There is even science to show how this process of compulsive viewing begins.  By hijacking the brain's reward pathway, porn triggers the release of dopamine, which can lead to the same kinds of withdrawals and tolerance that result from consistent drug use. The shock of dopamine release in the partially-developed brain of an adolescent can send that viewer reeling, all too ready for the next explicit thrill of porn.
The brain isn't aware that what its viewing can be potentially devastating to the viewer, and young viewers don't always understand the potentially addictive nature of what they're getting themselves into, click after click. Thus, kids and teens shouldn't be blamed for falling into something tantalizing to their developing brain. Is it fair to villainize every porn viewer and shame them for something they may not mentally grasp the harmful effects of? Shame them for something they may not have intentionally stepped into in the first place? Look down on them for something they don't even know how to talk to someone about and get help for? These potential adolescent lifelong clients need education, awareness, and help, not judgement.
Here are two personal accounts from Fighters sharing their battle with pornography, and the effects it had on them. The first is from Terry Crews, the famous Hollywood actor, explaining how porn left him miserable, alone, and addicted:
And this personal account is an excerpt from a true story shared with us by an anonymous Fighter, recounting the pain of his 20 year struggle with porn:
"I saw my first pornographic image when I was nine. I am 29 now, which means that for the past 20 years, I have battled with porn every day. Looking back on it now, that first image was nothing at all. But for a 9-year-old, it was everything. I didn't want it and I didn't search for it. It came in the form of a spam email and I saw a picture of a woman in her underwear. That was all. No nudity, just that. But at 9-years-old, I knew I had stumbled on something exciting, but wrong. My young curiosity overcame me and I continued to try and find more of the same.  It was all downhill from there. I began to seek it out, and found it everywhere. It wasn't long before the pictures of women in their underwear turned into pictures of naked women.
Then, around college, I discovered hardcore porn images. The simple nudity wasn't really enough anymore. That continued on for a while until in my last year of college, I discovered pornographic videos. But that quickly led to me chatting sexually with random girls online. Everything was a spiral downward from that first image when I was nine. I've never been addicted to drugs or anything else, but I imagine that this is what it feels like to have that level of addiction. Sometimes the cravings hit me really hard. Sometimes I watch porn because I'm stressed, or hurt, or lonely. A lot of the time I watch simply because I have created a habit of looking. It has changed the way that I think about women, and lowered my self-esteem. 
I hope that you share this. Not because I want the recognition, but because after 20 years, I wouldn't wish this hell on anyone. If my story will help someone else, then it's worth me telling."
Both personal experiences reveal how damaging an exposure to pornography can be. No matter if a porn habit begins on accident or otherwise, the giant $97 billion dollar global porn industry has the power to steamroll over individual viewers who have gotten caught up in a porn habit and don't know how to get out. The only way to break the cycle is to spread the facts on porn's real harms, raise awareness, and fight for real love.
Why We Fight
We aren't trying to wipe porn from the internet. We aren't focused on the religious or political approaches to fighting porn, and we aren't a censorship movement. Rather, we feel that this generation deserves to understand exactly how porn kills love, how it damages the mind, and how it corrupts our world. We are all about decreasing the demand for porn through education. We believe that people have a right to know the damages that can result from viewing pornography. When given the facts, we believe that people will choose not to make it a part of their life.
It is easy to characterize those that view pornography as deviant, perverse, or selfish. It can be tempting to assume that only a morally-bankrupt individual would find any pleasure from porn. However, it is important to remember that this movement is not interested in shaming those that struggle with pornography. Rather, we are interested in bringing more love into world. We seek to provide the support and strength that these individuals need. We fight for love, and we fight for those caught in the trap that the porn industry has set.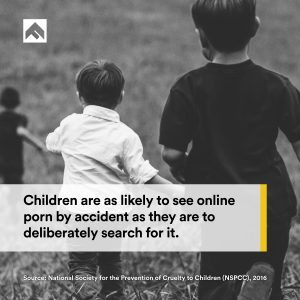 Need help?
People struggling with porn who have signed up for Fortify—the interactive recovery program we developed—have been witnessing huge success. We've spent countless hours developing the best tools to help teens (and adults) break free from the chains of pornography and we currently have over 65,000 users taking this step toward freedom.
Head over to fortifyprogram.org and sign up and then download the Fortify app for free. Creating an account is free for anyone under 21 years old and is an inexpensive fee for adults.
What YOU Can Do
The porn industry is trying to trick young people into a life of addiction. SHARE this article to get the word out!