Many people contact Fight the New Drug to share their personal stories about how porn has affected their life or the life of a loved one. We consider these personal accounts very valuable because, while the science and research is powerful within its own right, personal accounts from real people seem to really hit home about the damage that pornography does to real lives.
Porn can have an effect on someone, even if they've never seen it before. This teen Fighter's story gives us a look inside what it's like to go against the grain and choose not to consume.
---
Hello there, FTND!
This is a really random message, but I just want to thank you all for what you are doing. I have never watched porn before, because I always felt it was wrong in so many ways. When I was a young girl, I never had any desire to watch it and so I never did.
Society has indeed normalized porn. So much so, that I would never say anything about it when friends would talk about it, because they made me feel like I was the weird one for not doing it. Even before having sex for the first time, this all had quite an impact in me. I still have to tell myself that I'm not weird for not wanting to watch porn and that there's nothing I'm missing from it. I have to convince myself that I don't have sexual issues without having any desire for porn, because that's what people have made me feel, including previous boyfriends.
Related: 20 Years Of Looking At Porn And I Wouldn't Wish This On Anyone
Knowing that my previous partners and current boyfriend have all seen porn, it's created a huge anxiety in me. It makes me feel insecure that they "know" things I don't about sex and have seen things I can't even imagine. I have to try hard to focus on what I am feeling, instead of thinking about if I am doing what I should do when we're together.
Basically, porn has affected me without even watching it. I just wanted to share with you my story and that what you guys are doing has helped me. Every time I see your posts I tell myself, I am okay, porn is indeed unhealthy, and it's not normal.
Thank you!
–H.
Why This Matters
It's not okay that society puts the expectation of watching porn on anyone, as if they're uncool if they choose otherwise. The reality is, everyone is capable of choosing for themselves whether they're interested in porn or not, and to be shamed for never having seen it and not wanting to is not okay.
Watching porn doesn't make you any more cool or sexy, and not watching doesn't make you any more or less of a sexual person. In the end, it's degrading to assume that anyone needs to watch porn, because everyone has a choice.
Stopping the demand for porn starts with us choosing for ourselves not to click, and raising awareness that everyone has that same choice.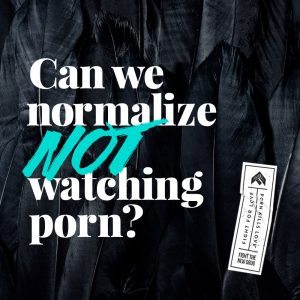 Get Involved
Porn shouldn't be viewed as normal and natural. SHARE this article and spread the word on the harmful effects of pornography.
Spark Conversations
This movement is all about changing the conversation about pornography and stopping the demand for sexual exploitation. When you rep a tee, you can spark meaningful conversation on porn's harms and inspire lasting change in individuals' lives, and our world. Are you in? Check out all our styles in our online store, or click below to shop: