The National Center for Missing & Exploited Children (NCMEC) whose CyberTipline is the nation's centralized reporting system for the online exploitation of children, reported a staggering rise in reports of child sexual abuse material (CSAM) last year.
Numbers were through the roof in 2020 compared to previous years, which isn't surprising, of course, given everyone staying home and isolated amidst the spread of a global pandemic. But what's particularly illuminating is a rising trend in the source of many of these images, and what it means for the future of fighting this global issue.
Let's take a deeper look.
Related: Report Reveals One-Third Of Online Child Sex Abuse Images Are Posted By Kids Themselves
The rise of CSAM in 2020
Here's a rundown of what NCMEC saw in reports of child sexual abuse material in 2020 compared to 2019.
Total reports to the CyberTipline increased by 28%—from just under 17 million in 2019 to nearly 21.8 million in 2020.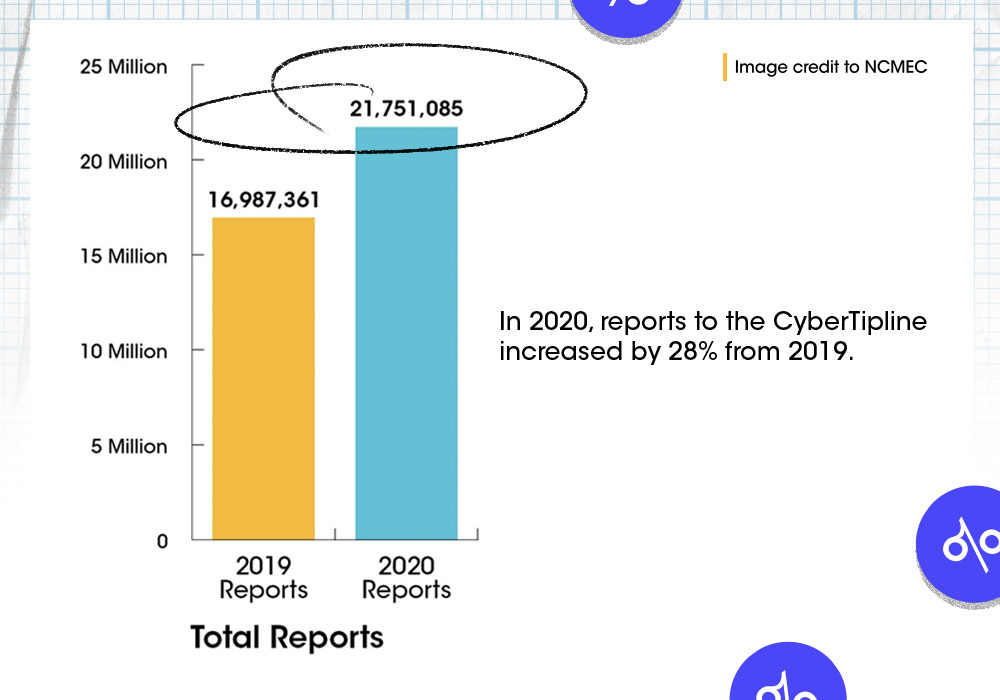 The 21.7 million reports of child sexual exploitation made to the CyberTipline in 2020 included 65.4 million images, videos, and other files.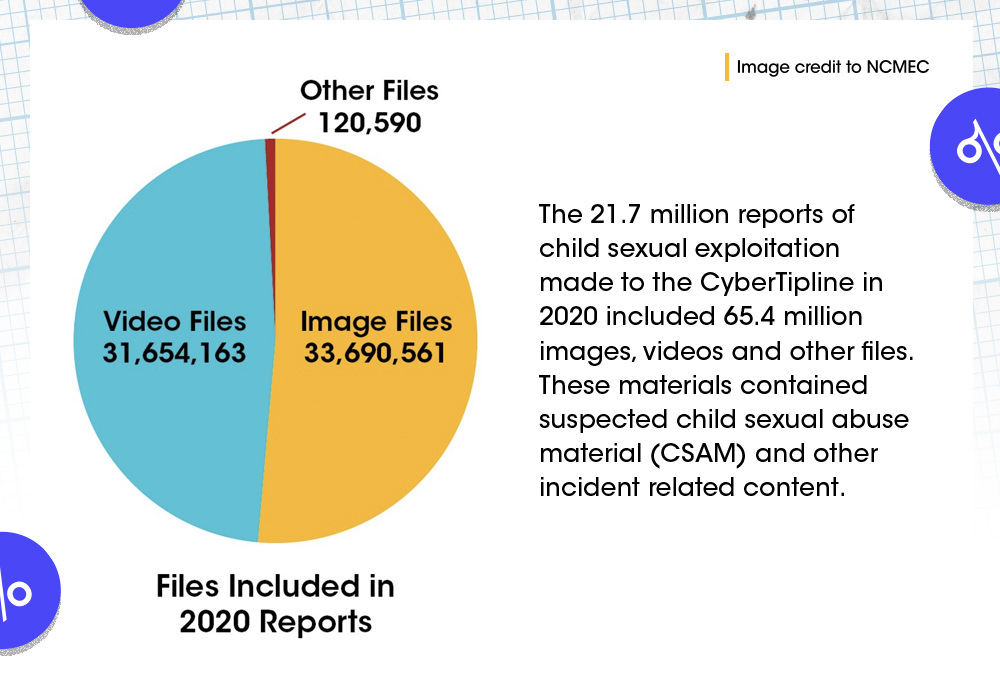 Year after year, the majority of reports to the CyberTipline come from the over 1,400 Electronic Service Providers (ESP) registered with NCMEC to voluntarily report instances of suspected child pornography they become aware of on their platforms.
However, reports of online sexual exploitation from the public more than doubled in 2020—from over 150,000 in 2019 to over 303,000 in 2020.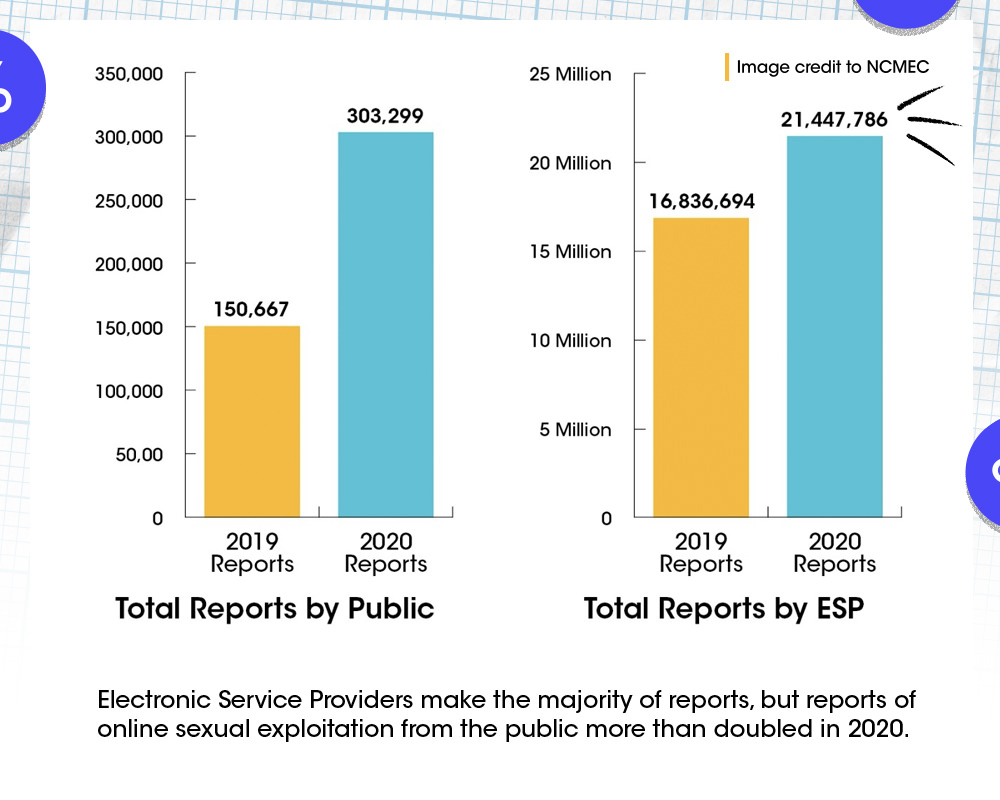 Of the ESPs that reported to NCMEC in 2020, Facebook—including other platforms the company owns like Instagram and Whatsapp—topped the list by a longshot with over 20.3 million reported instances of child sexual abuse material in 2020.
Note that the large number of reports from tech companies like Facebook do not necessarily mean there is more abusive content on those platforms, but that the company is doing a better job at identifying and reporting it. Higher numbers, in those cases, can actually be a positive thing—it means they're more thoroughly reporting, in some cases.
Also on the list was Google (546,704), Snapchat (144,095), Twitter (65,062), TikTok (22,692) Microsoft (96,776) Amazon/Twitch (2,235), and MindGeek (13,229)—parent company of multiple adult content companies including Pornhub, YouPorn, RedTube, Brazzers—among others.
Related: MindGeek, Pornhub's Parent Company, Sued For Reportedly Hosting Videos Of Child Sex Trafficking
Of course these numbers account for reports, not individual confirmed cases of abuse. But the rampant spread of child sexual abuse content online is not an issue to downplay.
President and CEO of NCMEC John Clark explained that in the year 2020, 10.4 million of the nearly 21.7 million CSAM reports were unique images that had been reported numerous times. "This shows the power of the technology ESPs use to identify these known images of abuse. It also demonstrates the repetitive exploitation occurring, as these images are shared many times, further re-victimizing the children depicted."
Facebook also conducted an analysis of the CSAM it reported, and found that a large portion was duplicates via reposts and shares—allegedly with copies of six videos responsible for over half of the child sexual abuse content reported.
Pornhub—which has allegedly only recently started reporting child abuse and nonconsensual content on the site in the last few months—also claimed instances of duplicate content, estimating 4,171 of the 13,229 were unique reports.
Related: Visa And Mastercard Sever Ties With Pornhub Due To Abusive Content On The Site

The global issue of self-generated CSAM
This unprecedented rise in child sexual abuse material is concerning to say the least, but to really be effective at fighting it, we have to understand the reality of what we're dealing with.
Never should an image of a child be shared to porn sites—regardless of origin, these images pose a serious risk to children when they get into the wrong hands—but it matters to know that not all of it is abusive. A lot of CSAM is actually created by minors themselves.
In fact, in a NetClean report from 2018, 90% of police officers investigating online child sexual abuse said it was common or very common to find self-generated sexual content during their investigations.
Thorn recently reported research on self-generated CSAM and the complex challenges it brings. (You can download Thorn's full report here).
Some self-generated images represent a child who was groomed or coerced, while many teens today "share nudes" supposedly willingly. But why?
Related: Report Reveals One-Third Of Online Child Sex Abuse Images Are Posted By Kids Themselves

Through their research, Thorn found 3 critical themes that provide a deeper understanding.
1: 40% of teens agree that it's normal for kids their age to share nudes with each other, and don't view it as fundamentally harmful. This attitude of, "We all do it. It's ok," proves to be the norm for many teens who often view sexting or sending nudes as common behavior or an acceptable way to engage intimately with a partner.
2: 1 in 3 teens say they've seen non-consensually shared nudes—this is likely an underreported number given the sensitivity of the topic and the fear many kids have of potential consequences. Most teens who share nude content of themselves probably don't anticipate it will end up in anyone's hands besides the intended recipient, but this is happening at an alarming rate. And many youth are navigating this digital world and its accompanying risks with little or no guidance from adults.
3: 60% of kids place at least some of the blame on the victim. This culture of victim-blaming makes it significantly more difficult for kids to seek help if an image is shared of them without their consent. Kids anticipate being blamed first, and caregivers tend to share the same view—with 50% of female caregivers and 60% of male caregivers exclusively or predominantly blaming the child whose image was leaked.

Holding the porn industry accountable
Of course a conversation about CSAM can't be had without shining light on the industry that fetishizes, normalizes, and in many cases, facilitates the abuse of minors. Consuming porn isn't a passive, private pastime—it fuels the demand for sexual exploitation and is intricately woven into this global issue as a whole.
There's still much to learn, and many more conversations to be had. But thanks to research from organizations like NCMEC, Thorn, and others, and Fighters like you around the world, we can take real steps toward a world free from sexual exploitation.
To report an incident involving the possession, distribution, receipt, or production of child sexual abuse material, file a report on the National Center for Missing & Exploited Children (NCMEC)'s website at www.cybertipline.com, or call 1-800-843-5678.