In the last few weeks, YouTube has been getting negative feedback about some not-so-appropriate ads that have been popping up on several videos.
But what are these ads promoting that some people would complain about them? You guessed it, porn. In the thumbnail of the ad appeared an explicit image of two people, with a link to one of the most popular webcamming porn sites in Europe: BongaCams.
Some of these videos have over 300,000 views, and what's most concerning is that some of these videos are for kids. This violates YouTube's Ad policy, that does "not [permit] for the promotion of any adult or pornographic content."
Since this news has come out, YouTube has responded, saying that, " While we make every effort to ensure that ads which may violate our policies do not run prior to review, some ads may be run on Google before our AdWords Specialists check them."
For reference, in just a week, YouTube removed two million ads from videos or channels pretending to show "family-friendly content." Clearly, it's no easy task to check everything out when there's so much junk out there, but letting a direct link to a webcam site be on kids' videos is just not cool.
What's the big deal?
This is a serious problem, especially when it comes to children's videos. Why? Well, it's pretty common to hear people say that their first exposure to porn was from something that popped up on their screen: an image, word, or video that just triggered their curiosity and catapulted them into a years-long habit.
In fact, it's more common than we think, especially when kids ages 12-15 spend over 21 hours online. On the phone, tablet, computer: it's an increase of 7 hours in the past 10 years . And 67% of those say they "often" watch YouTube.
Increase in usage of social media sites that have some pornographic content that seems to always slip through the cracks makes it extremely easy for kids to accidentally see porn on the regular. In fact, in a study by the Kaiser Family Foundation, more than half of reported social media content "contains sexual images or references."
It's no mystery porn does harm to everyone, including adults. However, to kids and the rising generation, it's really worrying, especially the earlier they are exposed. Research shows that early porn exposure opens up the doors to sex addictions and intimacy disorders.
Studies also show that children exposed to porn have "increased rates of depression, anxiety, acting out and violent behavior, younger age of sexual debut, sexual promiscuity, increased risk of teen pregnancy, and a distorted view of relationships between men and women." They become obsessed with acting out what they've seen.
Kids under 12 who have consumed porn "are statistically more likely to assault their peers," a pretty serious issue when almost 30% say their first exposure was before 10 years old, 51% before 13, and a whopping 85% of males when they were adolescents. Not okay.
What do we do?
At Fight the New Drug, as a non-religious and non-political nonprofit, we've said it time and time again— we're not here to ban porn.
We believe in educating and advocating for healthy relationships, and showing what real love is. This is especially important for the rising generation, because the negative effects are magnified the younger someone is exposed, seeing as their brains aren't fully developed. When the first exposure a child has about sex is distorted, full of violence and false images about intimacy, that's a huge problem.
While some social media sites like YouTube have strict policy guidelines against pornographic content and do their best to get rid of it, not all social media sites are equal. For example, Tumblr is pretty lax on its policy, and a lot of explicit content gets by.
Why should we be concerned? Because over 75% of kids, ages 10-12, have social media accounts (when they don't even meet the minimum age restriction). That's a lot of exposure to potential porn content, which is exactly why it's so important to raise awareness on healthy ideas of sex, relationships, and love, and how porn shows none of that.
We're here to raise awareness for anyone and everyone that porn isn't normal, it isn't healthy, and it isn't harmless. We hope to live in a world where social media giants share that mission, and we'll keep fighting until everyone understands the proven harmful effects of porn.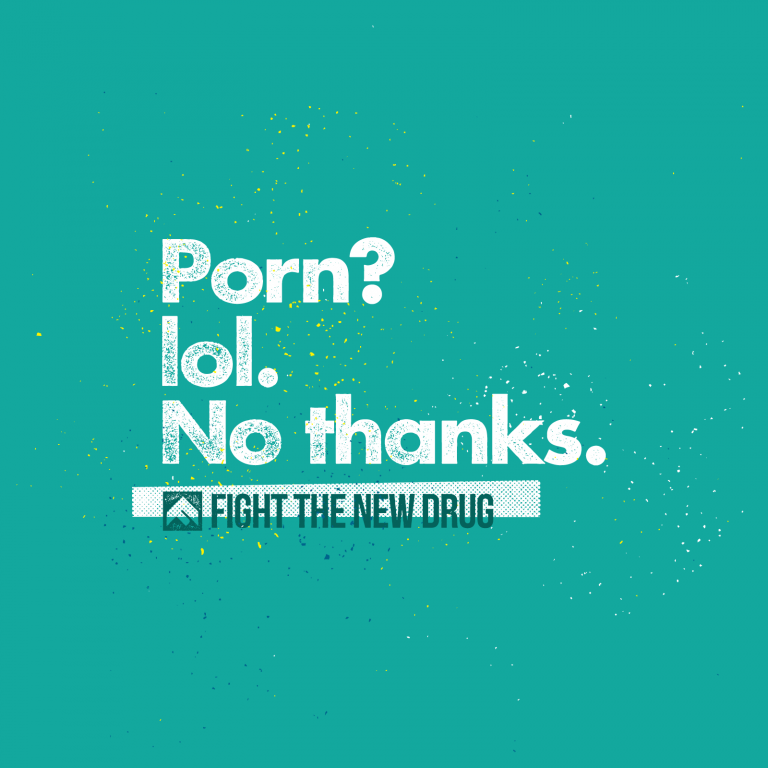 Get Involved
Spread the word that the first exposure to porn sites could be as easy as going onto YouTube. SHARE this article and raise awareness on this issue.
Spark Conversations
This movement is all about changing the conversation about pornography. When you rep a tee, you can spark meaningful conversation on porn's harms and inspire lasting change in individuals' lives, and our world. Are you in? Check out all our styles in our online store, or click below to shop: