Portions of this post was originally published on CNET. It has been edited for content and clarity.
Whether they are searching for it or not, nearly half of Tumblr's users are seeing porn on their dashboards, and over 10% are under 18, according to an Italian study published last month.
Tumblr has notoriously had a hard time keeping porn off its site due to its extremely lax restrictions on sexual content. Millions of Tumblr pages are dedicated to pornographic GIFS, photos, and videos that are reposted millions of time across the site. In 2012, Tumblr founder David Carp said only 2 to 4 percent of the site's traffic was porn-related, but this new study suggests that number has grown significantly.
In a study of Tumblr's 200,000 most popular domains by web analytics firm SimilarGroup, more than 10 percent of these pages—22,775, to be specific—contain adult material, reports the Daily Dot. Perhaps even more striking is the fact that more than 22% percent of the traffic Tumblr receives from other sites is going straight to one of these porn sites.
The researchers took a look at 130 million Tumblr users and 7 billion links posted on the social network. Tumblr has 329.6 million blogs and 144 billion posts. The previously mentioned Italian study shows that adult content has become so pervasive on Tumblr that more than one in four people on the site will end up seeing porn without even looking for it. 22% of the site's users follow, like or reblog content from porn accounts, which translates to another 28% of people on Tumblr unintentionally being exposed to porn, according to the study.
Tumblr's community guidelines asks its users not to upload any sexually explicit video. "We're not in the business of hosting adult-oriented videos (and it's f****** expensive,)" reads its user policy. It's also asked users who do post pornographic content to mark it as NSFW so users don't accidentally see adult content while scrolling through their dashboard. But this is laughable for anyone who has been on Tumblr and seen the massive porn posted and shared on the site daily.
Similar to Twitter, many pornographic accounts on Tumblr are created and run by automated bots that feed traffic to porn websites. This means they create profiles quickly on these sites that have no filtering or restriction on what they can post, they don't mark hardcore porn as NSFW, and they certainly don't follow the user guidelines. The porn-bot accounts often follow users, many of whom are minors, and their hardcore content is more than easily viewable and accessible.
This is a big problem.
One Fighter named Matthew posted about this issue on his Tumblr and has since received almost 180,000 notes on his complaint to Tumblr. According to Matthew, "Tumblr has not taken any action or even acknowledged that this is a problem for many users. They don't even take action when a user complains that the porn-bots are using their regular pictures for their profile picture, or when the bots steal copyrighted NSFW images for their own use."
We are not here to bash on Tumblr. It can be an awesome platform where you can directly connect with your friends as well as favorite artists, brands, and causes. It can be an artistic place where you can curate your own feed of images from around the world. But it's also important to remember that porn is becoming more than increasing popular and available on the platform and the company doesn't seem to mind. That's definitely not something we are okay with.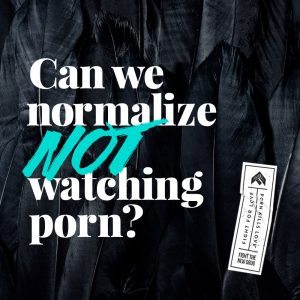 What YOU Can Do
If you're not cool with Tumblr's almost non-existent restrictions on porn, SHARE this article. Add your voice to the conversation and spread the facts on the harms of pornography.