My story started when I was 12 years old at a friend's sleepover.
Porn was played most of the night, which was entirely new for me. About a year later, one of those friends from the sleepover acted out sexually with me, and I was so confused about everything going on. From then on, porn was an outlet that I used to escape from my shame, guilt, and uneasiness.
These experiences led to several promiscuous encounters with both men and women throughout my teen and adult years. At the same time, the porn I watched became increasingly intense and persuasive. It seemed to encourage my lustful behavior. I could never have a healthy relationship because, behind closed doors, I would meet and engage with strangers sexually. As someone with a successful career, my friends and family never knew about how perverse my personal life was. Porn had completely consumed me, and I had just about given up the idea of ever having a healthy, loving family life.
Changing my trajectory
When I turned 27, I was introduced to a very successful man, and that began a new trajectory for me. He had family-centric values a spiritual foundation, and was very forward about me living a double life after I opened up about my dissatisfaction with my relationships.
Shortly after meeting him, I was able to open up about my struggle with my now-wife. I didn't want to begin a relationship without letting my deep wounds go unknown. She and I continued to date, and in 2019, we were married.
We were no longer surrounded by partying friends or focused on attending clubs or music festivals.  We chose to associate with other holistic people who valued marriage and loyalty. I went from needing to consume porn daily to a point where I can now go a few weeks without it. I've begun seeing a  mentor who is a licensed therapist, and the accountability not only helps me but gives my wife confidence in my intentions to keep fighting.
The deception of the porn industry and the types of hypnotic messaging found in some porn has truly made this a dark place in my past, but I see so much light as I look to the future.

Discovering Fight the New Drug
I first came across Fight the New Drug while using an app called Fortify. I bought the lifetime subscription, and it opened up some inspiring and practical videos and tools that I believe have really helped me. Some of those videos referenced Fight the New Drug, and so I searched it out directly.
It's encouraging to know there are companies like Fight the New Drug that are helping youth fight back. I believe more and more that freedom is obtainable and the shackles of porn will be broken.
I signed up for one main reason – to show my support for the kind of work Fight the New Drug is doing. Youth are being affected and manipulated by the porn industry, people feel ashamed about its effects on their lives, and I've personally always felt alone in this struggle.
I love the education, the testimonies, the tools; there are conversation cards to have difficult conversations with loved ones and science-backed materials to learn from. I believe that Fight the New Drug can make a huge impact, and that's where my support comes from.
My membership and contribution have helped me realize that I'm not some hopeless addict, but I can recover by living a healthy lifestyle. I have a community of people who've gone through similar experiences, and I feel so much peace from that. There's encouragement to seek help and share stories so that more people can be reached and educated. My hope is that young people find these resources earlier in life than I did so they can uproot unhealthy habits sooner and embrace their own purpose with clarity.
-Kevin

The difference you make when you sign up for Fighter Club
Our community of monthly Fighter Club donors helps others recognize how porn can impact them, their relationships, and their communities by making the following programs and projects possible. 
Without your support and generosity, we could not spread education and hope to millions worldwide. 
The following resources are made possible by our Fighters. Each donation goes directly into creating, sustaining,  and growing the following projects.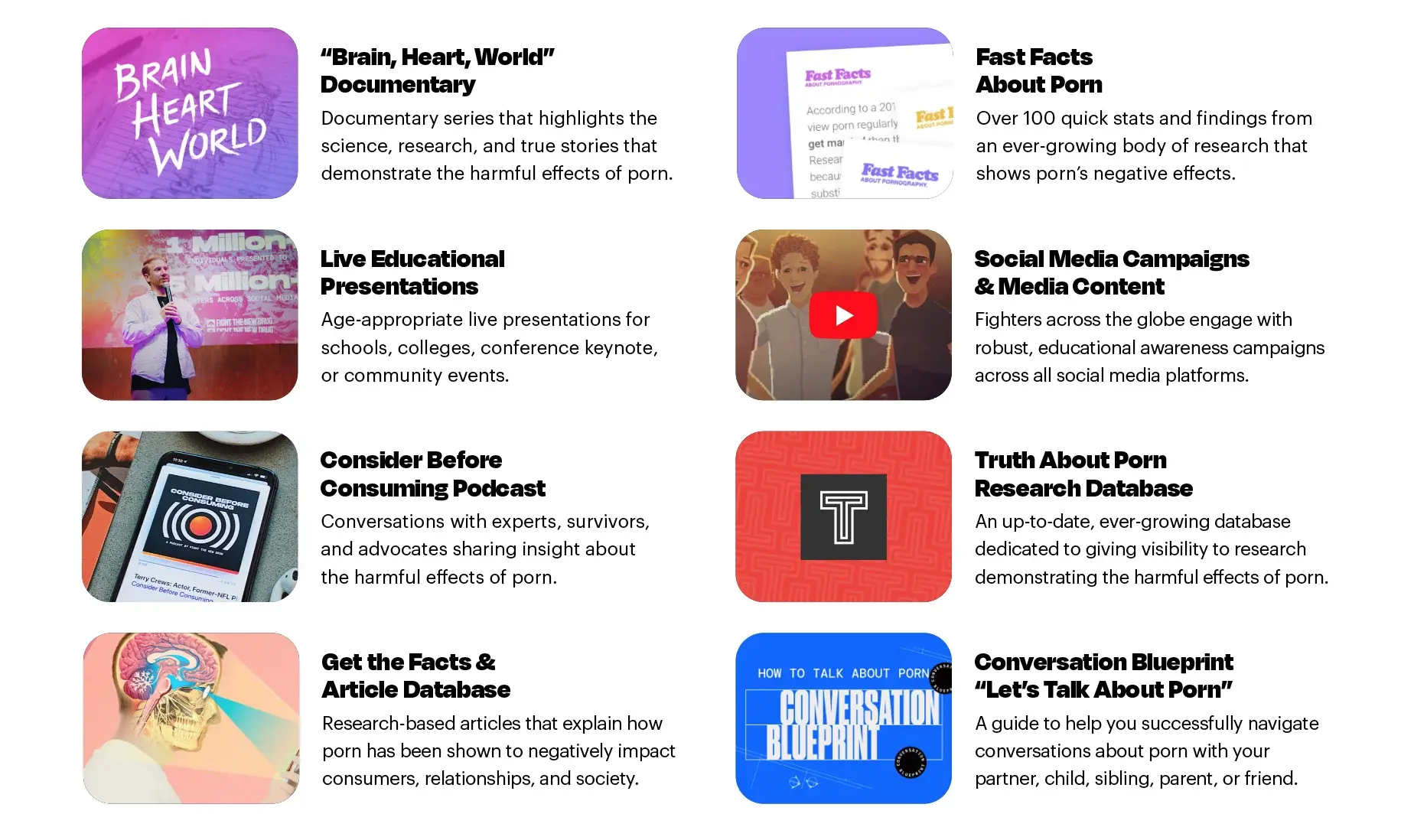 What you get when you join Fighter Club
Fighter Club members receive 30% off the Fight the New Drug store–always, access to our Secret Store and Fighter Club exclusive merch, as well as insider updates on what they're supporting, and an exclusive Fighter Club Kit when you join.
Besides the best discounts and deals, Fighter Club Members gain something else when they join. The knowledge that they're making a difference, paying it forward, and giving back so that others around the world can escape the harmful effects of pornography through education.

As Vincent said, another Fighter Club member,
"I decided to become a Fighter because if only I had someone fight for me when I was a kid, stripped of my innocence and sexual education by a dirty magazine that should have never made its way into the hands of a group of young boys, things would have been different. I fight for myself and the kids today who face an overwhelming amount of pornography through easily accessible mainstream media. I fight for my future wife and marriage, to be a husband and partner that does not watch porn behind his wife's back. I fight for the children that I want to eventually have, not by simply shielding them from porn and its harms but by proactively teaching them the truth behind the camera when they are of age. The porn industry is a juggernaut, and Fight The New Drug is a part of the resistance."
By joining the Fighter Club, you join the resistance. And while our Fighter Club members join for various reasons, have their own unique stories, we can all agree that education on the harms of porn is critical to ending sexual exploitation. 
Support this resource
Thanks for taking the time to read through this article! As a 501(c)(3) nonprofit, we're able to create resources like this through the support of people like you. Will you help to keep our educational resources free as we produce resources that raise awareness on the harms of porn and sexual exploitation?
DONATE