The April 11, 2016, issue of TIME Magazine featured a surprising cover story entitled "Porn and the threat to virility."
The story is surprising not for the information it shares—it outlines the same dangers surrounding porn use that we've been talking about for years—but for the fact that these dangers are finally being considered seriously in the media.
Having this important issue become a national conversation and be highlighted by a publication as renowned as TIME is a huge step forward for the movement. Fight the New  Drug even got a brief shout-out on page 46!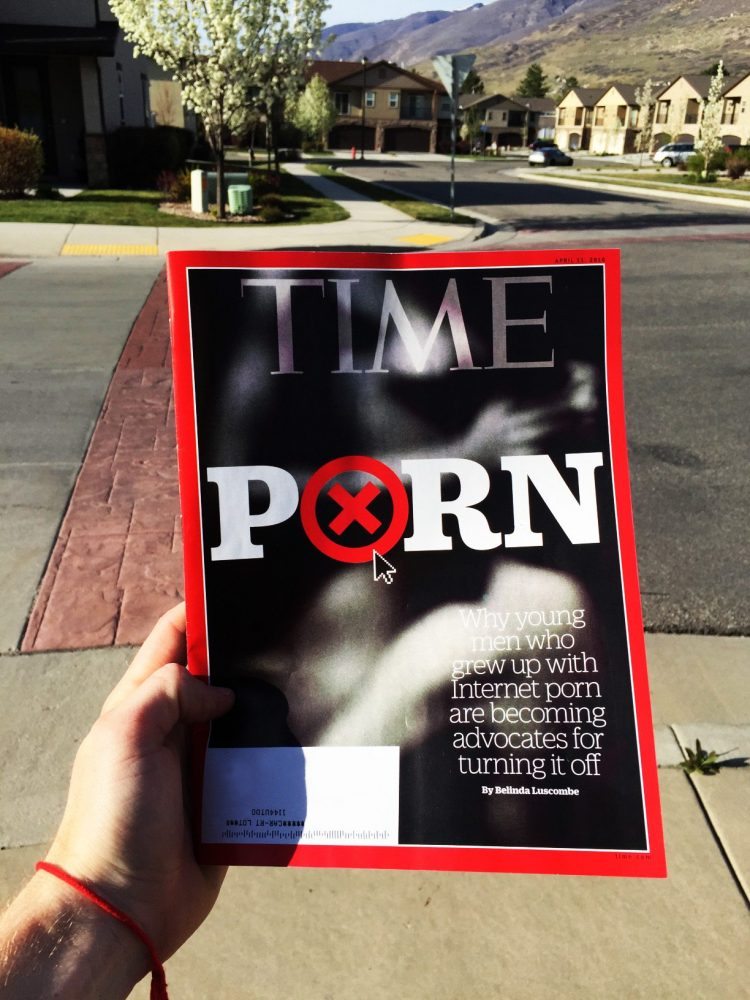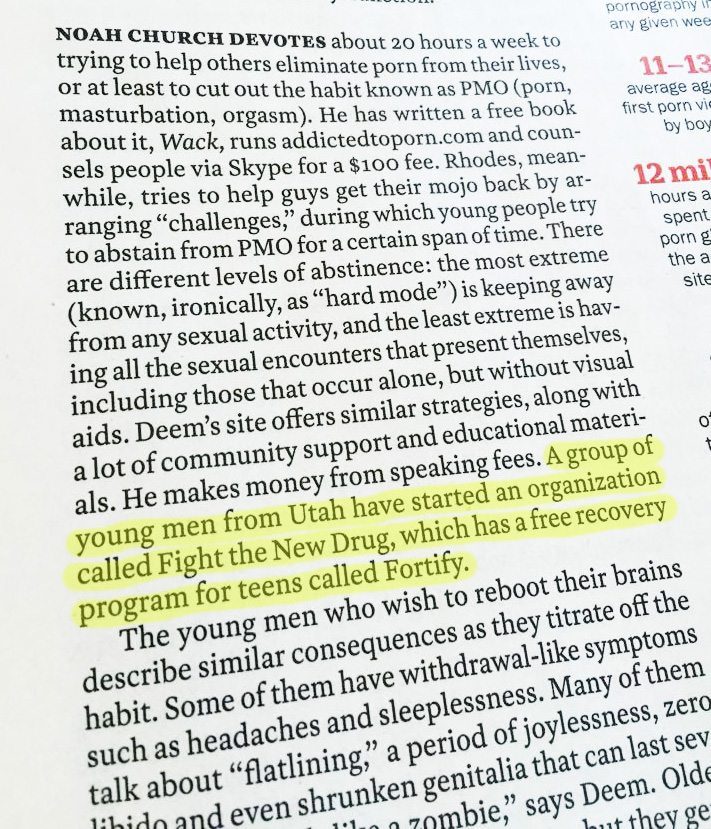 The article begins with interviews of Noah Church, who runs addictedtointernetporn.com, Gabe Deem, founder of Reboot Nation, and Alexander Rhodes, creator of addiction support community NoFap.
All three men encountered porn at a young age and all three developed what researchers call porn-induced erectile dysfunction. When these seemingly healthy young men attempted to be sexually active with actual women, they physically couldn't get aroused due to years of porn rewriting their brains. Church says, "There was a disconnect between what I wanted in my mind and how my body reacted."
These men represent a growing number of men who are convinced that their "sexual responses have been sabotaged because their brains were virtually marinated in porn when they were adolescents." After consuming pornography for years, they found it increasingly difficult to become aroused during sex with an actual woman and would resort to fantasizing about porn in order to reach orgasm. After quitting porn, all three men regained healthy sexual function and decided to help other men take back their virility.
Related: Help! My Husband Has Porn Induced Erectile Dysfunction & Refuses To Have Sex With Me

Does science back these men's claims? TIME reports that according to the U.S. National Institutes of Health (NIH) in 1992, about 5% of men experience erectile dysfunction at age 40. A study published in the July 2013 Journal of Sexual Medicine found that 26% of adult men seeking help for ED were under age 40. A 2012 Swiss study reported that one-third of younger men, ages 18 to 25, struggled with ED. While other reasons for this increase in erectile dysfunction could include increased awareness and acceptance of ED and increased drug use, doctors admit that pornography could be also to blame.
Church, Deem, and Rhodes are confident that pornography is what caused their ED, and the fact that the communities they represent are continuing to grow suggests that they are not alone in their findings.
TIME reports that science also suggests that pornography is acutely habit forming, citing the work of Dr. Gary Wilson, author of Your Brain on Porn: Internet Pornography and the Emerging Science of Addiction. Dr. Wilson's 2012 TEDx talk titled The great porn experiment has over 6 million views on YouTube. He states, "Porn trains your brain to need everything associated with porn to get aroused." TIME also mentions a study from the Max Planck Institute which found that the more pornography men consumed, the smaller the reward center of the brain.
This TIME Magazine cover story also highlights the growing pornography industry and consumption among young people—46% of men and 16% of women ages 18 to 39 intentionally view pornography in any given week.
While not the focus of the story, TIME mentions other problems with pornography like how porn often celebrates the degradation of women and normalizes sexual aggression. A short article entitled "How porn is changing a generation of girls," by author Peggy Orenstein followed the cover story and highlighted how porn changes girls' perceptions of how they should act during sex.
TIME also shares a message we have been spreading for years: Those in the anti-pornography movement are not anti-sex. In fact, we are pro-sex and pro-love. As Deem points out, porn is similar to other superstimulating things, like junk food and video games, in that these things, "have the potential to desensitize you to normal, natural things and ultimately rob you of the one thing you thought they would give you, the ability to experience pleasure."
Related: Sex Before Kissing – 15-Year-Old Girls Dealing With Porn Addicted Boys
Here at Fight the New Drug, we are thrilled that our country is finally having this conversation and that society is at long last catching up to the major problems that pornography causes. Pornography can never satisfy the longing for love that we humans experience. The quote at the end of the TIME article gets it right: "When I think about it, I've wasted years of my life looking for a computer or mobile phone to provide something it is not capable of providing."
Hopefully thanks to TIME Magazine's exposure of this issue, even more will join the national conversation and be inspired to join the fight for real love.