To the experienced eye, the modeling opportunity one teen received would seem sketchy. But the reality is, thousands of teens just like her are frauded into the commercial sex industry every day, including into porn, and social media, online classifieds, and texting apps are huge recruitment tools for scammers. Bottom line? Clicking porn fuels the demand for trafficking. Stop the demand.
---
We get messages all the time from people who are convinced that porn doesn't hurt anyone. They say porn performers do porn because they like it, they want it, and they chose to be there. If they look like they're enjoying it, there can't possibly be any issue, right?
Not exactly.
As some background, the Trafficking Victims Protection Act defines sex trafficking as a situation in which "a commercial sex act is induced by force, fraud, or coercion, or in which the person induced to perform such act has not attained 18 years of age." And seeing as there are countless cases of people being coerced into having sex on camera because they're being threatened, or were led there under false pretenses, it's an unfortunate truth that sex trafficking is a part of the commercial sex and porn industry. In fact, some of the porn industry's biggest resources are naive teens and early twenty-somethings looking to make a quick buck without exactly knowing what they're signing up for.
So how do they snag vulnerable and unsuspecting victims? Online classifieds, and now, social media.
Related: How Teens Get Tricked And Trafficked Every Day Into Doing Porn
Recently, we received a message from a Wisconsin teen named Kaycey, showing an unsettling personal account that leads us to believe this is a possible case of fraudulent recruitment for a porn shoot or prostitution ring.
Remember, this is a story from an inexperienced teen who had no previous reason to believe she'd end up in the following situation.
Kaycey's Story
Not too long ago, Kaycey thought she'd been offered the opportunity of a lifetime to fly out to California for a modeling gig. She was contacted through social media by a female "modeling recruiter," who messaged back and forth with her for about a month before the 18-year-old high schooler agreed to make the trip and pursue her dream of being a model.
The day her plane landed in San Francisco, the recruiter who Kaycey had been planning to meet suddenly texted her, saying that plans had changed, but assuring Kaycey that a friend would pick her up from the airport and she would stay with him throughout her visit.
And if that wasn't off-putting enough, that's when things got really weird.
A man arrived at the airport and told Kaycey he was there to take her to his house where she would be staying. In a strange place and unsure of what to do, Kaycey reluctantly went with him. Suspicious and getting increasingly worried, she started texting family members saying that she was concerned for her safety.
When they arrived at the house, the man who picked her up then forcibly tried to kiss her, telling her he was "warming her up for her shoot tomorrow." That's when she knew for sure that something sketchy was going on, and demanded to know exactly what was happening.
"We've booked a hotel room for you tomorrow afternoon. It'll be a great shoot, don't worry about it."
It was then that Kaycey realized that "modeling" was not what she had been flown out for. After a sleepless night of being held hostage in the house by the man and his wife, Kaycey was desperate. By 9am the following morning, she looked for any chance to get out of the house, knowing that once she did, she'd have nowhere to go. With the man and his wife watching her closely, she was only able to send infrequent, quick messages to her relatives, warning them that she was definitely in danger.
Related: How Porn Fuels Sex Trafficking
Unsure of how to quickly and safely rescue Kaycey, her family had the idea to call the human trafficking hotline. The local police were then contacted and they began working to pinpoint Kaycey's location.
But before the police could find her, Kaycey had an opportunity to escape. Her captors went into the bathroom and she heard the shower turn on. Kaycey ran for her life, leaving all her belongings behind. As soon as she was several blocks away, she called 9-1-1 and was picked up by police and finally brought to safety.
Tricked Teens
Thankfully, Kaycey got out of this dangerous situation in one piece. Unfortunately, many other teens' stories don't end as well.
Take a look inside the underbelly of some adult entertainment recruitment tactics. "Agents" post ads on sites like Craigslist looking for "models." They're promised money, fame, and fair treatment, but the reality behind these posts is a dark one.
To the experienced or trained eye, these ads are sketchy. But to a teen looking for easy money or a break in modeling, these ads are the opportunity of a lifetime.
.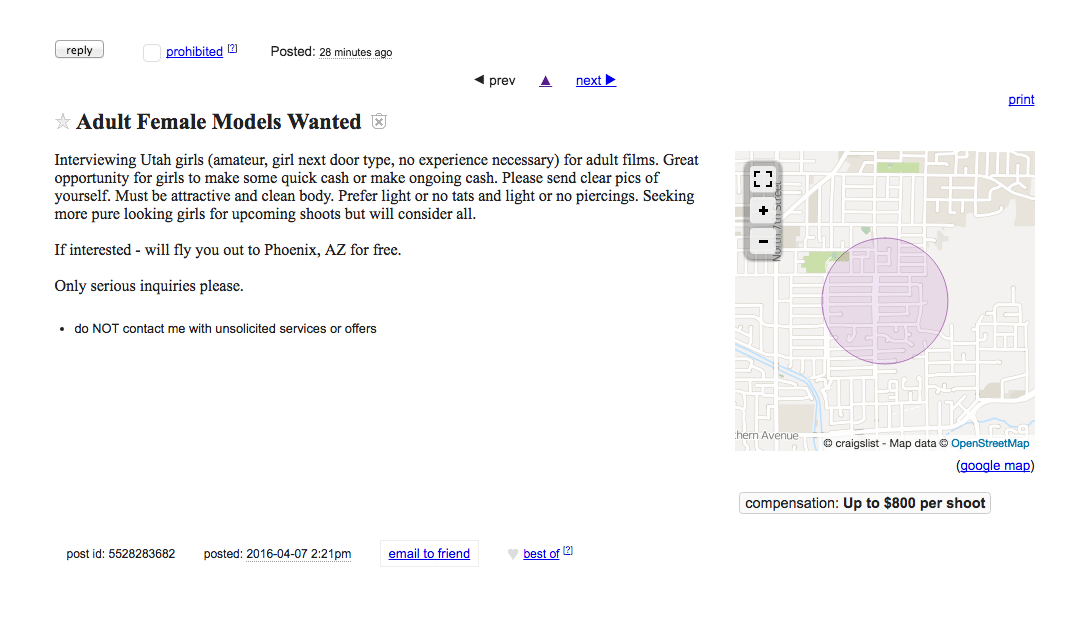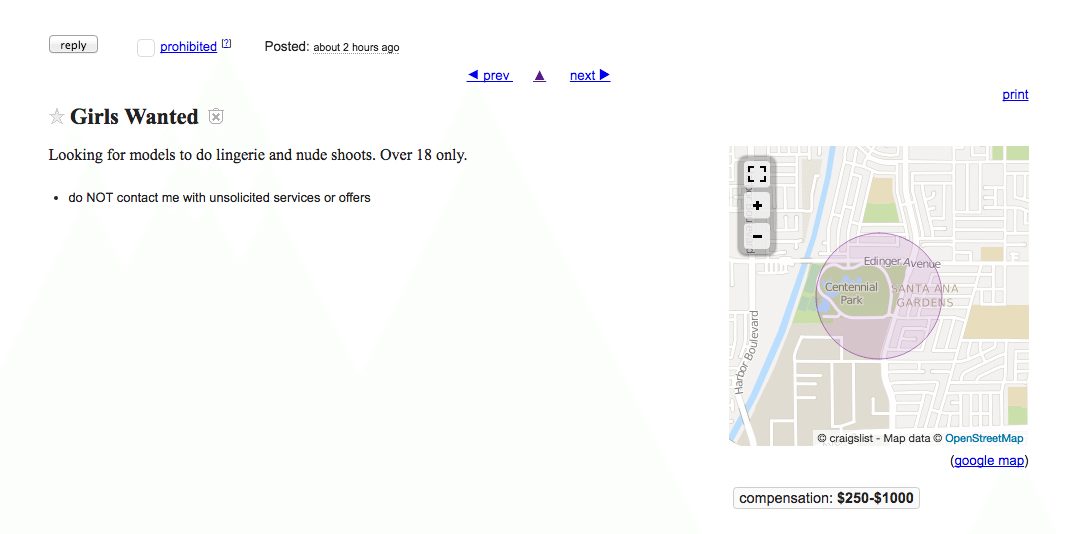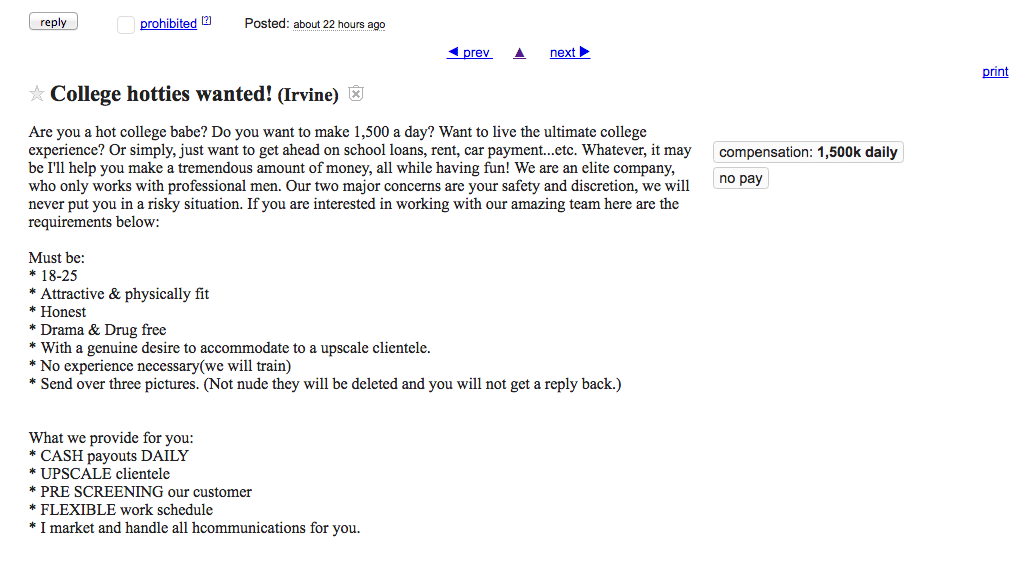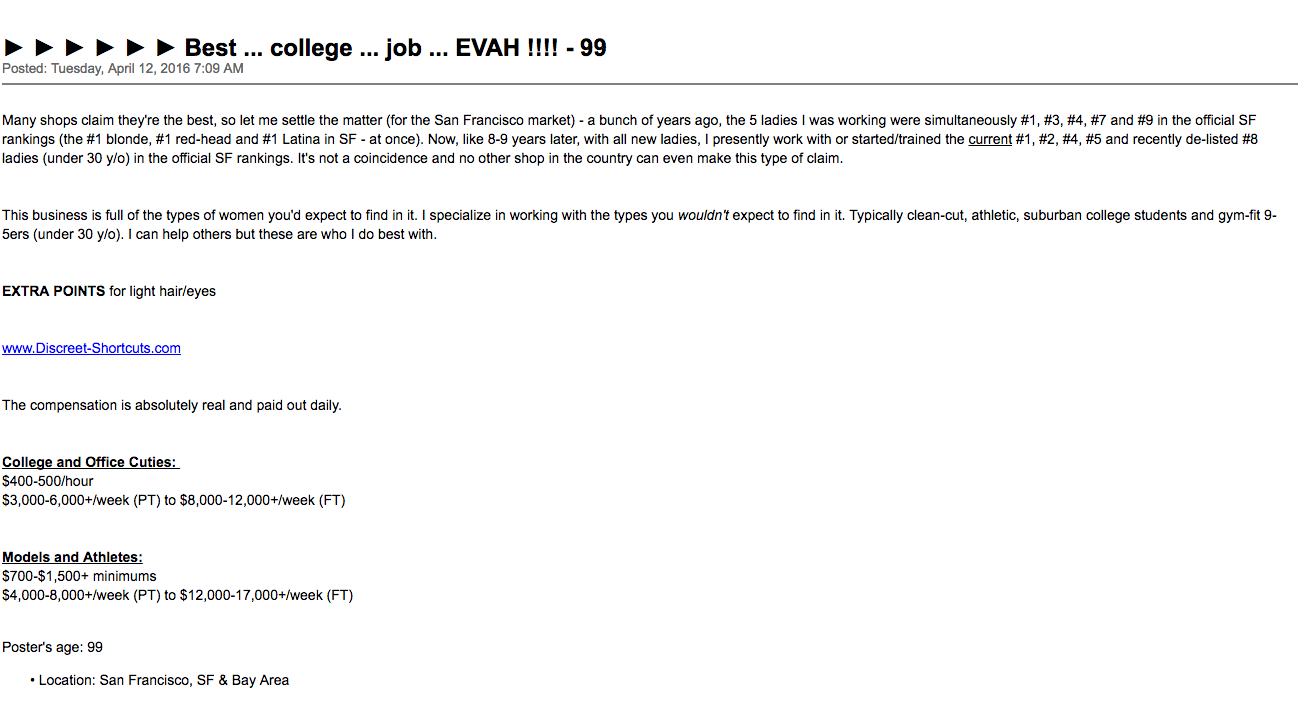 Shady, right?
Again, these ads may look suspicious to the trained eye, but to a teen with limited experience and in desperate need of cash, the posts seem like an easy opportunity to make money. They'd never expect a dark reality to lie just beyond the reply button.
Embedded among other talent ads seeking musicians, makeup artists, and other legitimate modeling jobs, these "agents" reel in hundreds of girls a day who are willing to take the bait. While some of them mention "nude modeling" or working in "lingerie," the base intention is to get as much out of these girls as possible and push them to their limits in most cases.
How the "System" Works
The ideal for these agents is to get their girls into situations where they can't say "no" to doing porn. Yes, some of these ads clearly state that they're for "adult films," but they don't mention that the girls will be raped on camera, or forced to perform the most degrading acts imaginable for consumers to play on repeat. This isn't some innocent recruitment where they only have to pretend to have sex with a stranger and get paid in return.
Related: How The Porn Industry Directly Fuels Sex Trafficking (VIDEO)
A lot of times, if they say "yes," show up to the shoot, but are unable to back out even if they wanted to —this is coercion. And this, by definition, is sex trafficking. Thankfully, Kaycey ran away before it was too late, but most girls are threatened, coerced, and humiliated into giving these "agencies" what they want, and then disposed of without any regard to their dignity or value. Whether it be a fat check with strings attached or a hidden clause in their "modeling" contract, posts like the ones above yield hundreds of victims a day who never understand what they're getting themselves into or are told what they're signing up for.
Amateur Porn and Coercion
The underbelly of the amateur porn industry is filled with situations like these, unfortunately. We're not saying that every situation is nonconsensual, but the fact is some are, and there's no way for the consumer to tell the difference.
As we see in the Netflix's documentary, Hot Girls Wanted, not even the girls who knowingly sign up for porn understand what they're getting themselves into. The porn agent featured in the film says, "Every day a new girl turns 18, and every day a new girl wants to do porn. I will literally never run out of girls." Classy, right?
In one scene, a girl tells a story of how she showed up for a shoot one day, only to find that the gig was just one man at his house with a camera set up. She didn't know he was going to force her to perform aggressive acts while he filmed it, and tried to escape the situation.
"I was scared. I was terrified," she says. "I didn't know what to do. I didn't know if I could tell him no."
Afterward, she asked herself why she didn't fight back. As someone who signed up to be in porn because of the "freedom" and the money, she realized that she'd been hooked into an industry that thrives off of deception and coercion.
This is just a glimpse into what goes on before and after the cameras roll. Supporting the porn industry is supporting the exploitation of people who often get themselves in over their heads, and are unable to back out when they understand what they really signed up for.
We're here to speak on their behalf, and say that these girls are worth so much more than the porn industry values them for. It's up to us to speak out and stop the demand.

Get Involved
Expose the porn industry for what it really is and SHARE this article. Porn doesn't only harm those who watch it, it harms those who take part in creating it.
Spark Conversations
This movement is all about changing the conversation about pornography. When you rep a tee, you can spark meaningful conversation on porn's harms and inspire lasting change in individuals' lives, and our world. Are you in? Check out all our styles in our online store, or click below to shop: