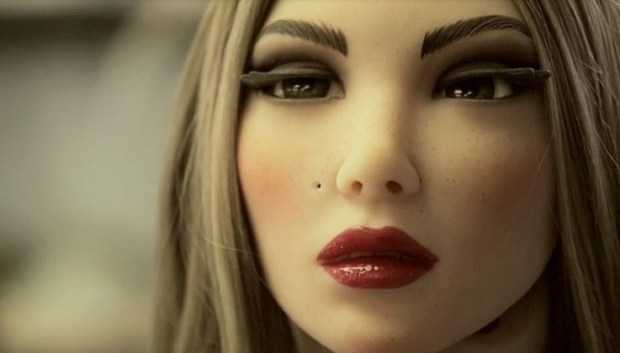 Cover Image From New York Times Coverage On The Real Doll Factory. Portions of this article were originally posted on The Telegraph By Helena Horton.
It's Saturday night, 2050. You switch on some music, turn down the lights and flick the switch to ON. No need for dinner or even a clean shirt because tonight, you're romancing a robot.
That's the scenario envisioned by David Levy, author of Love and Sex and Robots, who predicts it won't be long before we're all doing it—with machines.
Dr. Pearson is of the opinion that when robots improve in terms of look and feel, people will be less squeamish. "A lot of people will still have reservations about sex with robots at first but gradually as they get used to them, as the AI and mechanical behavior and their feel improves, and they start to become friends with strong emotional bonds, that squeamishness will gradually evaporate."
He continued: "While some people will enthusiastically embrace relationship-free robot sex as soon as they can afford one, as early as 2025, it won't have much chance of overtaking sex with humans overall until 2050."
Click here to read the full Telegraph article by Helena Horton.
__________________________
Is using a robot for sex healthy?
Needless to say, the prospect of sex with robots is unquestionably something that has been influenced by the normalization of pornography in our society and represents new ways to justify the exploitation of human beings, if not in person, certainly in theory. And what a dangerous idea it is—normalizing the idea of having sex with something with no thoughts, feelings, or voice unique desires.
Some think that the ethics of watching virtual reality porn—simulating sex acts with a fake, 3D person—are no different than the ethics of having sex with a robot. After all, people are constantly looking for new ways to "spice up" their sex lives. This is proven by the $15 billion dollar and growing sex toy industry, and now, it's proven by growing interest in lifelike sex dolls that will eventually be able to talk and respond to verbal commands.
Spain's sex doll brothel is just the first public example of the fast-growing trend of sex without intimacy with another person. Now, manufacturers around the world are working to create uncannily realistic sex robots programmed to fulfill the fantasies of people who want to get with a lifeless machine.
Kathleen Richardson, a Senior Research Fellow in Ethics of Robots, sums it up well in this TEDx talk.
Replacement humans, fake intimacy
The whole idea of humanoids replacing real, intimate connections between real people is concerning to those who know the real scientific harms of pornography and that sex is healthiest when it's with a real person, not a robot. Robotic sex is even more concerning to those who understand the very real negative effects this could have on humans sexually and socially.
Related: What It Means to be Pro-Sex & Anti-Porn
The truth is, we don't have to wait until 2050. According to a new report, about 27% of Millennials say they think it'll be normal and acceptable in the near future to have friendships and romantic relationships with robots instead of humans. Crazy, right?
This is a reality that is gaining traction every day. As more people opt for yet another counterfeit to what real relationships and intimacy can offer, the effect of porn, sex robots and other forms of artificial love, will continue to harm individuals, relationships and society.
We can't be okay with technology taking the place of real, healthy human relationships. Whether it's a computer screen or a sex doll, we need to be educated and take a stand for healthy sexuality and human connection. Science, facts and personal accounts all agree that porn kills love, and that's just not cool.
The key to remember is this: