You walk by a building in London where businessmen, children, families, dads, businesswomen, and teens all seem to be hanging around, or coming and going from. What could all these different people possibly be doing?
Getting help for a compulsion, obsession, or even addiction to porn at a recovery center. The fact is, a struggle with porn can affect anyone of any age. According to one expert, porn addiction is even affecting children as young as eight.
"This a physical dependency—people are self-medicating with porn and each time they need a greater, more hardcore hit," reveals Rob Watt who has over 13 years experience treating addicts, and now runs an intensive treatment clinic in London with his wife. "It's a secret, shameful world which people struggle to admit—until it's too late," he said in a recent report out of the UK.
An escalating and isolating habit
Unsurprisingly, shame is a huge factor that's pushing many porn consumers deeper and deeper into their secret habits. In fact, researchers have found that feeling shame about yourself is associated with higher compulsive consumption of pornography; as well as higher levels of depression and emotional distress related to unwanted levels of porn consumption. This study also found that people feeling shame about themselves, related to their porn consumption, were less motivated to change their behaviors and made fewer efforts to actually change.
Related: Why 11 & 12-Year-Olds Are Struggling With Porn More Than Ever Before
Watt would know—he's talked to consumers much younger than 18 with seemingly unstoppable habits.
"I'm currently working with kids as young as eight who are watching hardcore porn in the middle of the night and getting up first thing in the morning to watch it again before school. The effects are truly devastating and will only get worse… A school counselor and a group of parents came to me because what they found on a child's phone wasn't even regular sex. We're talking necrophilia and bestiality. It had already gone that far," Watt said.
"It gets dark quickly. I work with married, company bosses who spend six hours a day in porn chatrooms, those who've seen over 1,000 [prostituted people]. I had a client watching porn involving roadkill—then heading out in their car in the middle of the night to act it out."
Sounds unreal, right? But this is a new reality on our porn-obsessed world.
The next generation will struggle with relationships, Watt says
According to the report, Rob and his team, including wife Kat Watt, a therapist treating the female sex addicts here, believe the increased accessibility of porn online for younger kids means that the next generation may struggle to form and maintain normal, happy relationships.
In the report, Kat says: "We are only just, 20 years later, starting to see the tip of the iceberg when it comes to seeing the consequences of people who have grown up watching porn. When men have their first sexual experiences through watching porn as a teenager, then they have never known it to be any other way. That's what they think sex should be, how women should be… We are terrified for that generation because it's possible they may never be able to enjoy sex normally in relationships."
Related: Kids Who Find Hardcore Porn Want To Repeat What They've Seen, Study Shows
Rob agrees: "The horse has bolted with pornography. The internet is limitless. Kids who are 10, 11, 12 years old aren't stumbling on a dirty magazine anymore. They are watching it online and learning to [get aroused] in a way which is so microstimulant. They don't know how it is to be intimate with another person until it's too late. As that generation gets older, the issue will only get worse."

Read the entire report on the porn clinic by clicking here.
Before they've even hit puberty
Research claims up to 93% of adolescent boys have been regularly exposed to/are regular consumers of porn, and children as young as seven are exposed to it due to its availability through online devices.
Another unsurprising finding goes to show the escalating nature of porn consumption. Children described how their feelings towards porn have changed over time. About 27% surveyed reported feeling 'shocked' the first time they viewed it, but follow up surveys revealed that just 8% remained shocked after the first time they watched it.
Related: Porn Fantasies For Virgins: What Internet Pornography Is Doing To Our Generation
So what can parents or guardians do to try and help their kid stay away from porn?
Even if porn consumption is happening earlier than ever and at an all-time high rate, parents shouldn't be without hope. We live in a time where there is less of a deafening silence around this issue, and anyone can get help who might need it. There are tons of resources for parental figures to navigate talking to their kids about sex and porn, and talking about it early. And like never before, there are also amazing resources for those who might be struggling with an obsession or compulsion to porn. Now, more than ever, there is hope.
Related: Parents: If You Don't Teach Your Kids About Sex, Porn Will
With our better understanding of exactly how porn can harm and why it isn't healthy to watch, we can better equip those around us to understand why they shouldn't go looking for it, and even if they've already seen it, it's not worth watching.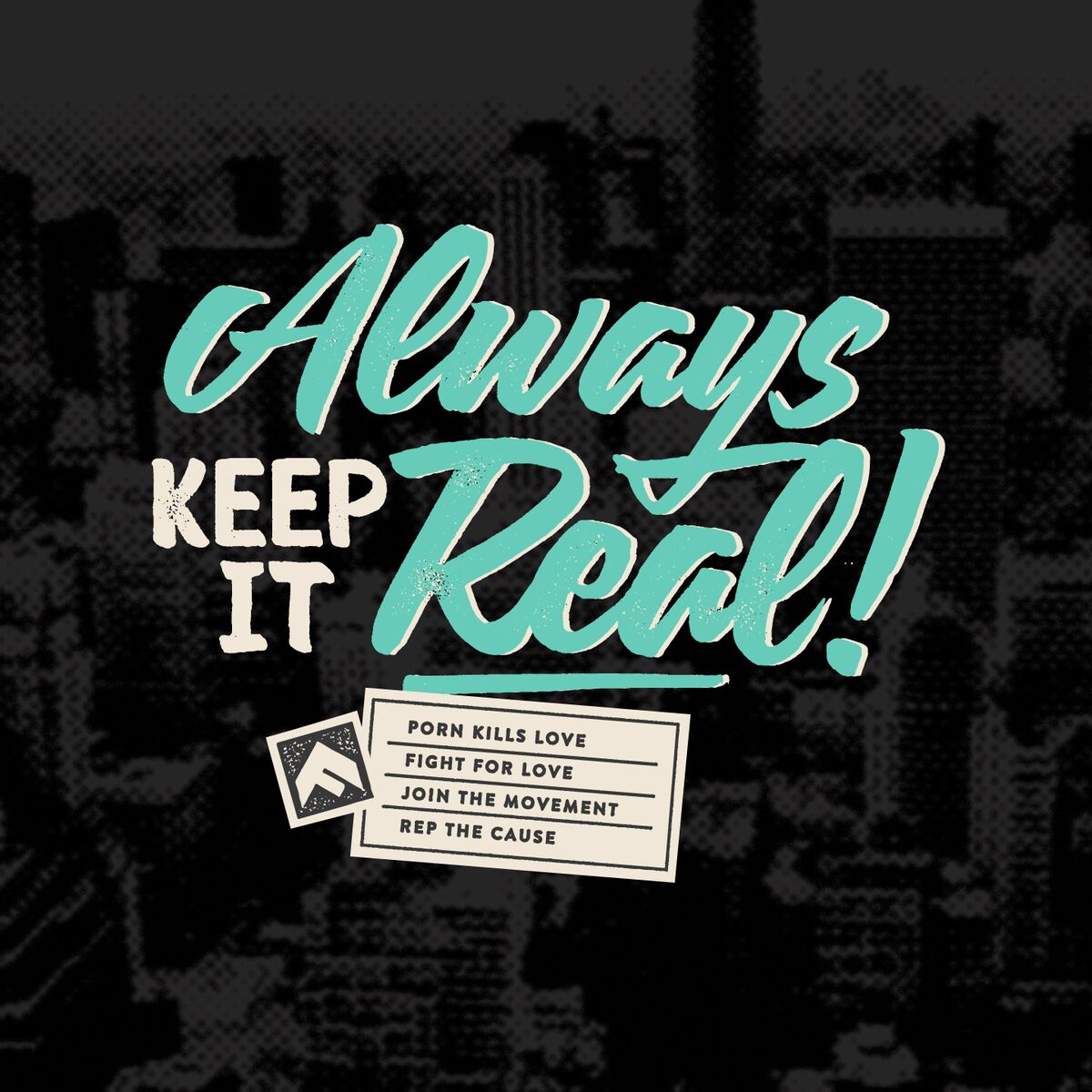 Get Involved
Porn is everywhere, but so is information about how to fight it and educate on its harms. SHARE this post and get the word out that porn is anything but harmless entertainment, and it's affecting the upcoming generations like never before.
Spark Conversations
This movement is all about changing the conversation about pornography and stopping the demand for sexual exploitation. When you rep a tee, you can spark meaningful conversation on porn's harms and inspire lasting change in individuals' lives, and our world. Are you in? Check out all our styles in our online store, or click below to shop: