Trigger warning: The follow post contains descriptions of abuse and distressing situations. Reader discretion advised.
After two years of investigations into a deep and wide online pedophile community, officials arrested hundreds of users after discovering their IP addresses in connection with a large child exploitation site.
Steven W. Chase, 58, of Naples, Florida, created a website called Playpen in August 2014 on the Tor network, an open network on the internet where users can communicate anonymously through "hidden service" websites—where criminal activity is not uncommon (also known as "The Dark Web"). Chase ran the Playpen website, where members uploaded and viewed tens of thousands of images and videos of young victims, indexed by age, sex, and the type of sexual activity involved, according to a report by the United States FBI.
Related: Europe Is Now The World's Main Hub For Child Porn
Chase ran this child abuse website, until December 2014, when he slipped up and revealed Playpen's unique IP address—a location in the U.S. The mistake was noticed by a foreign law enforcement agency, which notified the FBI. According to the BBC, by the time the child porn site was shut down, it had more than 150,000 users and hosted more than 50,000 images and videos.
"From that point we took normal investigative steps—seized a copy of the website, served search warrants for e-mail accounts, followed the money—and everything led back to Steven Chase," said Special Agent Dan Alfin, who investigated the case as part of the Bureau's Violent Crimes Against Children section.
Chase was sentenced in 2017 in connection with engaging in a child exploitation enterprise and multiple child pornography charges. His sentencing follows those of two co-defendants who were also admins on the website—Michael Fluckiger, 46, of Indiana, and David Browning, 47, of Kentucky—who were each given 20-year prison terms earlier in 2017.
Arresting Playpen's administrators was only the beginning
In January 2015, the FBI, in partnership with the Department of Justice Child Exploitation and Obscenity Section, launched Operation Pacifier—an effort to go after Playpen's thousands of members. Using a court-approved network investigative technique, agents uncovered IP addresses and other information that helped locate and identify users. Investigators sent more than 1,000 leads to FBI field offices around the country and thousands more to overseas partners, Alfin said.
Arrests and other enforcement actions have occurred in countries far and near. Europol, the European Union's agency for law enforcement cooperation, reported arrests, along with Israel, Turkey, Peru, Malaysia, Chile, and Ukraine. International agencies critical to the investigation included the Italian State Police, the United Kingdom's National Crime Agency, and New Zealand's Department of Internal Affairs.
Related: Anonymous Hackers Delete 10,000 Child Porn Sites On Dark Web
Even some countries where law enforcement cooperation has been historically limited were, in this case, especially helpful in pursuing the FBI's leads on former users and contributors to Chase's Playpen site.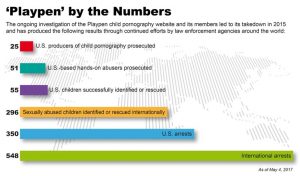 "Members of his enterprise who were raping children, who were producing child pornography all around the world—those cases continue to be indicted and prosecuted," Alfin said.
In addition to taking down the website, the ongoing investigation, as of May 4, 2017, has produced the following results:
At least 350 U.S.-based individuals arrested
25 producers of child pornography prosecuted
51 hands-on abusers prosecuted
55 American children successfully identified or rescued
548 international arrests, with 296 sexually abused children identified or rescued.
Over 800 arrests, and counting
More than 800 people around the world have been arrested for their part in either abusing children or distributing sexual abuse material. And although the Playpen site has been down for more than two years, but similar sites continue to operate and proliferate on the dark web.
Related: 400 Children Rescued/348 Adults Arrested After Police Take Down $4 Million Child Porn Empire
"It's ongoing and we continue to address the threat to the best of our abilities," said Alfin in the FBI report. "It's the same with any criminal violation: as they get smarter, we adapt, we find them. It's a cat-and-mouse game, except it's not a game. Kids are being abused, and it's our job to stop that."
This case—and the thousands of follow-up investigations it has launched—is unprecedented in its scope and reach, FBI officials said. It represents the Bureau's most successful effort to date against users of Tor's hidden service sites. And it has opened new avenues for international cooperation in efforts to prosecute child abusers around the world.

Get Involved
This is a huge problem in our society and we can't let it slip into the background. SHARE this article to take a stand and raise awareness on the global issue of child exploitation.
Start conversations by wearing our Stop the Demand tee which highlights the link between porn and human trafficking. By taking a stand, we can make a difference. Click below to shop: