In November of last year, the University of Wisconsin La Crosse chancellor, Joe Gow, invited a porn performer to speak on campus during their Free Speech Week.
It was a costly decision for Gow in multiple ways after there was serious backlash for performer Nina Hartley's guest lecture, entitled "Fantasy vs. Reality: A critical view of adult media."
According to Gow, Hartley was paid $5,000 for her appearance—much less than the $75,000 or $80,000 some other sex educators demand, he said. Her pay was taken from the university's auxiliary fund, which consists of student fees and interest.
Shortly after the media firestorm Hartley's talk sparked, Fight the New Drug was booked to speak on campus in a presentation that's taking place this week. We expect our presence will spark much-needed conversations about the scientifically-proven harms of porn, but it's worth noting that there is already a presence of support for our organization in the area.
Meet Carmel and Lynae
In response to Hartley's guest lecture last November, Fighters Lynae and Carmel—who work with a student organization on UWL's campus—posted a pic on Facebook of them repping their "Porn Kills Love" tees with other Fighter friends. They also talked about how porn harms the consumer, relationships, and society in general.
The attention the post received and the wider conversations it sparked were unexpected, but amazing.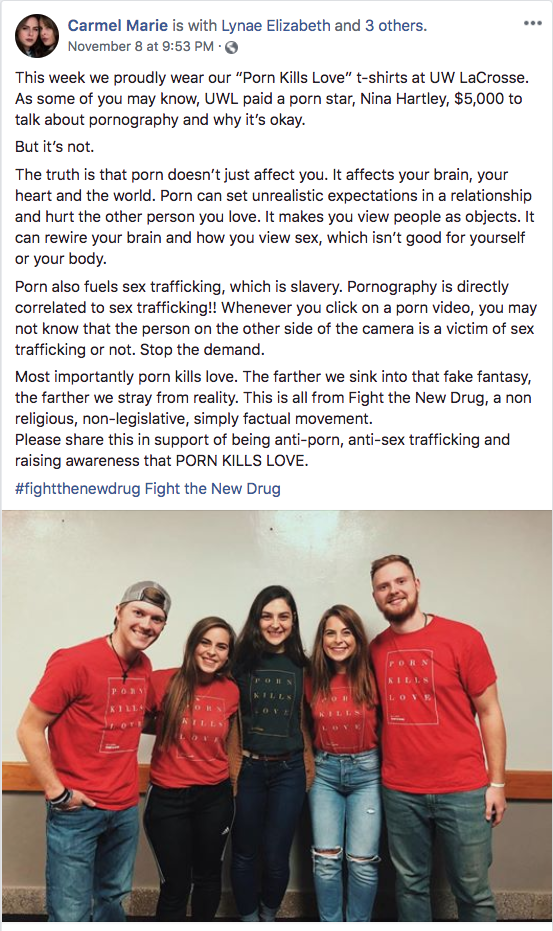 "It got a lot of publicity over the weekend [after the talk]. Monday morning, we got the glorious news that the university's chancellor is having FTND come to the University of Wisconsin-La Crosse because of all the social media attention," Carmel said. "We want what's best for our community and we want everyone to know the truth behind pornography."
The news also got out that the university's chancellor personally reimbursed the school the thousands it paid to the performer.
"We don't hate the chancellor or the performer," Carmel and Lynae told us in an email interview. "We just thought our community deserved to know the truth about porn. It was scary to read some of the comments in conversations on Facebook. So many people thought it was okay and harmless. Also, it wasn't just us! We all saw so many students wearing FTND apparel the week after it happened on campus. And we are thankful for that…
We've had so many people reach out to us because of this situation."
How cool is that?
But we know our presence on campus might spark some questions about who we are and what we stand for, so here's the rundown:
Who is Fight the New Drug?
Fight the New Drug is a non-religious and non-legislative organization that exists to provide individuals the opportunity to make an informed decision regarding pornography by raising awareness on its harmful effects using only science, facts, and personal accounts. With our resources, we focus on educating how porn is proven to impact the consumer, relationships, and our world. Click here to read more about who we are and what we're all about.

Why would attending a Fight the New Drug presentation be beneficial?
Pornography is more accessible, affordable, available, and anonymous than ever before due to the ubiquity of the smartphone. Because of this, this generation and the next are dealing with this issue to an intensity and scale that no other generation has before. Our live presentations focus on educating individuals on the harms of porn, so that they can make informed decisions regarding pornography. Note that these presentations are age-appropriate and do not provide any information or education regarding sex or sexuality.
What does Fight the New Drug think about people who watch porn?
Millions of people across the world watch porn every day, and we don't think that inherently makes them "bad" people.
Also, many who watch porn already feel like they're a bad person, worthless, or permanently broken. Not only is this untrue, but these feelings of shame can also cripple people's self-esteem and stunt their progress. So just to be clear, we don't think that those who watch porn are bad, disgusting, horrible, or evil. Not at all. Shame is part of this entire conversation, and often perpetuates an unwanted cycle of going back to porn, for those who struggle. Science and research are proving the harms of consuming pornography, so we focus our concern on the porn itself, not the porn consumer. Shaming people into not watching porn is unhealthy and is an approach Fight the New Drug doesn't take.
Does Fight the New Drug have a religious affiliation?
No, Fight the New Drug has no religious affiliation.
Since the beginning, we have founded our campaign solely on science, facts, and personal accounts. We are extremely careful in making sure that everything we create, repost, share, or promote falls within the bounds of being based upon science and fact—you will not find any discussion of morality anywhere in our content. We invite people from all faiths and backgrounds to apply what they learn from this movement to their own personal beliefs system and encourage them to be respectful of those different than themselves. Of course, we also strive to be respectful of all the different beliefs and backgrounds that exist within our movement, which is why we do everything we can to make sure our conversation takes place within the context of raising awareness on a public health issue, not a particular religious or moral belief.
Does Fight the New Drug have a legislative agenda?
No, we are a non-legislative organization. Our mission is to create a groundswell of knowledge and fundamentally change the way people think about the topic rather than lobbying political action. We recognize that there are many illegal forms of pornography and we believe those should remain illegal and be pursued by the legislative system in place. We support those groups and organizations doing so. That being said, our goal from day one has not been to prohibit the supply of pornography but rather decrease the demand through education, not legislation. Check out this article for more info about why we're not out to ban or censor porn.
An opportunity to get the word out
Ultimately, we're glad for the opportunity in the aftermath of Hartley's guest lecture to present the growing body of research that shows how porn is anything but harmless entertainment.
It's true that, based on local reports of the lecture, she presented many points that our organization would agree with—like the importance of consent in sexual encounters and not looking to porn for information about sex—but we're always glad for the chance to spread the word on this growing, worldwide movement for love.