"Someone you know is struggling. They can't notify you about it or explain details. All you need to know is that someone you know is struggling HARD. They have been pushed to the edge and they're about to lose EVERYTHING."
The beginning description of Garrett Johnson's GoFundMe page shows a harsh truth about those who have fallen into pornography addiction. So rather than sitting by and watching people struggle, this Utah-based runner has decided to get out and do something about it.
Starting on Feb. 1, Garrett set out to run 30 marathons in 30 days to raise awareness on the harms of pornography. But if that weren't difficult enough, he's added something else—wearing handcuffs during every run to symbolize the addictive chains of pornography. He runs the same route every day in his hometown of Salt Lake City—26.2 miles while wearing handcuffs—and invites others to run with him while promoting the #PornKillsLove movement.
This Saturday, on March 5, Johnson is completing his 30th and final marathon and has released a video detailing why he set out on this journey:
Johnson states his mission simply on his funding page:
For each marathon I perform, I have an individual who has pledged $1 per mile ($26.20 per marathon); 100% of these funds will go to an organization called Fight The New Drug. Fight The New Drug is a nonprofit that helps build awareness to the harmful effects of pornography. Their tagline is: Porn Kills Love. I love my wife, I love my kids, I love my community and I love you. I believe that LOVE is worth fighting for. I believe that if I'm not actively fighting against pornography, then I'm aiding its growth.
Johnson explains on the page that his two part goal is to raise awareness and also spark a desire for change in those who are struggling.
And if that's not amazing enough, for his last run, Garrett even got the support from actor and Fighter, Terry Crews!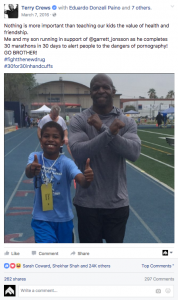 —–
People like Garrett are what this movement is all about—diverse Fighters from all across the world using their talents and passion to drive this important cause forward. We are always amazed at the creative ways that our Fighters are coming up with to lend their hand to the movement.
Check out the 30 In 30 In Handcuffs to see how you can help Garrett!