Despite controversy and backlash on its harmful content, 2015's Fifty Shades of Grey movie was a financial success, if not a critical one. Despite earning a measly 25% rating on Rotten Tomatoes and being named Worst Picture at the 36th Golden Raspberry Awards, the movie still earned $571 million at the box office. Half a billion dollars later, it now holds box office records like largest Valentine's Day earnings and fourth-highest R-rated earnings ever.
This weekend, the next installment in the book-turned-movie franchise is set to be released. Fifty Shades Darker continues the story's explicit storyline of sexual bondage, domination, submission, and sadomasochism between a controlling businessman and a virgin college student. Just like the release of the first film–and in ironic and gimmicky fashion–the new movie is being released the weekend before Valentine's Day. The obvious irony is that on a day celebrated for expressing romantic love and affection, this movie is anything but.
Ever since the release of the first film, the Fifty Shades series has been the hot topic of conversation all across the nation. Let's look at what people are saying about the most recent movie on Twitter.
Some people couldn't care less about the negative reviews:


Others want to go see it for date night or want a lover like depicted in the movie: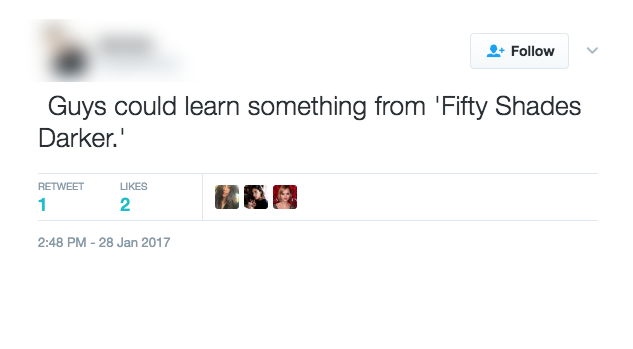 And then, there are people like this: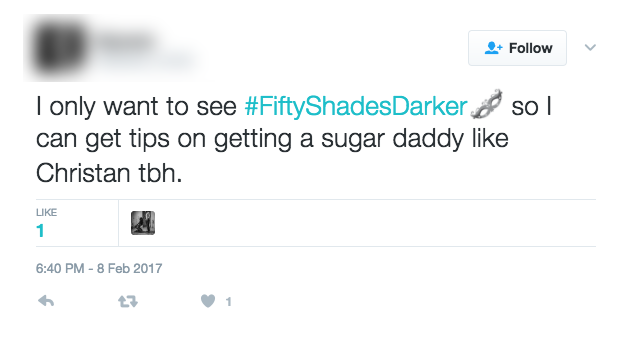 And that seems to be the fan base of the Fifty Shades series.
Then there's other people like us who aren't excited at all for the release of the latest installment in this franchise due to the twisted and warped ideals about sex that these books/movies normalize in society.
Is written porn still porn?
The mission of Fight the New Drug is to use science, facts, and personal accounts to educate on the harmful effects of pornography and sexual exploitation. With that said, we know that literature can also be pornographic and we receive many messages from people who consider themselves addicted to reading "written porn." Books like Fifty Shades contain a large amount of highly explicit and graphic sexual content and we've received  messages from people who said that their struggle with porn began with them opening the pages of Fifty Shades of Grey.
42% of male students and 20% of women say they regularly read romance novels, sexually explicit magazines, or regularly visited sexually explicit forums or chat rooms. Erotica can be just as addictive and harmful in warping ideas about sex and intimacy as videos or images. One needs to look no further than the fact that the series is popularly referred to as "mommy porn" due to its massive popularity among middle-aged women who read it openly despite its explicit accounts of violent sex.
Negative storyline & negative reviews
In order to understand the negative effects of the books and now its big budget films, one must see the storyline for what it is. For those who aren't familiar, the story centers around a cold and sadistic millionaire CEO who seduces an innocent, virgin college girl into hi selfish world of painful bondage sex. The explicit nature of the content in the book deals with sadomasochism (or S&M for short), also known as extreme acts of violence and abuse for sexual pleasure, complete with whips, chains, leashes, collars, and other sexual devices.
Even worse about Fifty Shades, is that this pretty much is the story. There's not much of a plot, there's really no big surprise ending, it is just an entire book–and now an entire movie–about a handsome businessman who seeks to dominate and act out his deviant sexual tastes with an unsuspecting virgin girl who catches his eye. Obviously this premise makes for poor storytelling, as shown by the new movie's current rating on popular movie review site Rotten Tomatoes: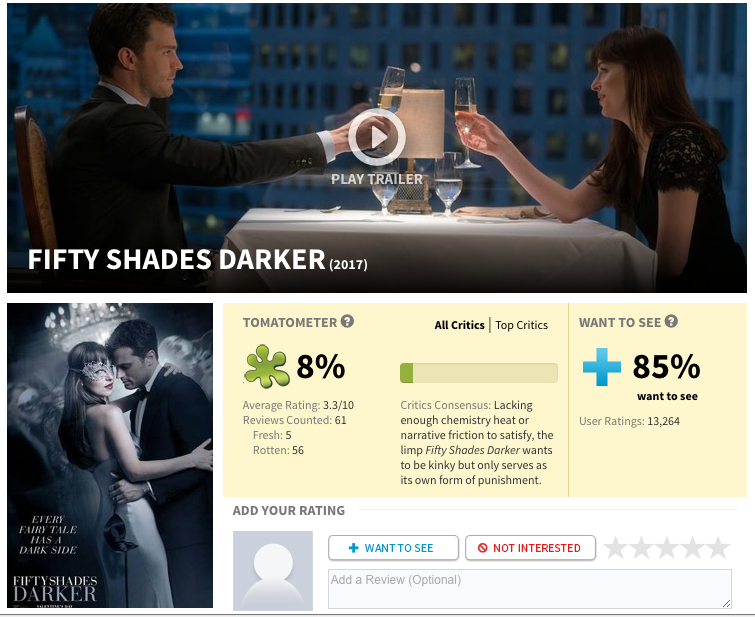 The film currently carries an unbelievably low 8% rating and the critical consensus is that the poorly made movie is so difficult to watch that it "serves as its own form of punishment." Yet, it is interesting to note that 85% of viewers still want to see it.
The real problem with Fifty Shades
But even worse than what the story is about, is what it teaches. While Fifty Shades has gone to extraordinary lengths to market the franchise as "chic and sexy" by coming out with its own line of sex toys, lipsticks, and a popstar-studded soundtrack, all the film actually promotes is the normalization of sexual violence (mostly toward women) and deviant sexual behavior. On top of that, the story carries obvious themes of female inequality, abuse, and coercion.
In order to truly highlight the extremely negative and harmful ideals contained in the Fifty Shades franchise, we made a list, with an accompanying infographic, of what is to be learned from this story.
Read and share: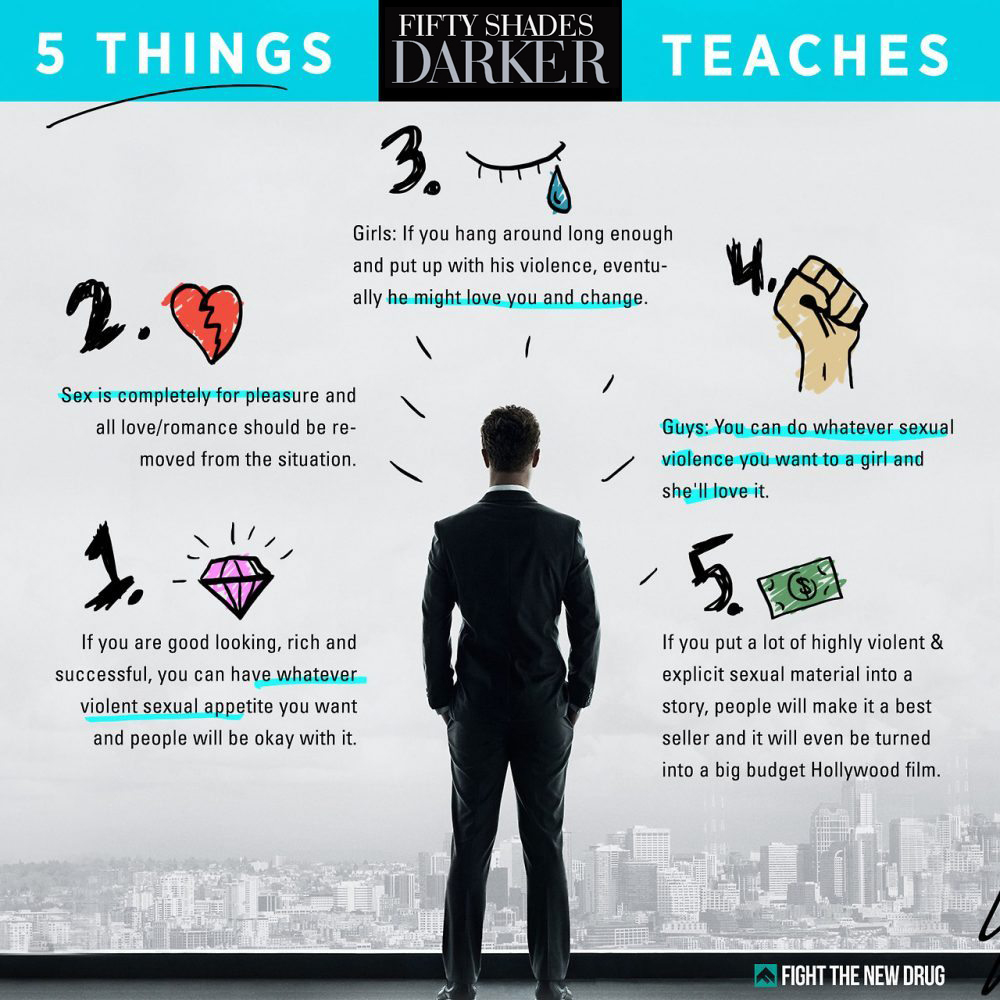 We think it goes without saying that we will be spending this Valentine's Day weekend with our loved ones, not reading or watching disturbing sexual fetishes. We are all about real love and real intimacy, and Fifty Shades, fictional or not, is the opposite of that.
What YOU Can Do
If you're not cool with the twisted attitudes and perceptions that movies like Fifty Shades pushes into our society, SHARE this article. Add your voice to the conversation and spread the word.
Support the movement, rep a tee. Click here to shop: