At Fight The New Drug, we aim to educate others on the dangers of pornography through facts, scientific research, and personal accounts. Years of credible and peer-reviewed research make one thing abundantly clear: porn can kill love. At the very least, it can greatly damage someone's capacity for experiencing healthy intimacy with another person.
But what do we mean by "love"? Not everyone is in a romantic relationship, and not everyone is looking for one. For some, it simply isn't in the cards right now, or they're not interested, and that's completely okay.
Just because all of that romantic love stuff doesn't apply to you right now, you can still take a stand for healthy friendships, family relationships, and a healthy self-image. Porn isn't just a problem for people in romantic relationships, it's a problem for everyone that has friends and family, or wants healthy self-esteem and good confidence. Porn doesn't only affect romantic love, it can affect the love you have for yourself and anyone around you. Because porn can cause viewers to objectify those around them, and is deeply connected to sex-trafficking, it affects every part of our world, and it can even harm viewers' perspectives of themselves.
Bottom line—porn is unhealthy not only for those in relationships, it's unhealthy for anyone.
Porn Can Mess With Your Brain
Whether you've got a romantic relationship or not, you definitely have a brain—and it's pretty important to keep it healthy. Your brain is involved with your feelings, your thoughts, and your behavior. When porn gets involved, all of that can get twisted.
At the heart of porn's psychological effects is the chemical, dopamine. Dopamine makes us feel good; when you eat a juicy cheeseburger, dopamine is telling you to keep doing that. [1] The problem with porn, though, is that it hijacks this process, causing a massive release of dopamine. [2] After consistently viewing pornography, the brain can get used to high levels of dopamine, but each session brings less and less pleasure. [3] To get the same "high" that they are used to, an individual has to view pornography more frequently, or resort to increasingly violent and disturbing content. When dopamine levels start dropping, an individual can even experience depression and anxiety, leaving them feeling emptier and more alone.
Related: 3 Lies Most People Believe About Porn And The Brain
Beyond that, porn has even been shown to impact memory. When men were given memory tests after viewing sexually explicit images, they performed significantly worse than men who viewed nonsexual images. Add that to the list of porn's harmful effects—forgetfulness.
Not everyone has romantic love, but everyone's got a brain. If you love yours, and you want to keep it healthy, consider kicking porn to the curb.
Porn Can Hurt Families
Year after year, some of the most popular searches on porn sites are things like "mom," "step-sister," "teen," and "step-mom and son." This kind of content sexualizes family relations, turning a parent or sibling into a sex object.
Related: Understanding The Disturbing Rise Of Incest-Themed Hardcore Porn
When someone consumes the hardcore content found on countless mainstream porn sites, it can alter their sexual tastes and preferences, even if they aren't in a relationship. That means that viewing incest-themed porn can teach viewers that having sex with a family remember is a healthy sexual fantasy, even if it is taboo.
Porn Can Damage Communities
When we think of human trafficking, we tend to believe that it only happens in a distant, faraway place. However, this simply isn't true—real human beings are being exploited and abused in our communities today, right now. Many don't realize that supporting one aspect of sexual exploitation fuels the sex trade as a whole. Clicking pornography supports the demand for sex trafficking by victimizing people who have been coerced, drugged, and abused into being on camera.
Related: How Porn Fuels Sex Trafficking
Not only does pornography contribute to human trafficking, it also changes how individuals see the people in their communities. When someone views pornography of any kind, including non-violent porn, they are more likely to use verbal coercion, drugs, or alcohol to push women into sex. [4] Additionally, those who view non-violent porn are also more likely to support statements that promote abuse and sexual exploitation of women and girls. [5] If non-violent porn has such degrading impacts on its viewers, consider the impacts of the more violent and hardcore content that makes up about 88% of mainstream porn.
Porn contributes to the sex trafficking and sexual violence that tears our communities apart. Be part of the solution, and choose to love your community by not contributing to the demand for sexual exploitation.
Why This Matters
Loneliness is a huge factor in some viewers' desire to watch porn. For those who aren't in a romantic relationship and really want to be, it can feel like you're the only one who resorts to porn to feel some kind of momentary connection to another human. While everyone is wired to connect to and need other people, porn can never fill that need. Porn can't be your friend, or your family, and porn can't give you a real, lasting self-esteem boost.
But even if you're not in a romantic relationship, quality friendships and spending time with family can fulfill that need for connection and love in ways porn can't.
At the end of the day, the fight for love is worth it—for the love we have for our friends, our families, and ourselves. The effects of pornography are everywhere; it affects all of us, whether we are in a relationship or not. Porn has the potential to alter how our brains work, and it supports global sexual exploitation. Porn can take all the best parts of life away and leave us with less than the best.
We believe there's a much higher quality of life than anything porn can offer, and that goes for anyone—single or not.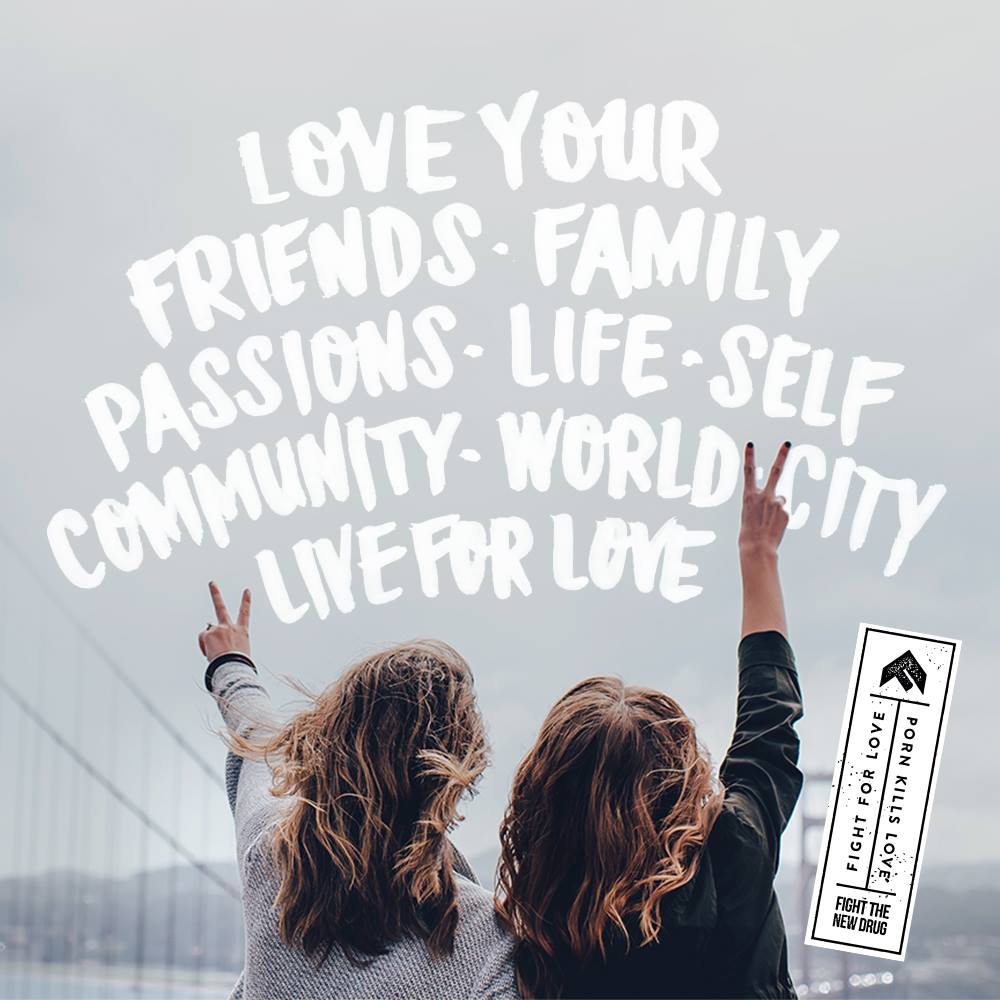 What YOU Can Do
Speak out on the harmful effects of pornography and porn culture in society. SHARE this article to add your voice to the conversation and raise awareness on the negative influence of porn.
Spark Conversations
This movement is all about changing the conversation about pornography. When you rep a tee, you can spark meaningful conversation on porn's harms and inspire lasting change in individuals' lives, and our world. Are you in? Check out all our styles in our online store, or click below to shop: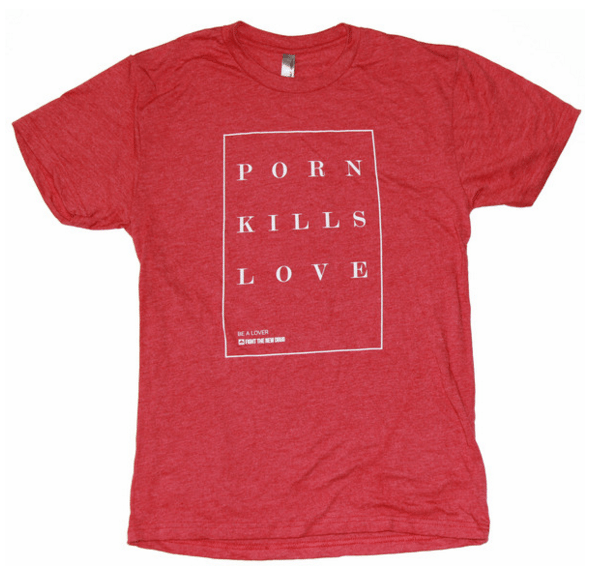 [1] Bostwick, J. M. And Bucci, J. E. (2008). Internet Sex Addiction Treated With Naltrexone. Mayo Clinic Proceedings 83, 2: 226–230; Balfour, M. E., Yu, L., And Coolen, L. M. (2004). Sexual Behavior And Sex-Associated Environmental Cues Activate The Mesolimbic System In Male Rats. Neuropsychopharmacology 29, 4:718–730; Leshner, A. (1997). Addiction Is A Brain Disease And It Matters. Science 278: 45–7.
[2] Hilton, D. L. (2013). Pornography Addiction—A Supranormal Stimulus Considered In The Context Of Neuroplasticity. Socioaffective Neuroscience & Psychology 3:20767; Garcia, F. D. And Thibaut, F. (2010). Sexual Addictions. American Journal Of Drug And Alcohol Abuse 36, 5: 254–260.
[3] Angres, D. H. And Bettinardi-Angres, K. (2008). The Disease Of Addiction: Origins, Treatment, And Recovery. Disease-A-Month 54: 696–721; Berridge, K. C. And Robinson, T. E. (2002). The Mind Of An Addicted Brain: Neural Sensitization Of Wanting Versus Liking. In J. T. Cacioppo, G. G. Bernston, R. Adolphs, Et Al. (Eds.) Foundations In Social Neuroscience (Pp. 565–72). Cambridge, Mass.: MIT Press.
[4] Boeringer, S. B. (1994). Pornography And Sexual Aggression: Associations Of Violent And Nonviolent Depictions With Rape And Rape Proclivity. Deviant Behavior 15, 3: 289–304; Check, J. And Guloien, T. (1989). The Effects Of Repeated Exposure To Sexually Violent Pornography, Nonviolent Dehumanizing Pornography, And Erotica. In D. Zillmann And J. Bryant (Eds.) Pornography: Research Advances And Policy Considerations (Pp. 159–84). Hillsdale, N.J.: Lawrence Erlbaum Associates; Marshall, W. L. (1988). The Use Of Sexually Explicit Stimuli By Rapists, Child Molesters, And Non-Offenders. Journal Of Sex Research 25, 2: 267–88.
[5] Hald, G. M., Malamuth, N. M., And Yuen, C. (2010). Pornography And Attitudes Supporting Violence Against Women: Revisiting The Relationship In Nonexperimental Studies. Aggression And Behavior 36, 1: 14–20; Berkel, L. A., Vandiver, B. J., And Bahner, A. D. (2004). Gender Role Attitudes, Religion, And Spirituality As Predictors Of Domestic Violence Attitudes In White College Students. Journal Of College Student Development 45:119–131; Zillmann, D. (2004). Pornografie. In R. Mangold, P. Vorderer, And G. Bente (Eds.) Lehrbuch Der Medienpsychologie (Pp.565–85). Gottingen, Germany: Hogrefe Verlag; Zillmann, D. (1989). Effects Of Prolonged Consumption Of Pornography. In D. Zillmann And J. Bryant (Eds.) Pornography: Research Advances And Policy Considerations (P. 155). Hillsdale, N.J.: L. Erlbaum Associates.