This post was taken from an article originally posted in Esquire.

---
For most older men, the earliest memories of porn are a source of amusing nostalgia. The magazine found under their dad's bed. Freeze-framing sex scenes in movies and staying up late to watch them with the sound down. For men who grew up in the pre-digital age, porn was a floppy disc circulated at school with pictures of "glamor models", downloaded via the painfully slow 56k dial modems that had just begun to come out. This generation was on the very cusp of the internet age, when access was still restricted to a shared family computer and massive porn site hubs were still just a twinkle in some Californian entrepreneurs' eyes.
Related: 4 Reasons Why Watching Porn Isn't Just Harmless Entertainment
But here's the thing about the generation of 10-13 year old boys who came just after – those born after, say, 1992 – and all 10-13 year old boys since: any one of them can see more naked women on their phone in 10 minutes than most grown men in history saw in their entire lifetimes. They can also, of course, see women performing acts most men in history would never have dreamt up, let alone witnessed. And unsurprisingly, in overwhelming numbers, this is precisely what they choose to do. The government, slowly waking up to the issue, issued a cross-party report in 2012 that revealed one in three boys of this age had viewed explicit material online, with four out of five becoming regular users by the time they were 16.
One reaction to this is a sort of generational jealousy, like looking at PlayStations and iPads and ruefully remembering you had to make do with playing Oregon Trail on Windows 98. But increasing numbers of men who have reached their early twenties having grown up on this diet of unlimited porn are reporting some draw backs, including a decreased interest in "real" sex, an inability to ejaculate during it and – worst of all for most – porn induced erectile dysfunction. At the same time, the young women they're sleeping with are reporting their own problems, chiefly unrealistic expectations for things like anal sex, facials and general "porn star" behaviour: pressure to look and perform in ways they're often not comfortable with.
None of these fears about pornography are new. The difference is that they're not being voiced by feminists or churches. They're coming from young men themselves.
---
On 16 May 2012, a video of a Ted Talk called "The Great Porn Experiment" was placed on YouTube, and has been watched 4.7 million times since. In it, retired physiology teacher Gary Wilson claims: "The widespread use of internet porn is one of the fastest moving global experiments every conducted."
His argument is that we don't know what happens to young men when they can watch an unlimited amount of pornography – both in terms of volume and variety – before they've had any kind of real-life sexual experience, because it has no precedent in history. Only now are the "guinea pigs" of the internet era reaching the age where they can tell us.
One of the biggest places they're gathering to do so is on an online community hosted on the popular social media website Reddit, called "NoFap". NoFap is an online support group and resource for anyone jaded by their porn use. It sets a challenge of giving up internet porn and masturbating altogether for 90 days (for the internet generation, one barely exists without the other, and any attempt to masturbate will almost inevitably lead to watching porn).
During this period of abstinence, users say, men can expect to first "flat line" – where their interest in sex vanishes almost altogether – then begin to experience "superpowers", which include everything from a greater interest in the opposite sex and improved self-confidence to more energy and alertness in everyday life. By internet standards, NoFap is an incredibly positive and earnest place to hang out. The users, of which there are now more than 100,000, post updates on their progress, share their difficulties and ask for help when they fear a "relapse" is imminent.
But buried beneath all the cheerleading and posturing are some genuinely upsetting and often quite touching stories from young men who believe porn is bad for them, usually in two ways: the amount of time it takes up – often several hours at a time, usually late at night – and the nature of the material they are viewing.
One NoFap user, Will, is a 25-year-old from the UK. He explains how, growing up, he found himself attracted to "big women", a predilection that escalated thanks to his internet use.
"I found myself gravitating towards the darker side of that particular fetish – things like force-feeding and men being 'squashed'," he explains. "There are videos online of porn actresses who are so overweight they can barely walk. The thought of these women being so large turned me on." He adds: "Afterwards, I felt incredibly guilty. Being so big you can't walk more than a few yards? There's no enjoyment in that life."
Will's story is typical of those found on NoFap, where young men talk about "escalating" over the years from looking up naked pictures or vanilla videos to extreme or niche tastes.
Another YouTube video that has become required viewing in NoFap circles is of a Ted talk by an Israeli gender studies student called Ran Gavrieli, who sets out to explain why he decided to quit.
"I stopped watching porn because it brought anger and violence into my sexual fantasies that were not there originally," he begins. "What porn is showing us 80–90 per cent of the time is sex with no hands involved. No touching, no caressing, no kissing. Porn cameras have no interest in sensual activities. They are only into penetration. This is not how we authentically desire."
"Before porn, I used to fantasize about a scenario in which I would meet a woman, what I would say to her and what she would say to me. But porn conquered my mind. I lost my ability to imagine. […] I found myself closing my eyes trying to masturbate, trying desperately to think about something human and not making it, because my mind was bombarded with all those images of women being violated."
The reaction in the comments below the video is a typical mix of gratitude and support and dismissive anger, though with just under 8 million views and strong endorsements throughout the anti-porn world, it's an experience that is clearly hitting a nerve. The question now confronting the scientific community is why exactly this modern phenomenon is occurring. Could evolutionary biology be to blame?
---
Dr Thaddeus Birchard is an expert in psychosexual therapy and the founder of the UK's first sex addiction treatment program at the Marylebone Centre. From his office in central London, lined with hundreds of books on human sexuality, he treats men with all forms of sexual addiction, including internet pornography.
"The human brain craves novelty," he explains, with the soft-spoken but assertive tone people in his current profession require. "That's why couples have sex when they go away for the weekend, when they've not had sex for months. And you get endless novelty on the internet."
Related: Why Pornography Needs A Health Warning Label
Birchard likens it to playing a slot machine (the mental state of a sex addict is highly comparable to that of a gambling addict). "You go on internet porn and you don't know when you are going to get the hit. You could look at a dozen pictures or videos, and suddenly there is a hit. Or look at a hundred, and there isn't."
This quest for new experience explains why heavy porn users eventually explore fresh versions of what has aroused them in the past – and online, "fresh" usually means "more extreme". What makes it even more powerful is that during sex, solo or otherwise, we're programmed not to think about whether we'll regret what we're doing later.
To help me understand what happens to the human brain while watching porn, he draws a rough outline of a head on a large sheet of paper. He sketches the limbic system – the bit that processes our impulses; and the frontal cortex – the bit we need to override those impulses with rational thought. Porn appeals to the former, and his job is to help people get better at using the latter.
"Arousal shuts down our capacity to think about consequences," Birchard says. "It's designed to do that. Mother Nature intends for you to maximize your DNA, and you do that by frequent ejaculation in as many places as possible. It's a literal shutting down, so you stop thinking about your wife, or going to work in the morning at seven, and stay on the internet until four in the morning."
Still, the amount of time internet porn takes up or how much men regret the nature of what they look at isn't the real problem for most of the young men on NoFap. The real problem is how it affects their behavior with women.
---
Alexander Rhodes launched NoFap as a bit of joke a few years ago, but now takes the task of helping men quit pornography very seriously. A 24-year-old web developer from Pittsburgh, Pennsylvania, he compares pornography to his generation's version of cigarettes — something harmful and addictive that we're learning the consequences of only in hindsight.
His own story, which he discusses openly, exemplifies what really horrifies the young guys who have followed him into abstinence. While many of the NoFap community are clearly social misfits who, whether it is placebo or otherwise, have found quitting porn has given them the confidence to approach women for the first time, others are more like Joseph Gordon-Levitt's character in Don Jon, his film on the topic of porn addiction – normal guys who take home hot girls (well, perhaps not quite as hot as Scarlett Johansson, but that's Hollywood) and then find they prefer porn to what's waiting for them in bed.
Like almost every man of his generation, Alex started looking for porn around age 11 and by the time he was 19 "was watching the highest-resolution and most extreme stuff available." Specifically, this meant "gang-bangs and many other niches of hard-core porn. I liked watching women be degraded."
"For years I was never able to orgasm from sex – I had to masturbate myself to orgasm with my partners, often while fantasizing about porn," he continues. "There was no focus on the actual beautiful woman in front of me – it was strictly a race to orgasm. Although I would consider myself a good boyfriend outside of the bedroom, I simply detached and depersonalized my partners as tools to achieve orgasm.
"My mind completely separated emotion, empathy, intimacy, love, affection, and all other virtues from sex. And my expectations made my partners feel objectified, used, and 'not enough'".
Rhodes – like Will and most of the men I spoke to through NoFap – says his porn use did not just cause the end of his relationship, but ruined his enjoyment of sex altogether.
These are all men who have not yet reached their late twenties.
Despite all the depressing accounts of relationships ruined and sex drives killed, the dominant message that emerges from NoFap and similar male-led anti-porn websites is actually positive. More than anything, they want to talk about how quitting porn has turned their lives around.
These are the excitable declarations that make up most of the forum posts – men reaching new milestones in abstinence and wanting to brag about it, in the nicest possible way. They range from claims of a reinvigorated mojo and greater vigor to greater energy and alertness.
Key to this message is the belief, shared by NoFap and yourbrainonporn.com, the website run by Gary Wilson, that by quitting men can "reset" their brains and return their sexuality to "normal" levels, diminishing the appetites artificially encouraged by heavy porn use. The site also reasons that today's porn is "about as comparable to the porn older men grew up with as today's computer games are to playing checkers."
According to psychology, the male sexual template is set between the ages of seven and nine, before being activated in adolescence. It is during these tender years that a lifetime of sexual tastes and expectations are created.
---
Porn has become so normalized that our society has lumped an entire gender into the assumptive "of course they watch it" category. In the culture we live in, it is just assumed that guys are going to watch porn, and society rationalizes it away. "It's just what guys do. Guys like sex, so all guys watch porn."
False.
Not watching porn can be one of the most pro-sex things someone can do. Also, it's degrading that men are labeled to "need" pornography and generalize that every single one of them is into porn. In fact, men should find this normalization of porn most offensive out of anyone. Does no one believe they're capable of doing or choosing otherwise?
Guys like Ran Gavrieli and Alexander Rhodes are rejecting society's belief that men can't help themselves. They reject the idea that porn is harmless, and that it's normal for guys to watch it. Ran and Alexander are changing the conversation, shaking up the status quo, and Fighting for love. Isn't that what it's all about?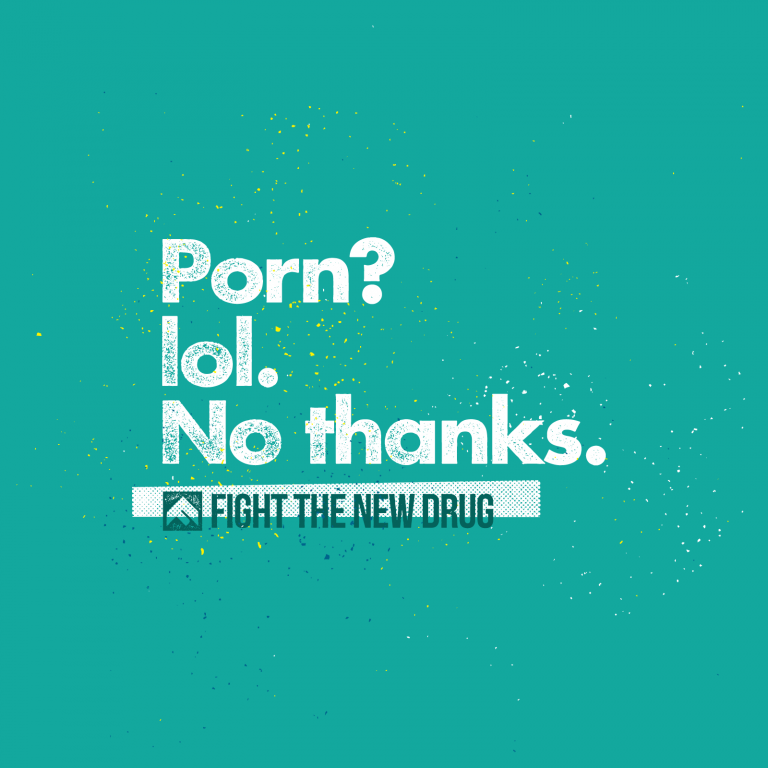 What YOU Can Do
Porn has some seriously harmful effects, and young men everywhere are starting to notice. SHARE this article to spread the word and keep the momentum going!