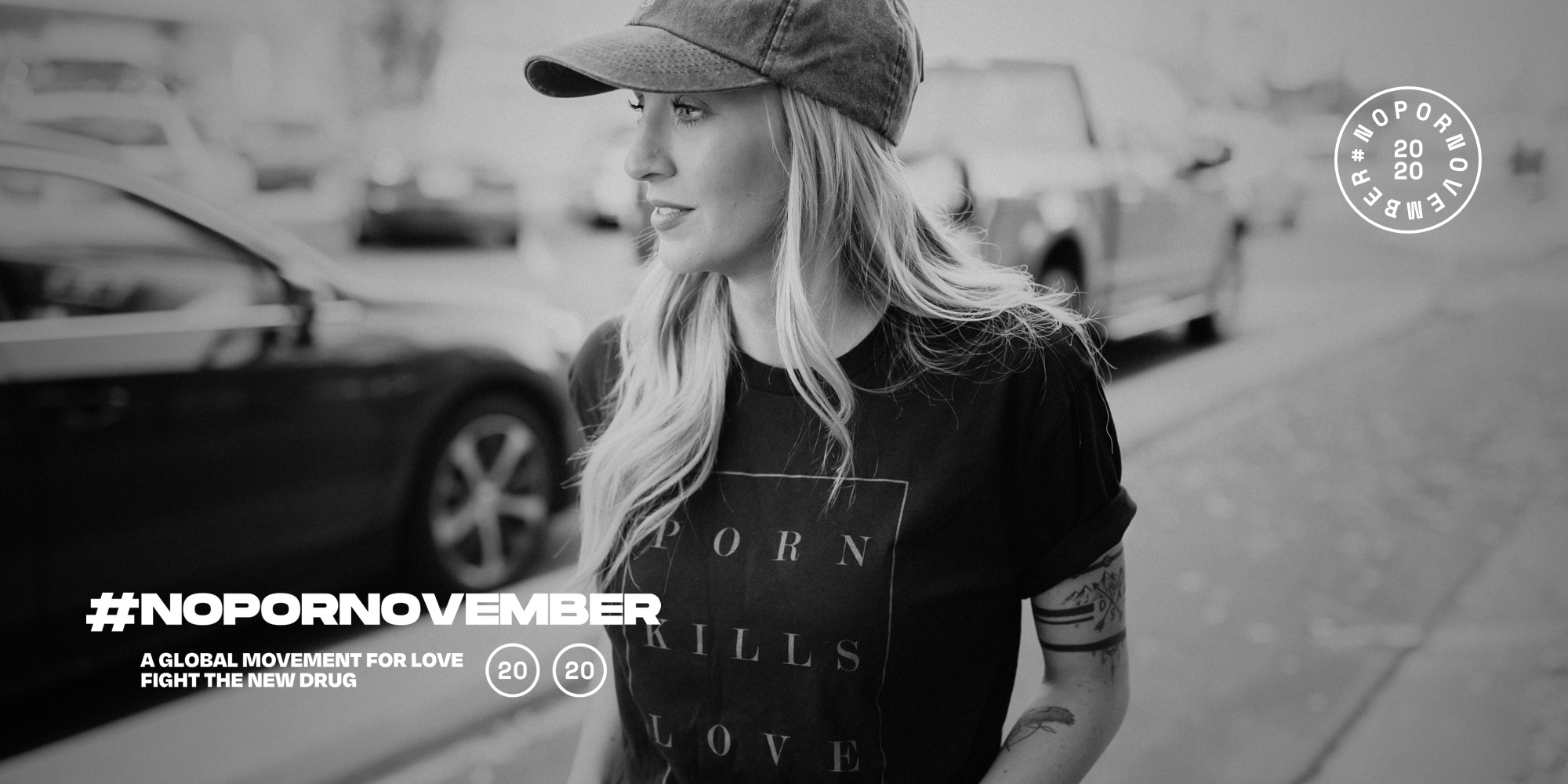 Porn is everywhere. A lot of people struggle with it, yet many people don't want to talk about it.
This is what sparked the creation of the "Porn Kills Love'"tee five years ago this year—to break the silence and start conversations about porn—even, and especially, with youth.
Related: I Wore My "Porn Kills Love" Shirt To Disneyland, And This Happened
Some people panic when their child sees someone wearing the word "porn" in public. But the fact is, if they're old enough to read the word, it's likely time when age-appropriate conversations can begin to help frame a healthy and grounded understanding of how it can be harmful.

Why do people fear the word "porn?"
Youth today are growing up in a world where porn is more accessible than ever before. The very nature of the content has changed, and the most hardcore porn imaginable is now mainstream. Technology makes exposure to this content inevitable and basically unavoidable.
Given the average age of exposure to porn is around 11—and often younger—chances are the glimpse of the word "porn" on a shirt isn't a kid's first-time introduction to it. It's likely they've already heard about it or stumbled upon it themselves.
Related: The Naked Truth: Porn Is Harmful, And We Need To Talk About It
The problem is, many adults are unaware of that fact. But, even if a child hasn't been exposed to porn yet, it's only a matter of time. And isn't it ideal that they hear it from someone who cares for their well-being first, rather than from pornographers?
It could be that a disconnect with the research about the harmful effects of pornography can contribute to a parent's fear of not knowing exactly what to say to their child. It may also lead someone to avoid the topic out of fear of making others uncomfortable.
Related: Parents: If You Don't Teach Your Kids About Sex, Porn Will
In the words of Albus Dumbledore, "Fear of a name increases fear of the thing itself." By avoiding open discussions about porn, we push it further into darkness and secrecy—where it thrives and tightens its grip on so many.
"Porn Kills Love" and "Consider Before Consuming" aren't just catchy phrases used to sell tee shirts—there's actual science behind the slogans. Familiarizing yourself with that science is the first step toward letting go of the debilitating fear that you might say the "wrong" thing.

How to wear a PKL tee with confidence
Think about it: would you feel confident teaching someone to drive a car if you didn't have a driver's license? Probably not.
An essential way to get comfortable talking about a tough subject is to learn what it's all about—or in this case, the research. Learn to drive yourself, then help others behind the wheel. Pretty sound logic, right?
Related: I Wore My 'Porn Kills Love' Tee To A Middle School And It Was Awesome
People may look twice or stare at the words "Porn Kills Love" on your shirt, but if they do, count it as a success. After all, the point is to get people thinking about the ways porn is harmful. Plus, remember that even if you don't have a face to face conversation with someone, even reading this simple phrase on your 'Porn Kills Love' tee can get their mental wheels turning.
You can wear a PKL tee with confidence when you know the facts and how to have a simple conversation when it grabs someone's attention.
Need help having healthy conversations?
At Fight The New Drug, we receive messages from people across the world who are impacted by this issue. We often hear from kids seeking help because they feel scared, awkward, or don't know how to talk to their parent about the porn they've been exposed to.
Related: For Parents: My Child Just Told Me They Struggle With Porn. Now What?
This is one of the many reasons that sparked the creation of a brand new resource: Let's Talk About Porn: A Conversation Blueprint.
This interactive resource allows you to choose who specifically you're wanting to talk to about porn—whether that be a partner, a friend, a child, a parent, or even a complete stranger. It then walks you, step by step, through questions, resources, and talking points to use in your specific situation.
This powerful new resource can help you find your way—knowing what to do and what not to do in order to have a healthy, meaningful conversation on the topic of porn.
This resource, and other research about how porn harms the brain, the heart, and our world, add to your well of knowledge that can be drawn from when you need it.

Break the silence and talk about porn's harms
With the prevalence of hardcore porn on just about every electronic device and with this issue reaching every household, the word "porn" on a shirt may be the least of society's worries. This is a conversation that can't be avoided, shouldn't be avoided, and bold messages like the PKL tee is meant to help make that happen in a healthy, fact-based way.
Related: Parents: What's Better Than Internet Filters? Actual Conversations About Porn
Porn impacts every person—whether directly or through someone they care about. Our goal is to leave no one out on a ledge alone, but to get rid of the "taboo" surrounding this issue and start connecting through healthy conversations.
The Porn Kills Love tee is bold, but that's exactly the point—to break through walls of silence and get people talking about something that, while uncomfortable at first, is essential for the health and happiness of individuals and society. Even for those who are young.
Talking about porn can feel like a nerve-wracking task, but it doesn't have to be when you're prepared. So kick fear to the curb and take control of this topic rather than letting it control you. Get out there and turn a few heads with the bold message of "Porn Kills Love." You've got this.