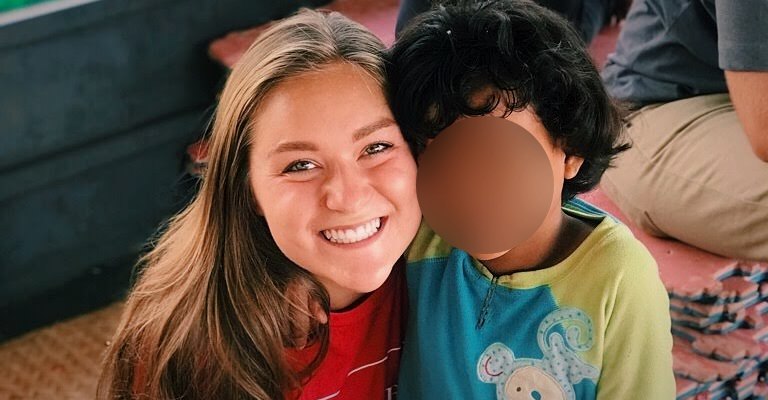 This Post Was Written By The #StopTheDemand Winner From 2018.
My Life-Changing Volunteer Trip to Nepal with Fight the New Drug
By Lynsey B.
Going into my trip to Nepal with HELP International, I was unsure of what to expect.
I had only been out of the country once before, and it wasn't to one of the least developed countries in the world, so I was pretty naïve. I knew the cultural and spiritual atmosphere were vastly different than in the U.S., but still, I had no concrete picture of what the next 14 days of my life would look like. I foresaw that I would be uncomfortable in situations, but I definitely didn't know what those specific situations would look like. I knew it would be a stark contrast from my American life, but I didn't know what "different" would be.
When we arrived at Raksha Nepal, the survivor shelter
I think what surprised me most about Nepal was the ages of the girls at the rescue center. I thought that they would be in their late teens or early twenties, maybe some who were a little older. But I was a bit taken aback when I arrived, and a 12-year-old girl greeted me saying, "Welcome sister, what is your name?"
The girls living at Raksha were anywhere from one month to 18 years old. Many of them had been rescued from the sex trafficking industry or from extremely abusive homes where they were sexually assaulted and raped. I was aware of the general backgrounds of the girls before arriving in Nepal, and because of that, I didn't expect such young girls to be the ones connected to the stories I had heard. It was heartbreaking.
Related: I Volunteered With Sex Trafficking Survivors In Nepal, And Here's What I Learned
I was also surprised to see how open the girls were with us volunteers, both women and men. I thought that they would be a little closed-off and not nearly as energetic and joyful as they were. We were taught to always allow the girls to approach us an initiate physical contact so as not to overwhelm them, but my experiences were always of them running up to us and wanting hugs, wanting to braid our hair, and wanting to hold hands or cuddle during a movie night. The boys didn't sleep at the shelter, but the girls interacted with them essentially the same as they did with us women.
I was amazed at their trust and excitement for life. They reminded me just how resilient children are.
We were shown kindness and love, even though we were strangers
The kindness of the people of Nepal was something that lived up to my expectations, if not exceed them. I'm not sure why, but I entered the country believing that people would be much more open and welcoming than the general American. This turned out to be true as we went to different places and people were very honored to host us and serve us. Anyone we passed would put their hands together and say, "Namaste" as we passed, with a smile on their face.
I left having a deeper appreciation for other cultures. When we arrived, the girls put on a show for us with Nepali dances that they had choreographed and practiced. They wore beautiful outfits and sang us Nepali songs. We got to visit temples and see a Buddhist funeral, and even had the opportunity to hike into the foothills of the Himalaya mountains for 13 miles to live with the locals and farm with them for a few days. In our traditional Kurtas and Nepali dresses, we cut the grass and tilled the land with our hand-tools.
Here are a few photos that only show a glimpse of our time in Nepal:
Volunteers at Raksha Nepal read to the girls.

Raksha Nepal residents welcome Lynsey with a sweet, special ceremony.

Lynsey bonded with many of the girls at the shelter.

Volunteers would take day trips during their time in Nepal, traveling through some of the busier parts of Kathmandu.

Lynsey and Fight the New Drug's Executive Directory, Natale, visited many Nepali landmarks on the trip.

One of the days, the volunteers—including Natale and Lynsey—hiked a few miles to a local farm to help farmers.

Volunteers helped local farmers in the lower Himalayas to till and prep their fields for planting.

Volunteers hiked over ten miles to the local farm to help prep the fields.

Volunteers hang out with the girls and play games at the shelter.

Everyone at the shelter gathers to send the girls off to school and escort them across town.
My eyes are forever opened
I learned a lot about my privileged life through this trip. I'm very aware of many of the things I am lucky enough to have in life that other people dream of, but this trip opened my eyes to that a bit more. Beyond material things like clothes or housing, I realized the immense access that I have to healthcare and clean food and water.
Unfortunately, I got sick on the trip and was taken to a traveler's hospital. And while it wasn't ideal, some of the girls also got sick but had to go to a much, much less high-quality facility to be treated. They come from homes where clean water isn't available and where the nearest clinic is a 2 or 3-hour hike away.
Related: Here's How Porn And Sexual Exploitation Are Impacting Asia's Diverse Cultures
Because of my time in Nepal, the issue of pornography perpetuating sex trafficking and sexual exploitation has become much more real to me.
From research, we know that some of the effects of pornography are an increasingly negative attitude toward women, decreased empathy for victims of sexual violence, and an increase in dominating and sexually imposing behavior. In Nepal, women are seen as having considerably less worth than men. They can even be kicked out of their own home for a length of time for something as necessary as getting her menstrual cycle.
How can we reach these trafficking survivors?
The effect of decreased empathy for victims of sex trafficking can be seen in how the teachers of the girls respond to certain things that the girls say. For instance, if they are told to draw their family, many of the girls will draw a picture with about 60 other girls in it, because Raksha is their home. However, their teachers will not hesitate to point out the factual shortcomings of the drawing, even though reminding the girls of the reality of their lives and family situation will gravely upset them. The teachers simply don't seem to care about what these girls have been through.
Related: By The Numbers: How Porn And Sex Trafficking Are Inseparably Connected
The effect of an increase in dominating and sexually imposing behavior was what stood out to me the most. The girls who were brave enough to share their own stories with us, face to face, had a common theme of forced sexual interactions. The girls told us of times when their fathers or grandfathers would finally show them affection, something they rarely ever felt from them, only to have it turned into something they didn't want and couldn't stop.
It was so incredibly evident in Nepal how much pornography affects the world around us and the relational connections we form with other humans.
I am extremely grateful for my time in Nepal with HELP International and Fight the New Drug. My life is forever changed because of these experiences.