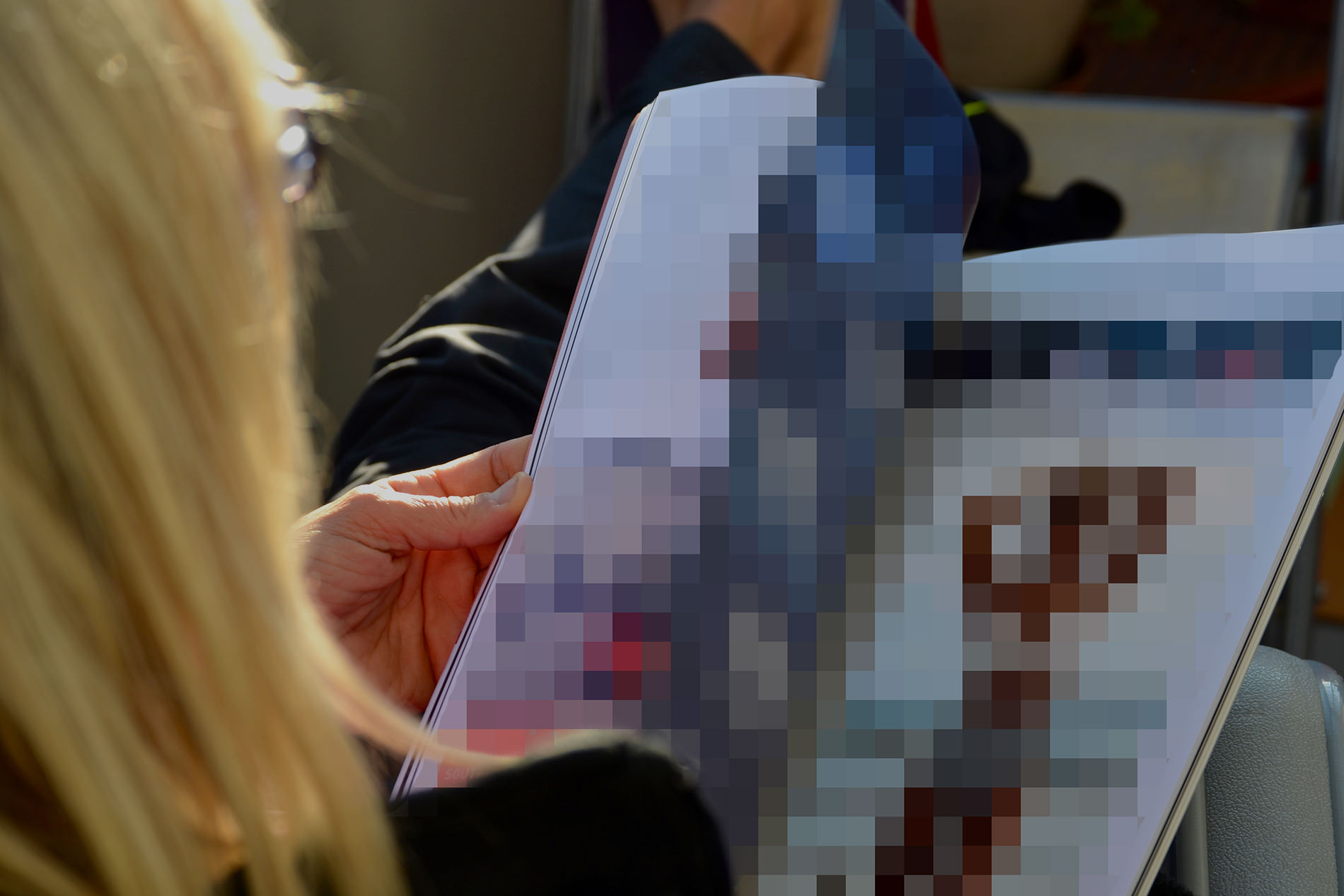 Despite the unfortunate saying of "if it exists, there is porn of it" the porn industry is still largely aimed at stereotypical masculinity. What other industries take advantage of that stereotype? Sports and meat—the ultimate manly symbols right?
So it's not super surprising that companies selling these products have resorted to using almost-naked women in sexual positions to get consumers' attention. And if you've been on your phone, computer, or watching TV lately, each company seems to be trying to top itself with every new magazine cover and commercial.
Related: Carl's Jr.'s New Porn-Inspired "Three-Way" Ad Is Not Just Explicit, It's Harmful To Society
Don't get us wrong. We know that advertisers have been using objectification to sell just about everything forever, and that typically doesn't fall under the category of the porn and sexual exploitation that our fight is all about.
But everything starts somewhere right? It's a proven fact that porn is an escalating behavior. And our generation is the first one where people can unexpectedly (and casually) see an almost-naked woman just by simply turning on the TV or scrolling on their phones.
It's becoming more and more apparent that these oversexualized ads and magazine covers are the beginning, the gateway so to speak, to the harmful ideas about sex and porn in our society.
Sex (And Objectification) Sells
Back in 2011 when popular fast food chain Carl's Jr. was getting a lot of flak for using sexy women as the focal point in its commercials, it said in a press release, "We believe in putting hot models in our commercials, because ugly ones don't sell burgers." We think it's worth noting that in the next sentence they also said, "We believe that life is short. So if it feels good, do it, and if it tastes good, eat it."
Stay classy, Carls Jr.
Well, at least they're upfront about what they're promoting. But by doing so, Carl's Jr. is showing that the "sex sells" mantra doesn't just rely on sex —it's also about objectification. For example, in their most recent Super Bowl ad where the main model appears to be topless, it's not until 32 seconds in to the 45 second ad that we find out that the commercial is actually about an all-natural hamburger. The first two-thirds of the ad is all about a (seemingly) topless woman talking seductively and saying a bunch of sexual innuendos.
Real innovative marketing.
Starting to see the ridiculousness of all this? Companies are barely even promoting their product anymore. They're just showing almost-naked women and then throwing in something about their product at the very end.
Do they really think we're that mindless?
Related: Why A Growing Number Of Millennials Are Choosing To Kick Their Porn Habit
Then we have the ever-popular Sports Illustrated Swimsuit Edition, where the outfit(?) and pose of this year's cover model had one Washington Post contributor write specifically about the swimsuit, "which is slung so low that a centimeter more would make the shot more suitable for Playboy." It's quite an evolution from SI's first Swimsuit Edition cover which featured a very non-revealing bathing suit that completely covered the model's entire chest, waist, and hips. But those days are long gone and porn culture has replaced them.
People magazine senior writer Lynette Rice even wondered on Twitter: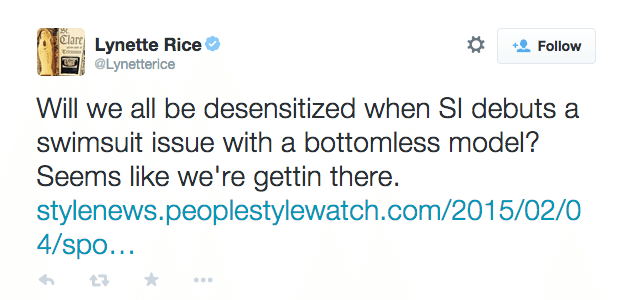 The way things are going, that's probably not too far off.
And we're definitely not cool with that. Because if that's the type of stuff that a major mainstream magazine that you can buy at your local grocery store features on the cover, then what do you think the not-so-mainstream porn is going to be like?
The Science of Sexualization
To give you an idea of how damaging these images are, a study by Princeton psychologists showed a group of men pictures of male and females, some barely clothed and some not. During the study, the psychologists monitored their medial prefrontal cortex (mPFC), which is involved in recognizing human faces and distinguishing one person from another. For the most part, the mPFC was activated with each picture. However, when the men viewed the pictures of sexually dressed women, it was not activated. Basically, the automatic reaction in the men's brains suggests that they didn't perceive the women as fully human. Just as a body.
That's what companies who exploit sex and promote porn culture don't know. And while we understand that these models aren't being forced into these photo shoots and advertisements, we think it's sad that they are (knowingly or unknowingly) helping to perpetuate objectification and are becoming a type of gateway for porn.
Or, like this graphic points out, maybe we should say P.O.R.N.

Get Involved
If you agree that it's not cool for this type of porn-promoting to happen in society, SHARE this article and spread the word about the harmful effects of porn.
Spark Conversations
This movement is all about changing the conversation about pornography and stopping the demand for sexual exploitation. When you rep a tee, you can spark meaningful conversation on porn's harms and inspire lasting change in individuals' lives, and our world. Are you in? Check out all our styles in our online store, or click below to shop: