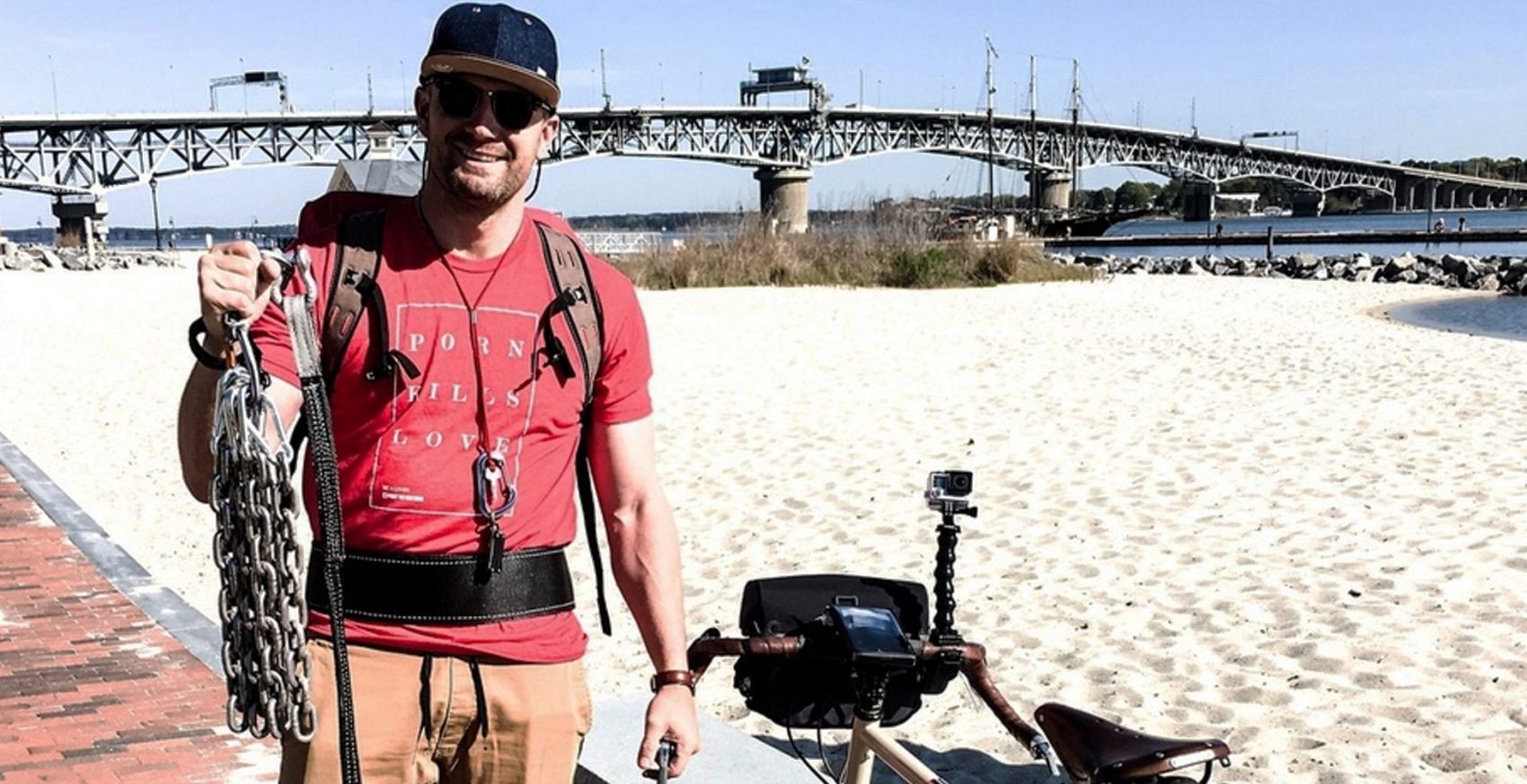 ---
Not long ago, Garrett Jonsson ran 30 marathons in 30 days while wearing handcuffs to raise awareness on the harms of pornography. Little did we know, he was just getting started. It wasn't long after that Garrett reached out to us and told he was setting out for his biggest feat yet: biking across the United States to raise awareness on the harms of pornography.
Beginning in Yorktown, Virginia, Garrett's journey ended up spanning 3,800 miles across nine states in 56 days. On each leg of Garrett's trek, he dragged heavy chains behind his bike to symbolize the weight of pornography on individuals and society. He did all this while wearing a Porn Kills Love tee, which he had people sign as he shared the word throughout his ride about Fight the New Drug and the harms of porn. He eventually ended his journey in San Francisco, California, at the Golden Gate Bridge with his wife who walked the last three miles with him. All in all, he estimates he handed out hundreds of Porn Kills Love fact cards while averaging 67 miles per day on his bike.
So what inspired Garrett to make this incredible journey and spread the word on the harmful effects of pornography across the country? Watch the world premiere of Garrett's story about his past struggle with pornography and why he decided to fight for love instead.
Get Involved
Express your thanks to Garrett and his amazing journey for the movement. SHARE this article and add your voice to this movement for love.
Spark Conversations
This movement is all about changing the conversation about pornography. When you rep a tee, you can spark meaningful conversation on porn's harms and inspire lasting change in individuals' lives, and our world. Are you in? 
Check out all our styles in our online store, or click below to shop
: