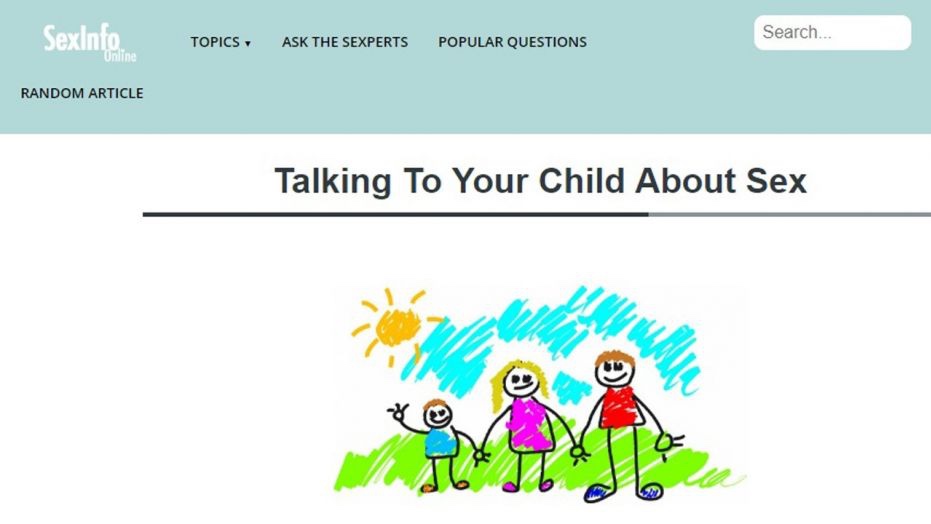 "SexInfo Online," A California university student-run sex education website, is getting heat for telling parents to not respond negatively to their kids watching porn or touching each other's genitals.
University of California, Santa Barbara (UCSB) students who call themselves "sexperts" created this online platform that aims to answer questions on human sexuality. All the posts are edited by UCSB students who have studied advanced topics in human sexuality and overseen by the school's sociology department. The site has actually been around for over a decade, but is regularly maintained and updated. While photos from their Facebook page show the team in shirts that state their website and the phrase, "Because you can't learn everything from porn," we weren't impressed with the
One (now edited) post drawing criticism tells parents that they should not react negatively if they see "sexual play between children."
A few choice quotes from the website:
"Children might display affection to their friends by hugging and kissing, or touching each other's genitals, which is perfectly normal. Parents should not react in a negative way because children are just exploring. Sexual play between children can cause harm if the acts are non-consensual or hurtful, in which case parents should intervene."
"It is important for caregivers and parents to keep their reactions to children's consensual sexual activity and play positive."
And in a separate post about parents talking to their kids about sex that seems to have now been edited: "It is important that children understand that viewing pornography is a normal habit."
Related: How The Porn Industry Hijacks Natural Sexual Curiosity And Hooks Teens
While the site does provide solid advice like avoiding shame and maintaining ongoing, honest, and open conversations with kids about sex, we think there are some pretty Grand Canyon-sized gaps when it comes to the info on the site about porn and its proven harms.
Allow us to explain how kids viewing porn, while common, is not exactly healthy.
The proven harmful effects of porn
We'll start off by saying that they didn't actually throw a virtual party over kids accessing porn, but this about sums up any sort of honest info they included about its clearly proven harmful effects:
"Parents should discuss with their child that pornography may create certain expectations about sex that are unrealistic, especially when it comes to the appearance, desires, and behavior of women. Emotional intimacy, although severely lacking in most x-rated productions, is a huge part of sex."
Sparking unrealistic expectations is only the start of how porn can harm consumers' perceptions of what's healthy, especially for those without any real-life experience to compare to digital airbrushed fantasy. Consider how porn has fueled a 400% increase in child-on-child sexual assaults in the UK. Or that porn and sex trafficking are inextricably linked. And that's not all.
A recent study by researchers at the University of Nebraska brought to light even more harms of pornography, especially in young men exposed to it early in life.
Related: Porn Has Fueled A 400% Rise In Child-On-Child Assaults In The UK
The study interviewed 330 undergraduates, whose average age of when they first saw pornography was 13. They found that for those of the mostly straight men surveyed, those who didn't see pornographic images until they were older had more of a "playboy lifestyle" association. That lifestyle included a more promiscuous and uncommitted sex life, leading to a lot of issues on its own.
But for those who were exposed at younger ages, whether accidentally or otherwise, they tended to agree more with statements regarding dominance and power over women in intimate relationships. Yikes.
The bottom line of what this recent study shows is this: the younger a boy is when he is exposed to porn, the more likely it is that he'll see women as objects to control, rather than equals or potential partners to love. And that's not healthy.
Porn's heavy influence on the upcoming generation
Researchers are finding that porn's influence can and does find its way into teenager's sexual behaviors. [1] For example, people who have consumed a significant amount of porn are more likely to start having sex sooner and with more partners, to engage in riskier kinds of sex that put them at greater risk of getting sexually transmitted infections, and to have actually contracted an STI. [2]
Sociologist Dr. Michael Kimmel has found that men's sexual fantasies have become heavily influenced by porn, [3] which gets awfully tricky when their partners don't want to act out the degrading or dangerous acts porn shows.
A recent study of adolescent porn use concluded that the major messages presented by porn are male domination, hypermasculinity, and making male sexual pleasure the top priority. [4]
What kind of education is that?
"It's sad," says Dr. Gary Brooks, a psychology professor who studies the effects of porn. "Boys who are initiated in [to] sex through these images become indoctrinated in a way that can potentially stay with them for the rest of their lives." [5] And think about it, what messages does that send to young women and girls who are consuming this content as well?
At the end of the day, porn is about as healthy for young—and older—consumers as eating junk food, smoking, or driving without a seatbelt. In other words, it's not. It's time consumers know the facts around porn and make an educated decision for themselves instead of following what our porn obsessed culture says.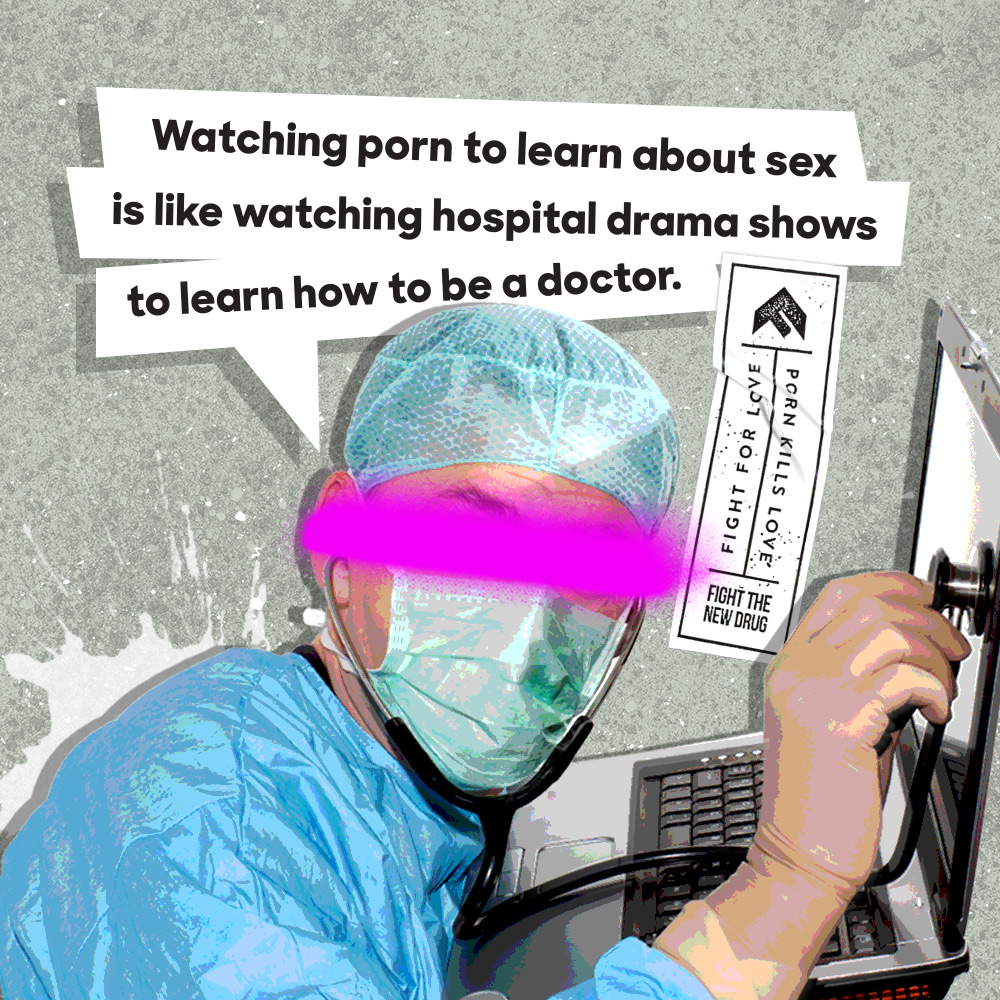 Get Involved
Porn is anything but a healthy, acceptable place to turn to for information about sex. SHARE this post and raise your voice that we should not accept the normalization of porn
Spark Conversations
This movement is all about changing the conversation about pornography and stopping the demand for sexual exploitation. When you rep a tee, you can spark meaningful conversation on porn's harms and inspire lasting change in individuals' lives, and our world. Are you in? Check out all our styles in our online store, or click below to shop: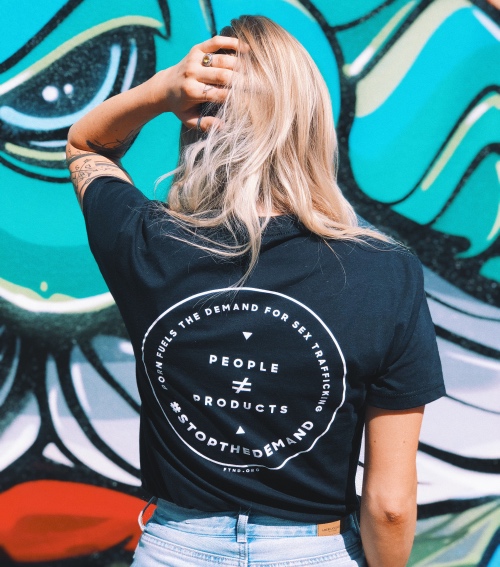 [1] Peter, J. & Valkenburg, P. M., (2016) Adolescents And Pornography: A Review Of 20 Years Of Research. Journal Of Sex Research, 53(4-5), 509-531. Doi:10.1080/00224499.2016.1143441; Rothman, E. F., Kaczmarsky, C., Burke, N., Jansen, E., & Baughman, A. (2015). "Without Porn…I Wouldn't Know Half The Things I Know Now": A Qualitative Study Of Pornography Use Among A Sample Of Urban, Low-Income, Black And Hispanic Youth. Journal Of Sex Research, 52(7), 736-746. Doi:10.1080/00224499.2014.960908
[2] Morgan, E. M. (2011). Associations Between Young Adults' Use Of Sexually Explicit Materials And Their Sexual Preferences, Behaviors, And Satisfaction. Journal Of Sex Research, 48(6), 520-530. Doi:10.1080/00224499.2010.543960; Layden, M. A. (2010). Pornography And Violence: A New Look At The Research. In J. Stoner & D. Hughes (Eds.) The Social Costs Of Pornography: A Collection Of Papers (Pp. 57–68). Princeton, NJ: Witherspoon Institute; Carroll, J. S., Padilla-Walker, L. M., & Nelson, L. J. (2008). Generation XXX: Pornography Acceptance And Use Among Emerging Adults. Journal Of Adolescent Research 23(1), 6–30. Doi:10.1177/0743558407306348; Haggstrom-Nordin, E., Tyden, T., & Hanson, U. (2005). Associations Between Pornography Consumption And Sexual Practices Among Adolescents In Sweden. International Journal Of STD & AIDS, 16(2), 102–7. Doi:10.1258/0956462053057512; Wingood, G. M., Et Al. (2001). Exposure To X-Rated Movies And Adolescents' Sexual And Contraceptive-Related Attitudes And Behaviors. Pediatrics, 107(5), 1116–19. Retrieved From Https://Www.Ncbi.Nlm.Nih.Gov/Pubmed/11331695
[3] Paul, P. (2007). Pornified: How Pornography Is Transforming Our Lives, Our Relationships, And Our Families. New York: Henry Hold And Co., 27.
[4] Rothman, E. F., Kaczmarsky, C., Burke, N., Jansen, E., & Baughman, A. (2015). "Without Porn…I Wouldn't Know Half The Things I Know Now": A Qualitative Study Of Pornography Use Among A Sample Of Urban, Low-Income, Black And Hispanic Youth. Journal Of Sex Research, 52(7), 736-746. Doi:10.1080/00224499.2014.960908
[5] Paul, P. (2007). Pornified: How Pornography Is Transforming Our Lives, Our Relationships, And Our Families. New York: Henry Hold & Co., 187.