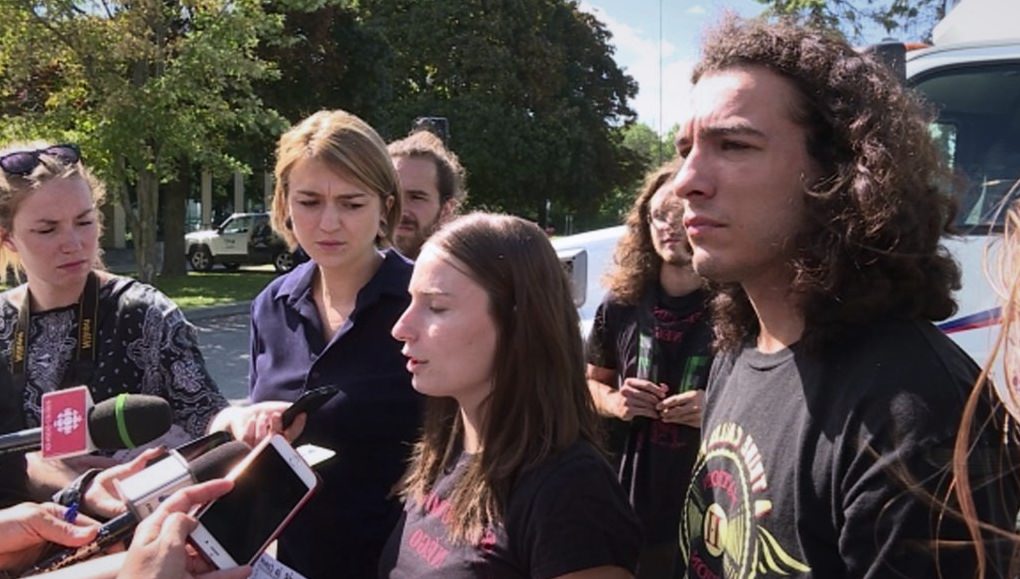 Cover image: Student leaders at the Université du Québec en Outaouais condemned the event held by communications students at the school. (CBC)
Kiss a girl = one point.
Snap a picture of an exposed bra = one point.
Two points for a picture of a bare breast.
Three points for doing a shot of alcohol from a girl's cleavage.
These were just a few of the tasks students were told to complete at a University of Québec in Outaouais (UQO) club party at a student bar recently, according to a report by the Calgary Sun. Student leaders eventually stepped in and terminated the event, calling it a "reprehensible" example of "rape culture" on campus.
But that action may not be enough to satisfy authorities, who are demanding the UQO student leaders responsible for organizing the offending event immediately step down.
Related: How Porn Is Fueling Rape On College Campuses
The controversy came to light after students circulated a poster on social media outlining the various tasks required of participants in order to be awarded points. The activity was billed by organizers at the French-Canadian university as a variation on the mythological 12 labors of Hercules, and though participation was open to everyone, the "tasks" were primarily geared toward male students.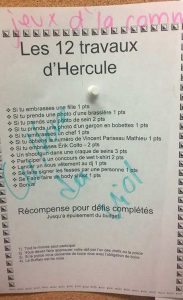 Kissing girls, taking photos of bras or exposed breasts, taking photos of male students wearing panties, participating in a wet T-shirt contest, drinking a shot from a girl's cleavage and getting a girl to sign her name on buttocks were listed among the tasks on a "scorecard," with each task earning points for the participants.
"This is the worst example of rape culture I've ever seen. It's the most vulgar one, too," Valerie La France, head of UQO's women's committee, told the CBC.
The activity was quickly put to an end when students complained to the school's student union regarding the list.
Related: Boys From 70 Different Schools Create Massive Porn-Sharing Group Using Nudes of Girls At School
"Students didn't want anything to do with it," said student union president Philippe Boily. "But the fact that it was planned in the first place is not okay at all. It's a good thing that the event was dismissed so quickly, but I still think (it's) a major problem that some people think organizing those types of events is okay. We have to put a stop to it."
Boily said he's spoken with the organizers, and suspended all funding for the club in charge of the event. He also spoke with university administration about implementing a strategy to educate students about rape culture.
"I've been aware of different events (in the past) that have been questionable, but this is one of the worst I've seen in my time here," Boily said. "It's the wrong culture to have in university. I hope this will shine a light on these activities and I hope this is the last we hear of it."
Porn Fuels Existing Rape Culture
Even more concerning that this "game" exists is that competitions of this nature that focus on sexually exploiting unsuspecting females are the norm for many college parties around Canada and North America, if not worldwide. What could be inspiring students to treat women like they're objects to use, trade, and dispose of?
The Oxford Dictionary defines rape culture as, "A society or environment whose prevailing social attitudes have the effect of normalizing or trivializing sexual assault and abuse."
Think about this: it wouldn't be a stretch to say that porn fuels attitudes that trivialize taking advantage of someone, and that can ultimately lead to competitions like this seeming normal or casual. The rise of porn culture in our generation is one of the main reasons for the popularity and normalization of the ideal that people are objects and getting sex or objectifying someone is a fun, harmless game to play. Research shows that porn viewers can have a much higher tendency to objectify those around them. Viewers might tell themselves that they aren't personally affected by porn, that they won't be fooled into believing its underlying messages, but studies suggest otherwise. There is clear evidence that porn makes many users more likely to support violence against women, to believe that women secretly enjoy being raped, [1] and to actually be sexually aggressive in real life. [2] The aggression may take many forms including verbally harassing or pressuring someone for sex, emotionally manipulating them, threatening to end the relationship unless they grant favors, deceiving them or lying to them about sex, or even physically assaulting them. [3]
People are people, not parts, and we cannot be okay with anyone being deconstructed and bartered around for points.
Porn is influencing our generation that sexually exploiting and degrading people is sexy entertainment. It's not hard to make the connect that porn culture has influenced these males to believe that consent doesn't matter, and "hunting" for sexual images and women is just a pleasurable quest. Where else would this type of behavior be celebrated? In the world of porn, women are depicted as body parts used for pleasure and nothing more. There's no doubt porn's dehumanizing influence is having a negative effect on individuals, relationships, and society as a whole.

What YOU Can Do
Spread the message that people are not parts, and that rape/porn culture is not okay. SHARE the facts and take a stand against the sexualization and objectification taking place in our society.
Support the movement, rep a tee. Click here to shop: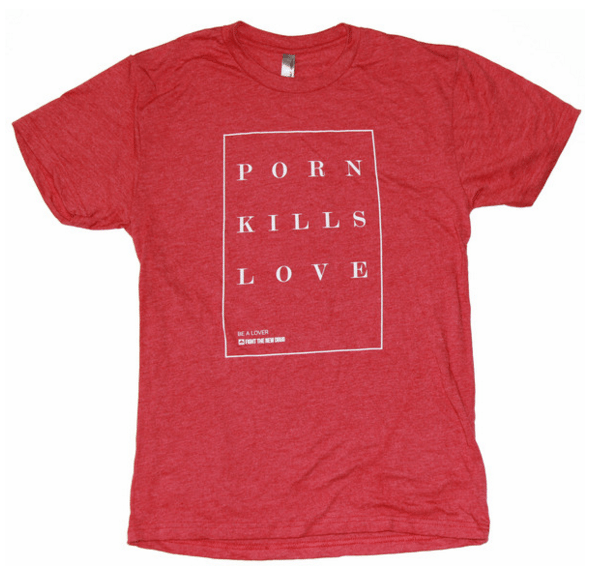 [1] Layden, M. A. (2010). Pornography And Violence: A New Look At The Research. In J. Stoner And D. Hughes (Eds.) The Social Costs Of Pornography: A Collection Of Papers (Pp. 57–68). Princeton, NJ: Witherspoon Institute; Milburn, M., Mather, R., & Conrad, S. (2000). The Effects Of Viewing R-Rated Movie Scenes That Objectify Women On Perceptions Of Date Rape. Sex Roles, 43(9-10), 645–664. 10.1023/A:1007152507914; Weisz, M. G. & Earls, C. (1995). The Effects Of Exposure To Filmed Sexual Violence On Attitudes Toward Rape. Journal Of Interpersonal Violence, 10(1), 71–84; Doi:10.1177/088626095010001005; Ohbuchi, K. I., Et Al. (1994). Effects Of Violent Pornography Upon Viewers' Rape Myth Beliefs: A Study Of Japanese Males. Psychology, Crime, And Law 7(1), 71–81; Doi:10.1080/10683169408411937; Corne, S., Et Al. (1992). Women's Attitudes And Fantasies About Rape As A Function Of Early Exposure To Pornography. Journal Of Interpersonal Violence 7(4), 454–61. Doi:10.1177/088626092007004002; Check, J. & Guloien, T. (1989). The Effects Of Repeated Exposure To Sexually Violent Pornography, Nonviolent Dehumanizing Pornography, And Erotica. In D. Zillmann & J. Bryant (Eds.) Pornography: Research Advances And Policy Considerations (Pp. 159–84). Hillsdale, N.J.: Lawrence Erlbaum Associates; Check, J. & Malamuth, N. M. (1985). An Empirical Assessment Of Some Feminist Hypotheses About Rape. International Journal Of Women's Studies 8, 4: 414–23.
[2] Hald, G. M., Malamuth, N. M., & Yuen, C. (2010). Pornography And Attitudes Supporting Violence Against Women: Revisiting The Relationship In Nonexperimental Studies. Aggression And Behavior 36(1), 14–20. Doi:10.1002/Ab.20328; Layden, M. A. (2010). Pornography And Violence: A New Look At The Research. In J. Stoner & D. Hughes (Eds.) The Social Costs Of Pornography: A Collection Of Papers (Pp. 57–68). Princeton, NJ: Witherspoon Institute; Boeringer, S. B. (1994). Pornography And Sexual Aggression: Associations Of Violent And Nonviolent Depictions With Rape And Rape Proclivity. Deviant Behavior 15(3), 289–304. Doi:10.1080/01639625.1994.9967974; Check, J. & Guloien, T. (1989). The Effects Of Repeated Exposure To Sexually Violent Pornography, Nonviolent Dehumanizing Pornography, And Erotica. In D. Zillmann & J. Bryant (Eds.) Pornography: Research Advances And Policy Considerations (Pp. 159–84). Hillsdale, N.J.: Lawrence Erlbaum Associates; Marshall, W. L. (1988). The Use Of Sexually Explicit Stimuli By Rapists, Child Molesters, And Non-Offenders. Journal Of Sex Research, 25(2): 267–88. Doi:10.1080/00224498809551459
[3] Wright, P.J., Tokunaga, R. S., & Kraus, A. (2016). A Meta-Analysis Of Pornography Consumption And Actual Acts Of Sexual Aggression In General Population Studies. Journal Of Communication, 66(1), 183-205. Doi:10.1111/Jcom.12201; DeKeseredy, W. (2015). Critical Criminological Understandings Of Adult Pornography And Women Abuse: New Progressive Directions In Research And Theory. International Journal For Crime, Justice, And Social Democracy, 4(4) 4-21. Doi:10.5204/Ijcjsd.V4i4.184; Barak, A., Fisher, W. A., Belfry, S., & Lashambe, D. R. (1999). Sex, Guys, And Cyberspace: Effects Of Internet Pornography And Individual Differences On Men's Attitudes Toward Women. Journal Of Psychology And Human Sexuality, 11(1),63–91. 10.1300/J056v11n01_04