Get ready to get mad or get stoked, Tumblr users.
It was just announced this week that Tumblr will permanently ban adult content from its platform on December 17th in a move that will eradicate porn-related communities on the platform and fundamentally alter how the service is used, according to a report by The Verge.
The ban includes explicit sexual content and nudity with a few exceptions, the company tells The Verge. The new policy's announcement comes just days after Tumblr was removed from Apple's iOS App Store over a child pornography incident, but it extends far beyond that matter alone. "Adult content will no longer be allowed here," the company flatly stated in a blog post published on Monday.
After December 17th, any explicit posts will be flagged and deleted by algorithms. For now, Tumblr is emailing users who have posted adult content flagged by algorithms and notifying them that their content will soon be hidden from view. Posts with porn content will be set to private, which will prevent them from being reblogged or shared elsewhere in the Tumblr community.
Explicit blogs will be allowed to remain on the service, but they'll be heavily censored for all visitors.
Is porn that big a deal on Tumblr?
Short answer: yes. A huge deal.
Longer answer: whether they are searching for it or not, nearly half of Tumblr's users are seeing porn on their dashboards, and over 10% are under 18, according to an Italian study published in January of 2017.
According to The Verge, since Tumblr was founded in 2007, it has largely turned a blind eye to adult content. The company has tried to shield it from public view through Safe Mode and more stringent search filters. But in recent months it began to consider removing content more aggressively.

"We've given serious thought to who we want to be to our community moving forward," CEO Jeff D'Onofrio says in a blog post. "We've realized that in order to continue to fulfill our promise and place in culture, especially as it evolves, we must change." D'Onofrio says Tumblr weighed the pros and cons thoroughly before making its decision. It also decided not to remove explicit accounts because it wanted to give these accounts a chance to post appropriate content instead.
Apparently, Tumblr has been cleaning up its platform more rapidly than it had done in previous years. For example, in August, Tumblr announced new community guidelines that banned revenge porn.
But as great as these community guidelines are, we're glad to see them take more intentional action against hardcore content.
But that wasn't enough to slow the flow of XXX content
The researchers from the previously mentioned Italian study took a look at 130 million Tumblr users and 7 billion links posted on the social network, and their findings showed that adult content has become so pervasive on the site that more than one in four people will end up seeing porn without even looking for it. 22% of the site's users follow, like or reblog content from porn accounts, which translates to another 28% of people on Tumblr unintentionally being exposed to porn, according to the study.
How has this been acceptable for so long? It's about time that changes were made, and we're glad they're finally taking steps forward to protect site users.
We are not here to bash on Tumblr for refusing to take action for so long. It can be an awesome platform where you can directly connect with your friends as well as favorite artists, brands, and causes. It can be an artistic place where you can curate your own feed of images from around the world. But it's also important to remember that porn is becoming more than increasing popular and available in our site, and it's always valuable to find social networking sites that are less permissive of this content.
We're glad Tumblr will become one of those destination sites, safer for users and less accepting of toxic XXX content.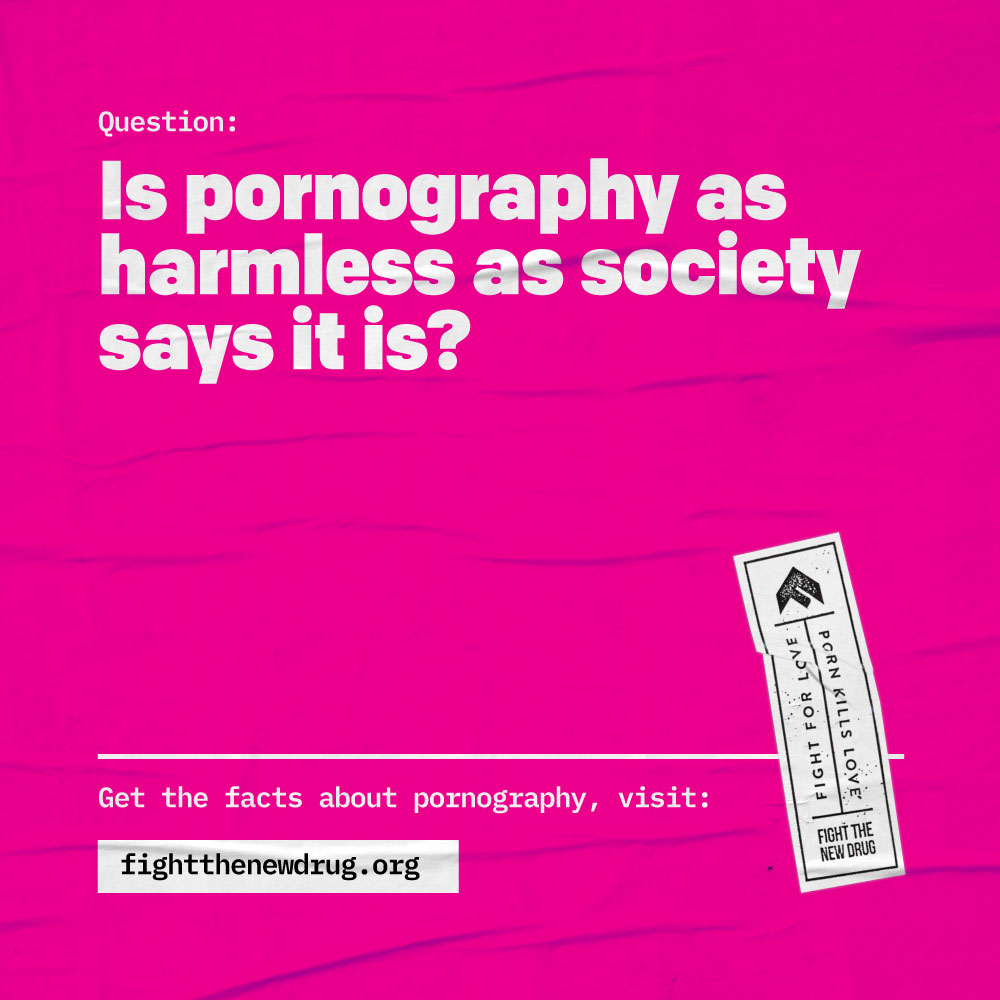 Get Involved
SHARE the good news that Tumblr is voluntarily banning porn on their platforms.
Spark Conversations
This movement is all about changing the conversation about pornography. When you rep a tee, you can spark meaningful conversation on porn's harms and inspire lasting change in individuals' lives, and our world. Are you in? Check out all our styles in our online store, or click below to shop: