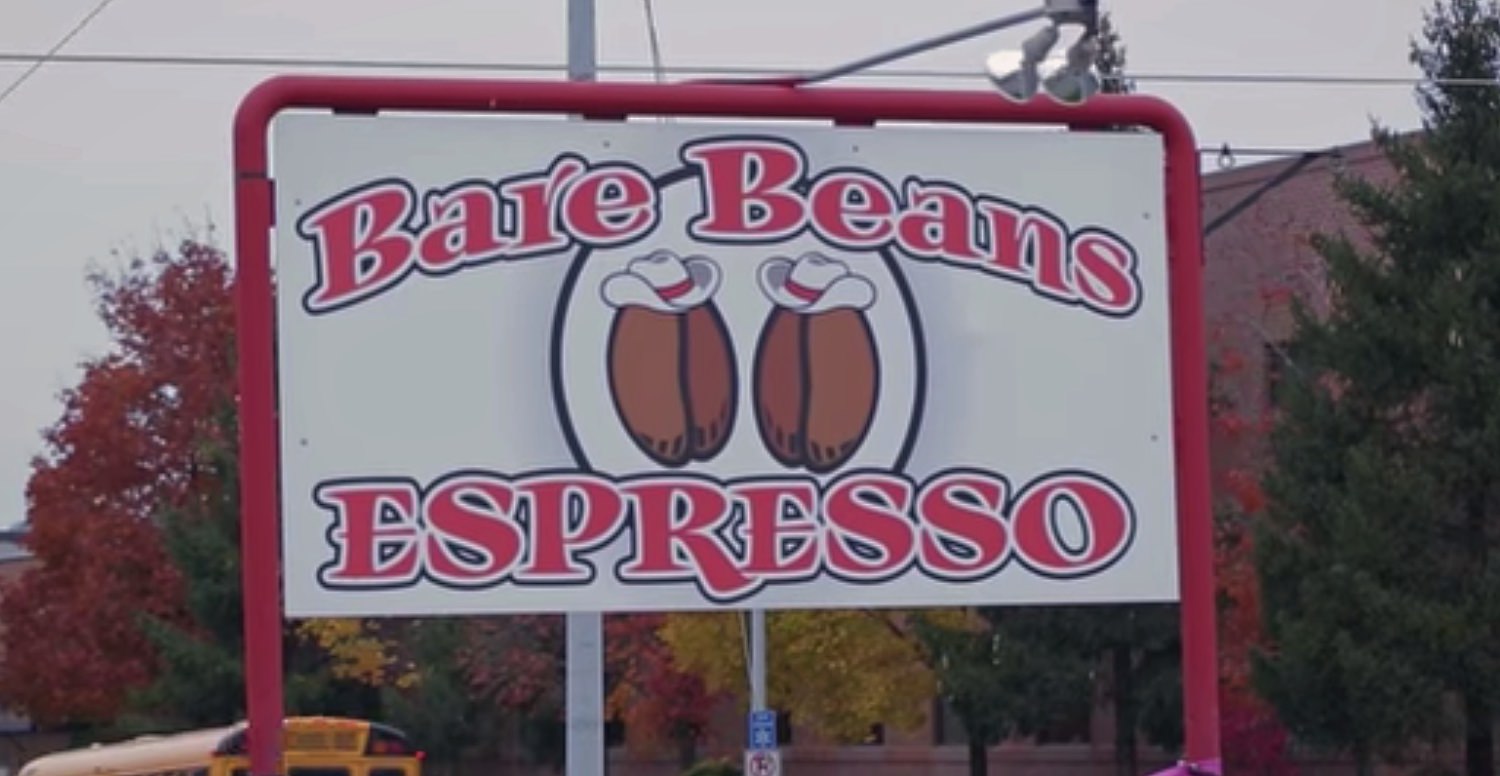 Cover image from Zagat.
England is known for many things, such as being headquarters to British royalty, great tourism, renowned academic institutions, etc. However, according to The Independent, the country is about to produce a cafe where customers can order oral sex along with their cappuccino.
Surprisingly, this isn't even the first location for what has been dubbed the "Fellatio Cafe." Geneva, Switzerland launched a sex cafe of their own in December of last year, and is now finalizing details for its second in England.
Related: Meet The College Students Who Are Resorting To Escorting & Porn To Pay Tuition
According to the company's website, each visitor to the coffee shop is given an iPad where they not only select their beverage of choice but also scroll through a catalog of women, all of whom are escorts. The minimum charge for the "coffee" is $65 in US Dollars—the website even states it's 'the most expensive coffee in the UK'—with $13 added for every extra 15 minutes.
The website exclaims: "Drinking your coffee while getting relaxed by a wonderful hostess is not a dream!" All we can say is, wow.
Wait, what?
Now, we know what you might be thinking: how is this even legal? We had the exact same question. As it turns out, the legality of the business is somewhat of a gray area due to the fact that prostitution is legal in Great Britain but running a brothel is illegal. The owner of the shop told The Independent that "everything related to [the Fellatio Café] is legal" and his "lawyer is currently setting everything up." The shops are officially "sponsored" by an escort service social media site that will provide the women for the "services."
The manager of the shop also said in his interview that "it will be a café like others, plus two booths for shy people." Furthermore, when asked if the escorts were also going to serve the beverages, he answered: "A waitress is going to serve the coffee. Sex workers are only going to touch the clients' genitalia."
Related: Germany's Sex Industry Is Like A Real-Life Horror Movie (PHOTOS)
This shocking restaurant trend in Europe isn't the only coffee shop that's seeking to make money in the business of selling sex alongside their product. At the Sweet Spot Cafe in the northern suburbs of Seattle, oral sex isn't offered, but you get more than a cute foam design on your latte. You get a barely-dressed waitress, and a choice of drinks with names such as Wet Dream (with caramel and white chocolate), Sexual Mix (a caramel macchiato) or Erotic Pleasure.
Subtle, right? But really, this is all of our faces right now:
Objectification That's Sweeping the Nation
Other businesses in the area include Cowgirls Espresso where waitresses wear lingerie, Banana Hammock where male baristas are shirtless and pantsless, or Best Friend Espresso where the outfits take inspiration from school girls or librarians.
And over at The Sweet Spot, reports the Independent, the plastic coffee cups are indistinguishable from those sold in any other coffee shop, but they are decorated with the silhouette of a naked woman carrying a steaming cup of coffee, and the lid is sealed with a pink lipstick kiss.
Related: How Do We Fight Sexual Exploitation? "Don't Buy It."
The barely-dressed barista trend is considered legal in the US, at least, considering there are no sexual transactions or fully nude people. The coffee shops maintain their legitimacy by basically operating as a racier Hooters, where only attractive, fit servers are hired and understand that wearing a provocative uniform is part of the job.
But not everyone is on board with the steamy businesses. A Washington City Council representative told People Magazine (link NSFW) that he thinks the coffee spots have taken the objectification too far.
"It should be all about the coffee and not about the body," he argues.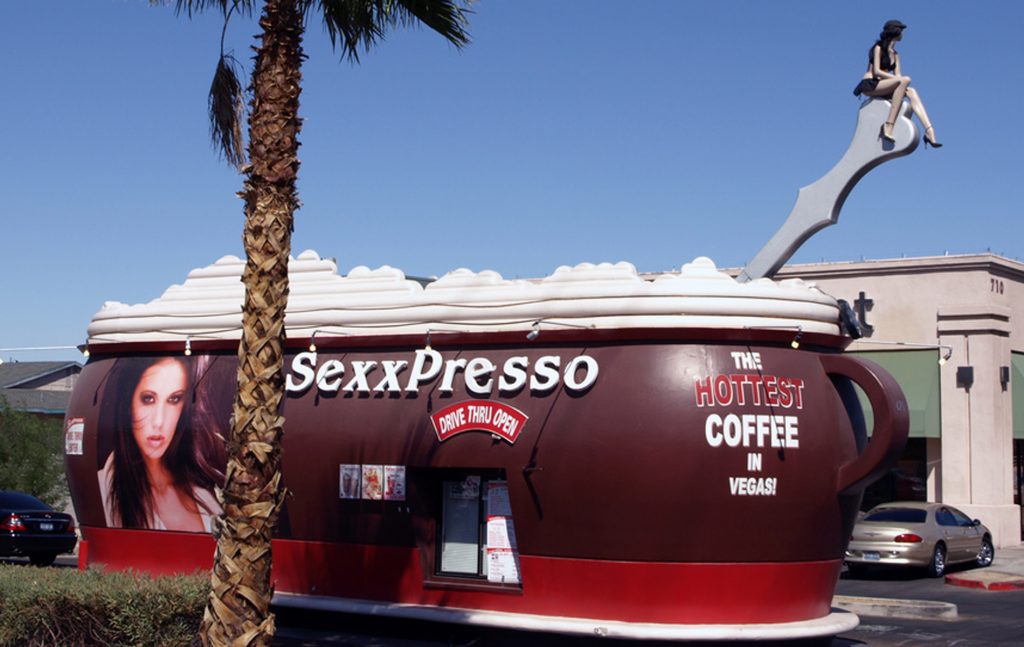 Another sexxpresso coffee shop spot in Las Vegas, NV.
People Magazine also interviewed several workers at the sexpresso shops, specifically one waitress who disagreed and proudly stated that entire families will come in for a beverage, children included.
"I have full families that come in that love me," said one waitress who makes her living at Bare Beans Espresso. She maintains that what she's doing isn't inappropriate for children. "Whichever [shop] I'm working at they bring their whole family. [They bring] their kids, you know, I've offered to babysit before. So it really doesn't affect kids at all."
Sexual Exploitation For Sale
It's easy to see how our porn-obsessed culture is inseparably connected to trends like oral sex cafes and topless sexpresso cafes. Businesses using objectified people and sex to sell their product only serve to normalize sexual objectification and the commodification of sex. And while some don't see sexual objectification as a problem, experts and data from research would disagree.
Related: Data Shows Sexual Objectification Linked To Physical Aggression Toward Females
The problem with easily accessible and ever-extreme porn is that it has likely intensified society's obsession with different forms of commodified sex. The baristas in the shops we mentioned may be there by choice, but not everyone in the business of selling sex can say the same. When are we going to see that desensitizing our generation and future generations to businesses like these is only going to contribute to more sexual exploitation in the long run?
When the coffee is taken away and the storefront is removed, essentially all that's left in these businesses is prostitution or a quick peep show. And given what we know about the harms of sexual exploitation and its link to pornography, we can't be okay with this.
What YOU Can Do
Speak out on this objectifying trend. SHARE this article to add your voice to the conversation and educate on the harmful effects of sexual exploitation in society.
Spark Conversations
This movement is all about changing the conversation about pornography. When you rep a tee, you can spark meaningful conversation on porn's harms and inspire lasting change in individuals' lives, and our world. Are you up for the challenge? Check out all our styles in our online store, or click below to shop: