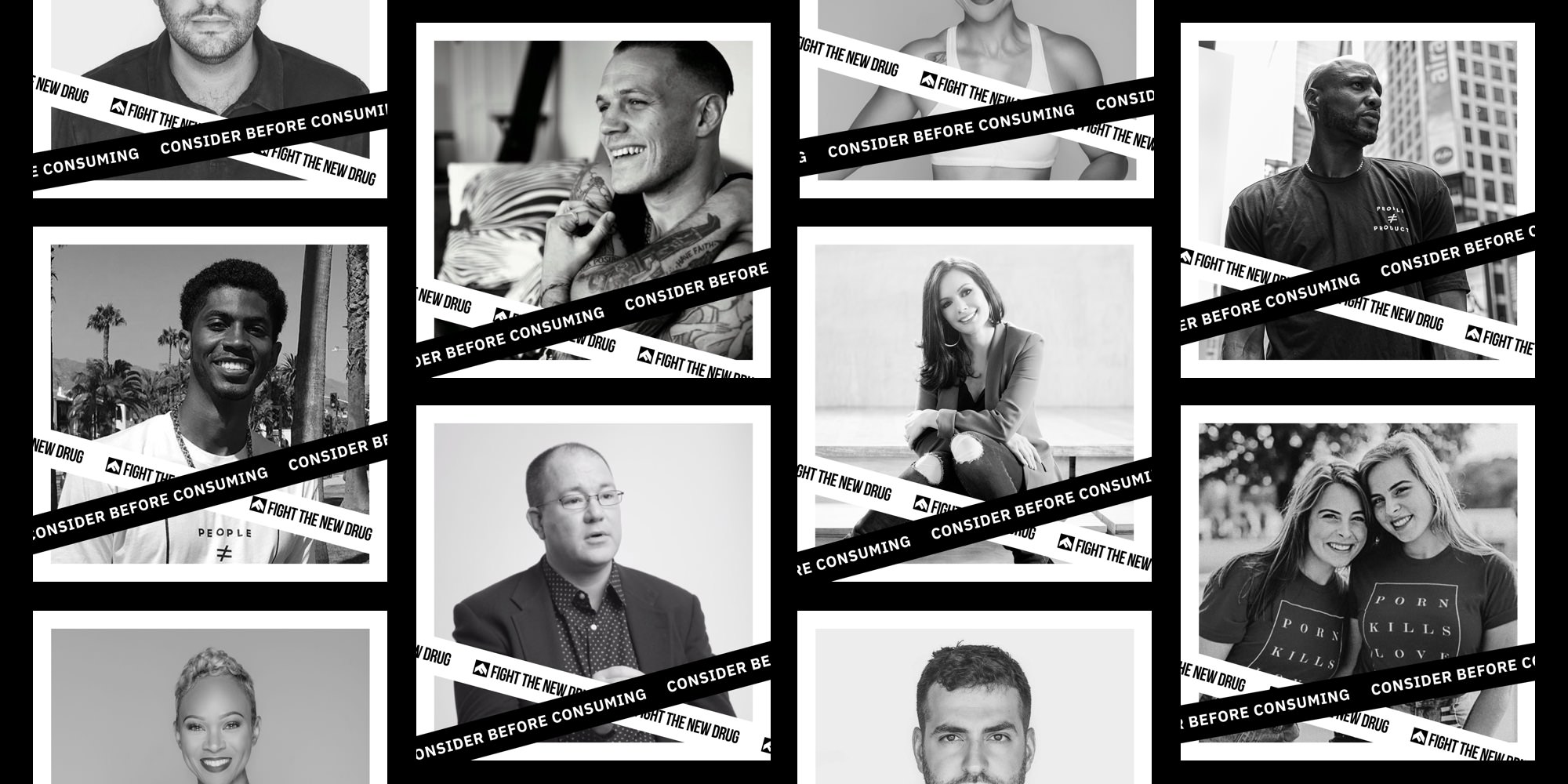 If you hadn't heard, Fight the New Drug launched our very own podcast this year called "Consider Before Consuming."
In each episode of "Consider Before Consuming," we discuss the science and research behind the negative effects of pornography so we can better understand the issue and help connect people with the facts they need to make an informed decision on porn.
Our host, Garrett Jonsson, interviews an expert, public figure, survivor, or fellow Fighter about their thoughts or personal experience surrounding this topic in each unique episode. If you listen, you might laugh, you might cry, but you'll definitely think about how porn influences the world around you.
After a successful first season with a combined 78,000 listens, here are our top 5 episode picks in the order they were released—though, we may be biased, but you really can't go wrong listening to any of the CBC episodes.

Clay Olsen: Co-founder and President of Fight the New Drug
Clay Olsen is the Co-founder and President of Fight the New Drug (FTND), and a sandwich enthusiast—if not just out of sheer convenience. Clay took time out of his busy schedule to sit down with us and reminisce on the creation and evolution of FTND, the organization behind the Consider Before Consuming podcast. Join us as we take a look through Clay's lens while he shares how FTND started, and why it's so important that this topic continues to be considered and discussed in today's society.
John Foubert, Ph.D.: Researcher, Author, Activist
Did you know there is a one in 88 decillion chance that pornography isn't tied to sexual violence? That's just one thing Dr. John Foubert's 50 peer-reviewed studies have revealed about porn and violence. Dr. John Foubert has a 30-page resume and has conducted over 50 peer-reviewed publications in his time investigating this issue, but what's more, he's a very personable conversationalist. A Dean of the College of Education at Union University, Dr. Foubert stays busy, acting as the Principal of Dr. John D. Foubert, LLC., and serving for the U.S. Army as the Highly Qualified Expert for Sexual Assault Prevention.
He also continues to work for the national nonprofit organization he founded called One in Four where, for 20 years, he has researched rape prevention programs on college campuses, in communities, and in the military. Dr. John Foubert sat down with us to discuss what research shows about the heavy links porn has to sexual violence, a facet of this issue often overlooked by pro-porn advocates. We thank Dr. Foubert for sharing his work and expert perspective on this podcast, and appreciate his continued work in this field of research.
Lamar Odom: Professional Athlete
Lamar Odom is one of the most prominent professional athletes to go public with his decision to stop watching porn. After telling TMZ Sports that he had given up porn as part of building a healthier lifestyle for himself, we sat down with the former NBA star near his birthplace of Queens, New York.
In this episode, listen to Lamar open up about how his porn habits negatively affected his performance as an athlete and warped his sexual encounters with partners. Also, hear how Lamar has been able to improve the intimacy in his life and focus on his athletic aspirations after deciding to cut out porn. We always admire when influential people speak up about how pornography has affected them in negative ways. We applaud Lamar for being unapologetically real about this issue, and we are so grateful for his support in our efforts to educate individuals on the harms of pornography.
Crissy Outlaw: Activist & Former Performer
Crissy was molested at the age of four, a pattern of abuse that would continue throughout her childhood and teen years. When she became an adult, various decisions and pressures to please the men in her life lead Crissy to start working as a performer in pornography.
For seven years, Crissy performed in pornography, enduring more physical and emotional abuse and surviving several suicide attempts. Her ongoing search for love and approval kept her in the porn industry until she was able to break free from the industry and never look back. Now, Crissy has dedicated her life to sharing her story and helping women in different parts of the sex industry break free. Her story has been featured in several news outlets and magazines, including GQ and Playboy. Hear Crissy's story in her own words as we discuss the experiences that pushed her into the porn industry and, ultimately, caused her to escape it.
Trigger warning: The following podcast episode contains graphic descriptions of sexual abuse, drug abuse, and explicit situations while performing in porn. Listener discretion is advised.
Richie Hardcore: Public Speaker & Activist
Meet Richie Hardcore! (Yes, that is his real last name. No, he has not performed in porn.) Richie is a retired professional kickboxer and Muay Thai fighter from New Zealand. Today, he splits his time between training other fighters and his work as an activist, which includes public speaking against the harms of pornography.
Richie sits with podcast host Garrett Jonsson to discuss how he came to understand the harms of porn, how pornography negatively influenced him personally, and how important it is to talk to the youth of today about the lies the porn industry sells and, instead, encourage safe and healthy sexuality with a consenting partner. You can find Richie on Instagram (@richiehardcore) or his website, richiehardcore.com
Trigger warning: The following podcast episode contains quoted graphic song lyrics to bring awareness to how porn can influence culture. Listener discretion is advised.