The amount of marriages happening in the United States is continuing to decline. Fewer and fewer men are finding it necessary to enter into the ultimate show of commitment known as marriage. But the reason behind this decline may (or may not) surprise you. As reported on by the Washington Post, the contributor to this trend is something that hasn't really been considered a factor until recently.
The problem is free internet porn.
It's true. A team of researchers, who published their findings in The Institute for the Study of Labor in Germany, determined that the rise of free online porn has created not just simply a correlation with the decline in percentage of young males who are married, but that it is actually contributing to the trend.
The study notes: "The results in this paper suggest that such an association exists, and that it is potentially quite large."
The researchers used information from the General Social Survey, a national comprehensive survey, in order to analyze the online behavior of men ages 18-to-35. The researchers focused on how many hours each guy spent online each week, and how many reported using the internet to watch porn in the past 30 days.
Related: When I Realized I'll Never Compare To The Women In My Boyfriend's Porn
Dr. Michael Malcolm, a professor at the University of West Chester, Pennsylvania, one of the study's authors, said, "We asked ourselves, what is helping determine whether people are married or not? One of those things, we thought, could be the use of pornography."
In order to test the hunch, the researchers adjusted things which have been shown to be correlated with marriage such as age, income, education, religious affiliation, and employment. They then measured the correlation between porn use and marriage rates among the more than 1,500 males that they studied.
Interestingly, across the board, higher internet usage meant lower marriage rates. But here's the really interesting part: porn use in particular was more closely linked to the dudes who were unmarried more than any other form of online behavior, such as regular visits to financial websites, news websites, sports websites, gaming, etc.
Starting to get the picture?
Related: Porn Is Taking Away Men's Ability To Have Actual Sex
Now a lot of people might say that the reason is obvious, that guys who aren't married look at porn more than guys who are. And while that may be true, it still doesn't explain the magnitude of these findings. The researchers insisted that the correlation between the two actions (porn and marriage) "likely runs in the direction that we assert."
Why are the researchers so sure that increased porn use leads to decreased married men? Dr. Malcolm said it is likely tied to the relationship between marriage and sexual gratification. If porn is being used for sexual gratification, then it is undercutting the need for marriage to serve that function.
Wow. How sad is that? "If porn is being used for sexual gratification, then it is undercutting the need for marriage to serve that function." Translation: a lot of people are thinking to themselves, why enter into a loving, committed relationship, with real intimacy, when I can get that from my laptop?
How is this healthy?
At least 25% of all search engine queries are related to pornography, or about 68 million search queries a day, according to WebRoot. In addition, a 2008 study found that nearly 90 percent of men think that watching porn is acceptable. Due to this way of thinking and the rising popularity of porn, it was only a matter of time before this "behind-closed-doors" activity started having real ramifications in our society. And we're just seeing the beginning of it.
Marriage rates have been falling for years and years on top of the high divorce rates. So now that research is showing that porn is one of the main contributors to the reason that fewer people are getting together and staying together, what does that mean exactly? We'll tell you what it means, and it's exactly what we've been saying all along: porn kills love.
This Is Why We Fight
Now that we know what's contributing to the decline of committed relationships, we can actively fight back. We don't think that something as cheap and fake as porn should ever be considered an alternative to real love, and it doesn't have to be. We know from the hundreds of thousands of people around the world who contact us to share their story that a porn-free life is the best life. Because after a video clip ends, pixels will never love you back, but the benefits from real relationships can last a lifetime and make you a better person.
Porn may seem like an awkward topic to talk about, but it's one we have to be bold and shine a light on. Pornography is robbing people of meaningful relationships and genuine happiness, and we can make a change just by starting a conversation about it. By taking a stand and fighting for love, we are not only bettering our own lives and protecting our relationships with those who mean the most to us, we are bettering our world as a whole. Real love is worth fighting for. You with us?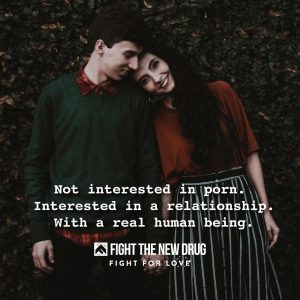 What YOU Can Do
If you think two people in love actually committing to be in a relationship is what's truly sexy, SHARE this article and help spread the facts on the harms of porn.
– Support the movement, rep a tee. Click here to shop: