In our porn-saturated culture, our relationships aren't the only things that suffer. On a wider, cultural level, society is changing in some alarming ways, and not in a healthy way.
This is especially true when it comes to the issue of revenge porn.
A recent study at the University of Kent shows that about 99% of people surveyed expressed at least some approval with revenge porn being posted online, especially when they were presented with a scenario about a partner walking out on them.
And while the study found that only 29% of participants in the study reported that they would actually ever post revenge porn, it's still a sickening indicator of how our culture views the seriousness of digital sexual slavery. The study was clear to point out that not everyone surveyed had a regular desire to publish revenge porn, but more than of 87% of respondents expressed an excitement or amusement toward it. Not cool.
Related: How Revenge Porn Has Become Digital Sex Slavery
It's worth noting that the study only involved 100 adults aged 18-54, and 82 of those taking part were female. Not a big sample size by any means, but the data shouldn't be ignored.
The reality is, revenge porn is a real-life nightmare for countless people. Consider how studies have revealed that the trauma associated with being a victim of revenge porn is a lot like the trauma sexual assault survivors live with on a daily basis. Still think revenge porn is amusing?
Unfortunately, there are dozens of revenge porn sites online, and they're just like any other porn site, except for one scary twist: the pictures are of regular everyday people who once sent naked or sexually explicit pictures/videos of themselves to someone they trusted, only to later have those images posted online for all to see.
That's a big problem
Revenge porn has become digital sex slavery. The number of people who would send private sexual images of themselves isn't as troubling as the fact that the vast majority of people—most of whom say they would never post a revenge porn pic themselves—are totally okay with others posting them, and probably even viewing the content.
This is not okay.
Related: How To Report Revenge Porn
The mind-blowing 99% approval level of revenge porn is a cultural statement. This is a real-life negative effect of a porn-saturated society, where sexual exploitation isn't only okay, it's "amusing" or "exciting." How is this healthy? When society silently endorses sexually exploitive behavior, society becomes a part of the problem and continues to enable people to post abusive content.
Now, let's think about this—what is another type of non-consensual pornography? Sex slavery. By definition, sex slavery is the act of overpowering a person for the purpose of sexual exploitation. In a commentary by Mark Klamberg, a Ph.D. on international law at Stockholm University, said, "Sexual slavery is a particular form of enslavement which includes limitations on one's autonomy, freedom of movement and power to decide matters relating to one's sexual activity."
That's the key: power to decide matters relating to one's sexual activity.
That's the irony of revenge porn. In our world today, everyone agrees that sex slavery and human trafficking are a global issues that need to be fought. Yet there are people defending revenge porn even when it, by definition, goes hand in hand with the definition sexual slavery. Revenge porn overpowers the victim because in most cases they have no way of stopping their nude photos or videos from being saved and distributed.
Sexting as the norm
The problem is, many teens these days aren't always completely aware of all the potential consequences that come with engaging in sexting or sharing of their personal, explicit photos.

At least 40% of today's teens are involved in sending and receiving sexually suggestive messages through the use of those nifty little cellular devices that we're all constantly glued to. About 22% of teen girls report sending semi-nude or nude pics and 18% of boys have as well. And 17% of sexters share the messages they receive with another person, while 55% of those share them with multiple people.
Related: Press Send: Real Stories Of Sexting & Revenge Porn 
Bottom line: our generation is sexting a lot. For a lot of guys and girls growing up today, there seems to be a never-ending flood of orders for a pic minus the clothes. And even if they are sending and receiving images, it's a matter of consent. It's never okay to be okay with/quietly enjoy revenge porn from the sidelines, or really any kind of porn. The truth is, revenge porn is not a victimless act. With explicit pictures posted without consent, no one is asking for this level of embarrassment, and too often the exposure ends up being a matter of life and death.
What is being done?
The truth is, sexting and porn are inseparably linked. And in too many cases, it equals child pornography. By law, minors (anyone under 18) who are caught sending, possessing, or distributing (i.e. sharing with friends) nude pictures, can face major criminal charges. Sexting has become so common, it's gotten to the point in the U.S. where some states have enacted bills to make sexting illegal for minors, and an additional 13 states have proposed similar kinds of bills.
The science and research behind the harms of porn are coming out daily. Porn harms the brain, damages relationships, and negatively affects our society as a whole. Revenge porn is yet another example of how porn is destructive, and it's another form of digital sexual slavery. With revenge porn, the consumer gets another type of porn at the expense of destroying real people's lives.
We fight because sexual exploitation is a huge problem, and it isn't sexy. Join us in the fight.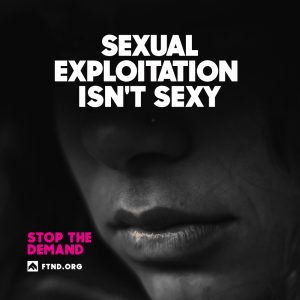 Get Involved
SHARE this article, and stand up for others who may be victimized by revenge porn. Stand up and fight against digital sexual slavery.
Spark Conversations
This movement is all about changing the conversation about pornography. When you rep a tee, you can spark meaningful conversation on porn's harms and inspire lasting change in individuals' lives, and our world. Are you in? Check out all our styles in our online store, or click below to shop: