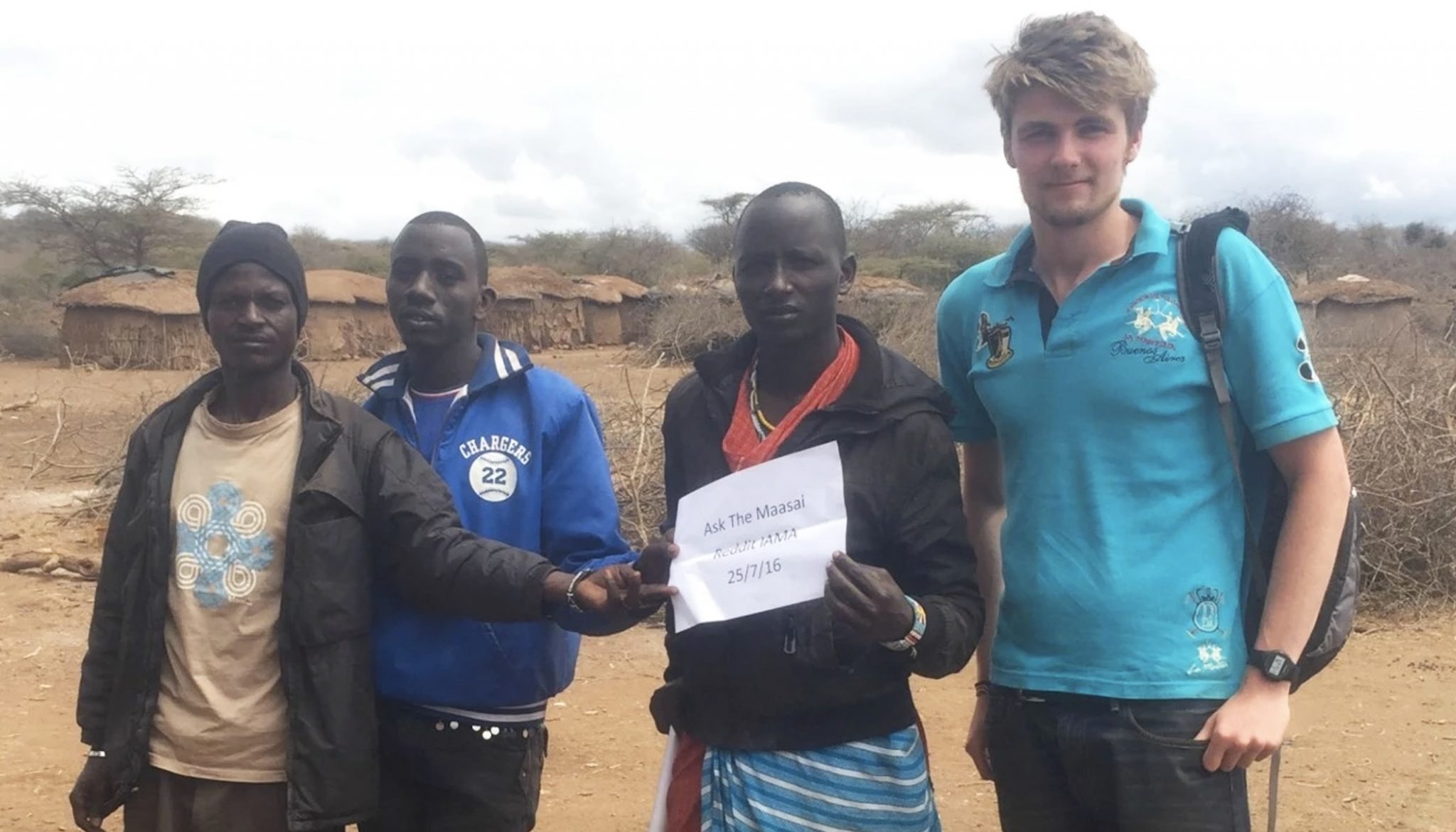 ---
Adam Schiller is a 24-year-old volunteer currently living and working in Kajiado County, Kenya, Africa. He teaches sex-ed to a group of teenage members of the Maasai tribe as part of a 10-week volunteer program through the aid group Voluntary Service Overseas.
Since arriving there from the U.K. earlier this summer, he has turned to the internet to try to help the village he's staying in, according to an article by the Washington Post. He started by putting together a small campaign to raise money for a water tank and building supplies at a local school. In his latest attempt, he decided to attempt a Reddit "Ask Me Anything" (AMA) to raise awareness about the Maasai tribe and publicize his fundraising efforts.
Recently, Reddit users were given the unique opportunity to chat with two leaders from the remote Western Kenyan tribe for the online AMA.
Related: Tabitha's Story: What Happened When I Raised Awareness On Porn's Harms In Swaziland
At first, Redditors asked the usual questions anyone might have: spiritual customs, food, entertainment, way of life, etc. It was only a matter of time until one online user asked the tribe leaders to answer one question: "what is your favorite type of internet porn?"
The answer from the two chiefs?
"They don't believe it and don't know what it is," the chiefs' translator replied to the massive online internet forum. "Don't think or know about pornography. They are asking is it normal in America."
The assembled Reddit users went nuts to the response, not because it was particularly hard to believe, but because they realized they had just introduced the entire concept of porn to a migrating tribe in Africa.
Their Brilliant Response
However, the truth that got lost in translation is a little more interesting. As Schiller clarified later, Chief Joseph and Assistant Chief Leshan had, in fact, seen internet porn before, because data-enabled mobile phones have actually become a huge part of their remote, disconnected community.
As distant as the Maasai may seem from the modern world—the tribe doesn't have access to running water or electricity, and have customs such as drinking goat blood and performing surgery without anesthetics—they do increasingly have online access.
As Schiller pointed out: "Imagine having porn before you have power."
Surprisingly, internet access is becoming less of a phenomenon in Africa. Like most Kenyans, Schiller logs online from a mobile phone. Service isn't great, and speeds are slow. But Schiller says that in the village where he's staying, most people have cell phones, and some are even getting smartphones. Between 2015 and 2016, mobile data subscriptions in Kenya grew by almost 4%. There are now 24.7 million people logging online through their cellphones, in a country of 44.4 million.
Schiller's online efforts have also paid off. Since his arrival, Redditors have donated nearly $1,300 to the village's school-building project. On Reddit, many have also commented that they appreciated the insight into Maasai beliefs and customs.
Related: Award-Winning Ghana Actor Majid Michel Reveals Why He's Against Porn
As for the porn thing—sorry to burst your bubble, Reddit users—but the chiefs had indeed already seen porn on someone else's smartphone, Schiller confirmed.
So what did they think of it?
They weren't really into it.
"They thought it was fake and not real life, like a cartoon," he said. Schiller said the chiefs were shocked when told that it was indeed real. "They inquired whether people in America really get paid to be recorded having sex."
Follow In the Footsteps of the Maasai
The fact that Reddit users asked these remote Maasai people what their favorite type of porn shows how normalized the topic has become in our society. People watch and talk about their porn habits openly, and it is no longer a taboo behavior saved for "perverts." However, this normalization of porn is not a good thing.
Craig Bakker, a Fight the New Drug Presenter and Ambassador, has spent extensive time in Africa living and working among its diverse people. He has lived in Nigeria, Uganda, Kenya, South Africa, Madagascar, Botswana, and several other small African countries. Being so involved in the cause and also so familiar with the people of Africa, we thought Craig might have some good insight on this story.
From Craig's Desk
In this story, I love that the Maasai are so honest and open about how fake porn is. People often defend watching porn because they say it's a normal part of life and sexuality, which is far from the truth. Humans have lived without the internet and porn for how long? The Maasai are an example of what a life would be like void of porn. They are a people that find joy in the simple things in life and who enjoy real relationships. The Maasai I've met love to dance, sing, tell stories, and they have a deep level of commitment to each other and protecting their culture. I'm a big believer in respecting history, culture, and way of life. The internet can help do that, but too often Westerners (look up Rudyard Kipling's 'White Man's Burden') feel it is their responsibility to educate, protect, and dictate how developing countries should act and be governed. Porn is contrary to what those people cherish and believe in. That's why I personally believe it is irresponsible for people to go into their communities and start introducing things like porn. Not every tribe and culture would have had the same positive response that the Maasai had. A lot of tribes and people in Africa are leaving their old customs and culture behind to pursue a globalized life that is portrayed through a Western lens. This isn't just true in Africa, but all across the world. I think embracing elements of the internet and technology can be a good thing but there's also so much garbage it offers. Can you even imagine living a world that's not dictated by porn and Westernized sex culture? Just think about Tarzan and how connected he was with nature, family, and community. I'd love nothing more to dive into all of the wonderful tribes and people I've met in Africa, but my main point is that the Maasai people are wonderful and happy, and I think that has a lot to do with the fact that they don't have negative influences like porn in their lives.
– C.B.
Maybe we should all be a little more like the Maasai community, and see porn for what it really is: fake and unrealistic. Once we realize porn is not a normal, natural part of everyday life, we can start making a much-needed change in our society.

What YOU Can Do
Spread the word on the harmful effects of pornography. SHARE this article and add your voice to the conversation.
Spark Conversations
This movement is all about changing the conversation about pornography. When you rep a tee, you can spark meaningful conversation on porn's harms and inspire lasting change in individuals' lives, and our world. Are you in? Check out all our styles in our online store, or click below to shop: