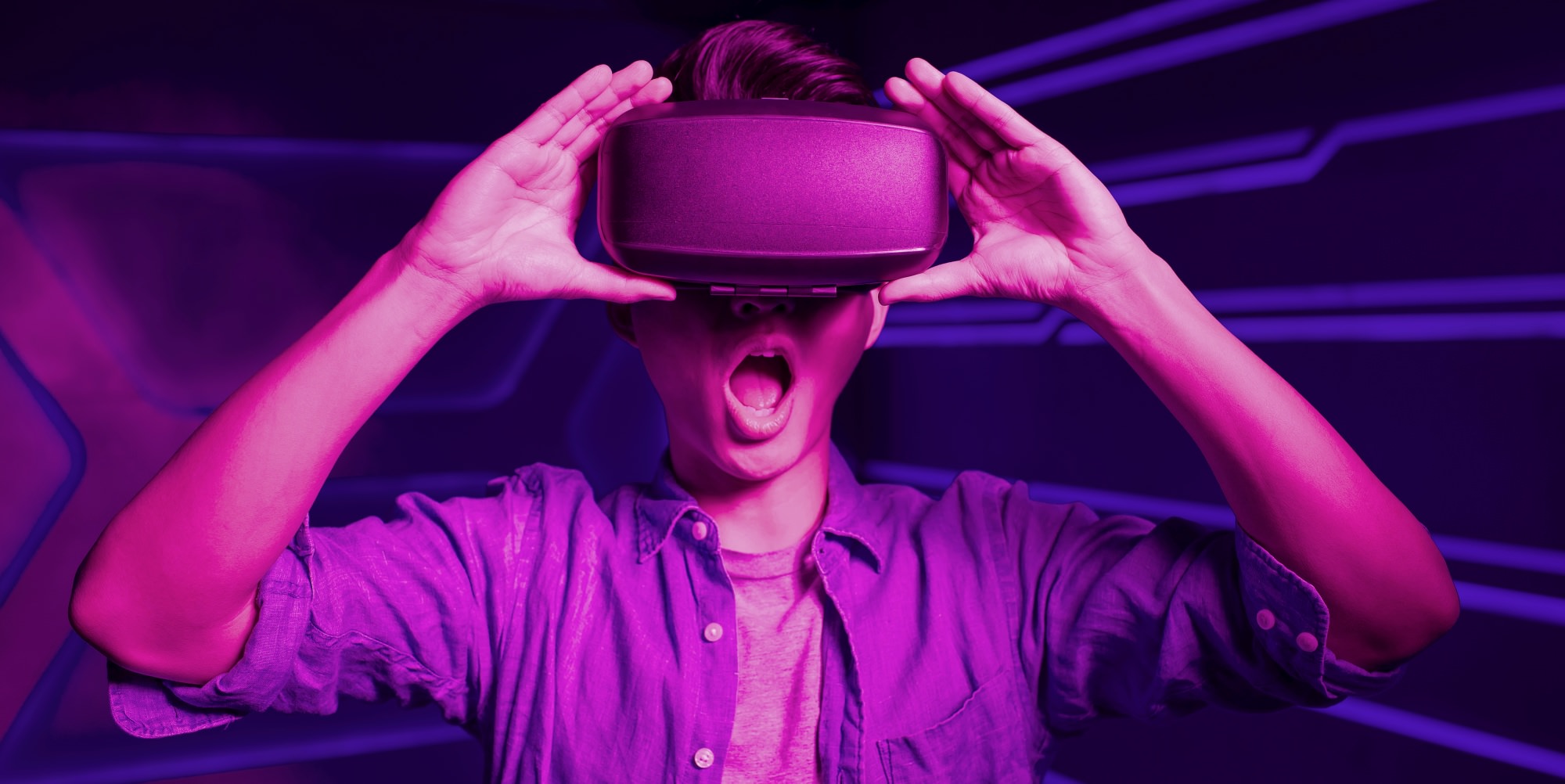 Portions of this article were originally posted on The Guardian (NSFW) by Olivia Solon. It has been edited for content and length. 3 minute read.

BaDoink VR, one of the top companies pioneering VR porn, is trying to branch out into sex "therapy," creating content designed to not only entice viewers, but apparently "educate and improve performance in the bedroom."
They are marketing their "Virtual Sexology" service as a teaching method to help guys become "better, longer-lasting and more confident lovers." The company claims "virtual reality porn can support men in feeling more comfortable, empowered and confident in real-life situations."
Wow. This unsettling baseless attempt to normalize porn is unacceptable on so many levels, and we don't even know where to start.
The Problem With [VR] Porn
By now, it's no secret that the concept of virtual reality porn is definitely concerning to those who know the harms of pornography and that sex should be with a real person, not some pixelated hologram. And while we understand that this company is trying to help consumers' real sex lives by using VR tools, here's why that's actually self-defeating.
Related: What It's Like To Watch Porn In Virtual Reality
The claim that porn can educate in sex-positive ways could not be further from the truth. When it comes to porn "teaching" us anything, we know for a fact that it promotes a wide range of twisted ideas about sexuality that are harmful to the viewer. Whether you're viewing through goggles or monitors, research proves that watching porn can fuel anxiety, depression, and loneliness. Rather than helping the consumer, it causes them use as a porn as a crutch for their fears, which ultimately keeps them from being turned on by an actual person and forming true personal connections.
Not to mention that they're using real porn stars to try and teach the average consumer how to have sex, which is ironic. Even if they didn't use unrealistically attractive performers, we wouldn't advise taking sex tips from an industry that profits from fake orgasms.
But most disturbing about this company is their repeated misuse of the word 'real.' From their interview with The Guardian (linked above):
"There's a distance (in regular 2D videos.) With VR you feel as though you are more involved; there's more realism. It's a stepping stone into a real sexual experience."
When it comes to love and sex, there is nothing more distant and removed from reality than porn. No matter how close you get to pixels, they're still pixels. Pixels can never be people, but they can actually become a huge obstacle in the way of having real, healthy relationships.
Todd Glider, CEO of BaDoinkVR, goes on to claim that his company "wants to make you a better, more attentive lover." His belief that using powerful technology to trick your body into thinking it's having a real sexual experience is "healthy" is shared by Sex Robot Developer, Matt McMullen, who has made it his life's work to develop a machine that humans can have sex with.
Related: Futurologist Says Sex With Robots Will Become Reality By 2050
If that's not a turn off for you, then understanding how virtual reality porn is made really takes the allure out of it. Glider says:
"It's shot from the male point of view and the male porn star can't really move, because the consumers don't want to see another guy's hands. So they have to lie there like a statue not moving, breathing or moaning or anything. People think being on a porn set is cool and interesting, but these shoots can be tedious. It is very regimented."
Unsatisfying Synthetic Sex
Porn is fake, right? It's a cocktail of fake scenarios, fake or enhanced bodies perfected with plastic surgery, and a lot of calculated editing. Not to mention that porn is a collection of majoritively fake orgasms portrayed on screen, complete with exaggerated pleasure in fantastical scenarios.
Do you really want to take tips on real love and sex with a real person from a completely fake production?
Related: What You Won't Read In Cosmo: Where To Go For The Best Sex Tips
The common misconception that porn could heat up your sex life could not be more misleading. Although porn promises a virtual world filled with endless sex, research is continuously proving that it actually delivers is just the opposite. In addition to porn leading to less sex and less satisfying sex, for a skyrocketing number of male porn consumers, it becomes blindingly clear that there's a problem when they realize they can no longer have real sex at all due to porn-induced erectile dysfunction. You can forget about being a "better lover" when porn eventually leads to no sex at all.
Society needs to understand that the only thing that can give true sexual fulfillment is real human connection. At the end of the day, no matter how you package porn, trying to replace a real human experience as important as sex with technology is a dangerous path society is traveling. We're definitely not cool with it.
By accepting this new wave of porn as normal, there's a chance we could end up in a world where virtual sex begins to replace real relationships. And that's not a world we want to live in.

What You Can Do
Spread the word on the undeniable harms of virtual reality porn. SHARE this article to help fight to keep love real.
Need Help?
For those reading this who feel they are struggling with an obsession or addiction to pornography, you are not alone. Check out our friends at Fortify, a recovery program that will allow you take a step toward freedom. Anyone 20 years and younger can apply for a free scholarship to the program, and it is an inexpensive fee for anyone 21 and older. There is hope—sign up today and start getting the help you need at your own pace.
Spark Conversations
This movement is all about changing the conversation about pornography. When you rep a tee, you can spark meaningful conversation on porn's harms and inspire lasting change in individuals' lives, and our world. Are you in? Check out all our styles in our online store, or click below to shop: