Not long ago, the world's largest porn site announced that it is offering a $25,000 scholarship to one legal age college student. The applicants for Pornhub's scholarship need a 3.2 GPA, an essay answering the question, "How do you strive to make others happy?" and five-minute video that "elaborates on the good work you do and anything else you might want to say."
Pornhub Vice President Corey Price told CNBC that it decided to offer the scholarship in honor of its "charity initiative," ironically called Pornhub Cares. The site said it chose to target college kids after discovering most of its viewers were between the ages of 18 to 25. The site saw this as a way to give directly back to the millennial community.
"Pornhub Cares is a compilation of Pornhub's past, present and future philanthropic initiatives," Price said. "The Pornhub Cares Scholarship aligns with our trajectory here at Pornhub, which is firmly set on providing happiness and opportunity through the worldwide community we have established. It's about giving back and providing our fans with life changing experiences/opportunities."
Wow.
Now let us drop some actual knowledge not covered in lies. With the adult industry bringing in over $97 billion dollars a year, (more than the NBA, NFL, and MLB combined) it is abundantly clear that the porn industry is only concerned about one thing, and it's certainly not sending kids to college. It's about making money. And lots of it.
This attempt by porn sites to market themselves as legitimate organizations that "care," goes to show that it will stop at nothing in order to lure this generation into thinking that porn is normal and mainstream. Make no mistake, Pornhub, like every other pornographic website, fuels the demand for sexual exploitation in society. Pornography is not only proven to harm the brain and damage relationships, it is inseparably linked to prostitution and sex trafficking. To viewers, pornography appears to be a fantasy world of endless pleasure, but to those who create and participate in making porn, their experiences are often flooded with drugs, disease, slavery, rape and abuse. The stomach-turning personal accounts that come from ex-porn stars are never pretty.
Our friends over at the National Center of Sexual Exploitation (NCOSE) have been speaking out against this sleazy advertising scheme by Pornhub as well. The NCOSE said in a statement that the scholarship was a "blatant attempt to exploit economically vulnerable young people."
"If Pornhub truly cared about disadvantaged youth, they could give away scholarship money without exploiting thousands of teenagers," NCOSE Executive Director Dawn Hawkins told CNBC.
"Pornhub is clearly using this so-called scholarship opportunity to fuel their own industry, where the number one search term in porn is 'teen.' While the application rules for this scholarship do not specifically prescribe that the video submission be pornographic, the fact that applicants must be 18 years of age makes Pornhub's motives quite obvious. This company is built upon a legacy of exploitation, and it is no more charitable in mind than a tobacco company that offers a scholarship to whichever teen can smoke the most of its brand-name cigarettes."
Science and research has proven that porn is not normal, harmless, or healthy. And companies like Pornhub do anything they can to make people think otherwise, in order to stuff their own pockets with cash.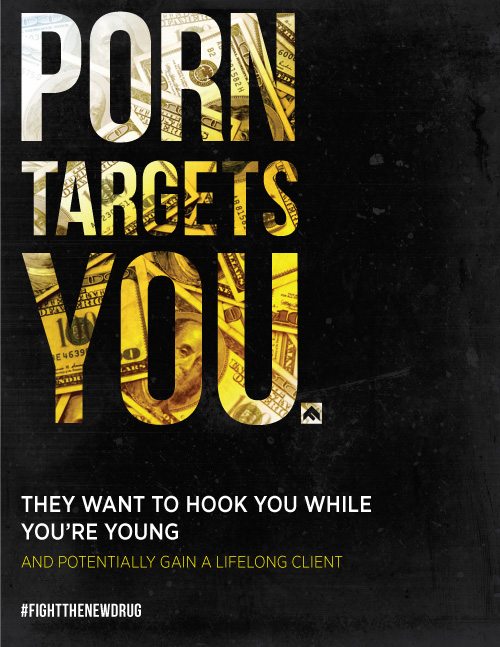 What YOU Can Do
Take a stand and fight against the normalization of porn in society. SHARE this article and spread the word on the real life harms of pornography.