Ever wondered how it's so easy for people to get hooked on porn? Ever considered how porn is so accepted as normal in our digitally-driven world? Maybe you wonder how it's even possible for unrealistic fantasies to infiltrate your life and mind, but it happens. And it's a lot easier than you might think.
It can be easy to get hooked on unrealistic fantasies, and for some, it could be little things like being on a social media app every single day. For instance, with Instagram, you could be constantly comparing your life to someone you know like a classmate or friend, believing their edited life is a lot more exciting than your own.
Haven't we all been stuck scrolling and scrolling only to realize how much time has passed and how many fake images we've seen?
Do you want to know an honest secret? It's pretty simple, actually: their life is probably no more exciting than yours. Social media is only really a highlight reel.
When it comes to social media, we usually don't get to see the reality behind the carefully curated Instagram or polished feed, and if we did, we might not think it was so perfect after all.
If you take a second to think about it, it's the same with porn. Porn presents sex and relationships as creatively enhanced, seemingly effortless, and problem-free fantasies. But is that reality?
Porn is so accepted and celebrated in our media-driven world, and considering the appetite much of our generation has for unrealistic Insta grids, it's not difficult to see why.
Living in a world that's obsessed with edited fantasy
For a moment, think about porn through the lens of social media, something we're all on throughout the day. You're getting Instagram/Snapchat highlight reels, and at the same time, sometimes comparing those reels to your own life. One picture you see on someone's feed may look glamorized, adventurous and totally put together, but little do you know the real story behind the photo being posted. Ever considered how it's the same with porn?
Let's be real—the porn industry is far from being transparent about anything. While the porn industry makes sex and relationships look exciting and adventurous 100% of the time, that clearly isn't realistic. Usually porn shows an average of 5-10 minute clips of exaggerated sexual scenarios, clearly something that isn't giving you the full story of what relationships are like.
Related: How My Husband's Porn Fantasy Obsession Led Him To Be Disgusted With My Body
And like we can get caught up in the Instagram fantasy of someone's grid, it can be easy for consumers to get lost in porn fantasies and subconsciously—or intentionally—apply those expectations to their real relationships. But is that fair?
The physical drawbacks of consuming online fantasies
All that fantasy can really get to users' and consumers' heads. Consider how 60% of people using social media reported that it negatively affects their self-esteem. Not just that, but it can cause issues in users relating to memory loss, lack of sleep, and attention span, to name a few.
Now, most social users know about these drawbacks, but far fewer people in our digitally-driven world understand how consuming porn can trigger those same effects as well and more, without the added connection benefits that social media can have. Porn consumers, similar to social media users, can experience feelings of self-loathing, anxiety, loneliness and disconnection.
This can ultimately lead porn consumers into a state of isolation and depression, causing them to possibly withdraw from the friends they typically surround themselves with.

Inauthenticity may sell well, but it isn't very meaningful
Studies and personal accounts reveal how much people tend to put their best foot forward while interacting online, especially on social media. We all know those people who post only the exciting and interesting stuff, and none of the real-life problems they're dealing with, right? The drawbacks of these connections are that they don't actually go as in-depth, and they lack the emotional stability people are truly needing.
Related: Why Porn Performers Are Working To Become The Newest Social Media Influencers
Similarly, with porn, performers and producers are only going to show the most amplified, exaggerated version of sex and relationship fantasies and none of the risks associated with that kind of behavior like STI's, injuries, or other risks. But the drawback is that these fantasy situations aren't meaningful or quality, and they don't put emphasis on the necessary relationship components needed to make people and human connection thrive.
See how easy it can be to slide from one falsified digital world to the next?
Just like the fake social media facade many of us put on daily to show the best version of ourselves, porn puts on a show that skips over what's truly important about love and relationships. Even so, the worst drawback of this self-exaggeration on social media doesn't compare to the drawbacks porn has on consumers.
It's obvious that porn and social media are both highlight reels
Porn and social media are both topics that are used or talked about on a regular basis in our generation. And while social media has benefits of connecting people far and wide, porn adds nothing of value to love and relationships.
Related: Manufactured "Love": How Today's Porn Is All About Selling Synthetic Intimacy
In our Insa-obsessed and pornified world, it's important to remember that real human connection is lived out face-to-face. Not even the most HD porn could replace that basic human need that we all have.
What are you turning to find real human connection and happiness?
What we are fighting for
We fight for genuine and authentic relationships. We fight because we are firm believers of true intimacy and connection with the people you are actually living life alongside, whether it be through romantic relationships or otherwise. And while we've seen porn tear families and relationships apart, we've also seen people overcome and find real community.
The porn industry wants you to believe that all you need is a screen to make you happy or satisfied. But, we know that isn't true just like how that Instagram influencer's feed doesn't reflect their day to day life. Fight with us—fight for real love, and valuing authenticity in relationships.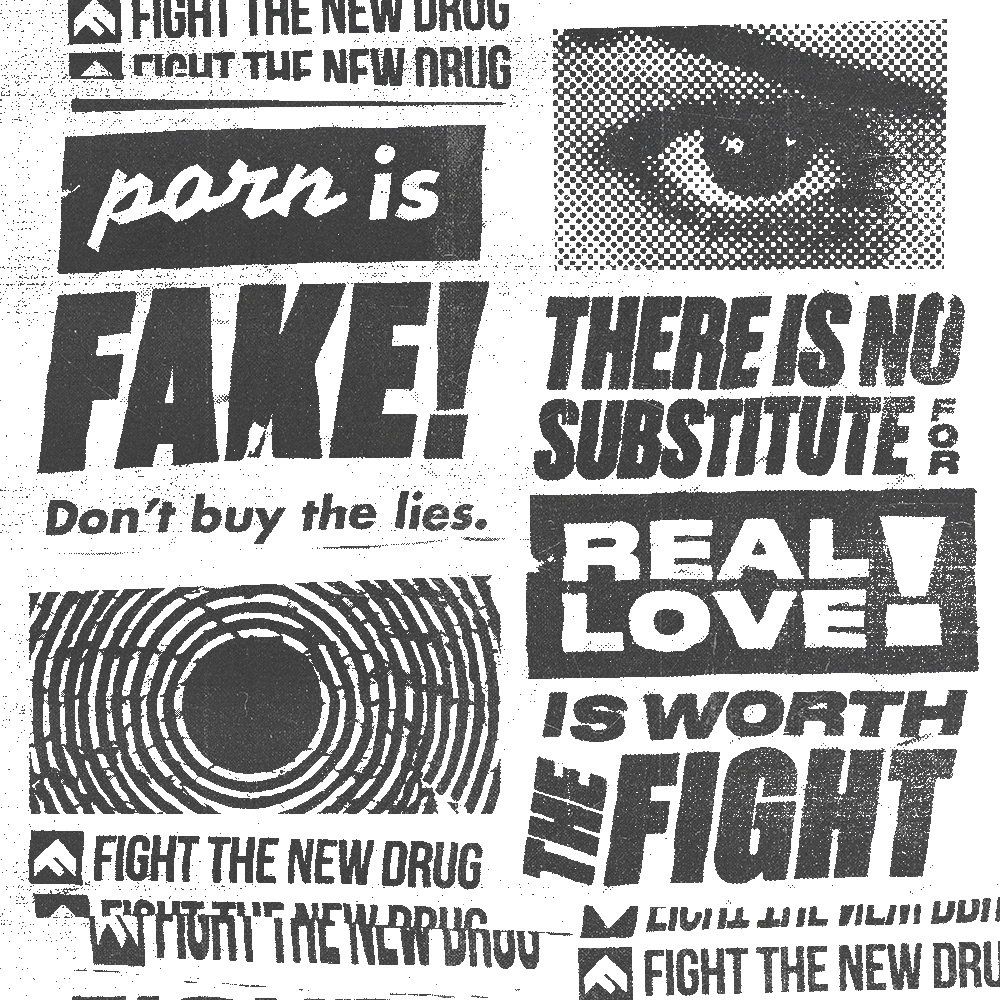 Get Involved
Porn is fake, love is real. SHARE this post and shed light on all the ways our generation is choosing fantasy over reality.
Spark Conversations
This movement is all about changing the conversation about pornography. When you rep a tee, you can spark meaningful conversation on porn's harms and inspire lasting change in individuals' lives, and our world. Are you in? Check out all our styles in our online store, or click below to shop: